Career Spotlight: Front Office Administrator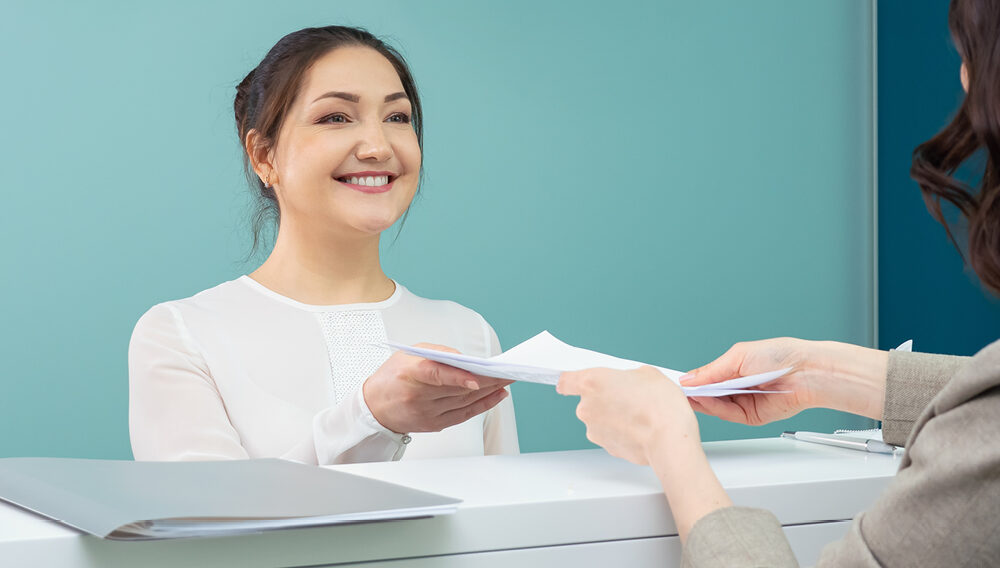 If you're looking for a first job in the business world, you might want to consider becoming a front office administrator. You can learn about many different companies and develop some useful skills in customer service and communication.
What Is a Front Office Administrator?
A front office administrator works in the front office or at the front desk of an organization or business, and is usually responsible for greeting customers, checking in customers for appointments, answering questions, and scheduling appointments. They often handle paperwork, correspondence, and other office duties. In this role, these professionals interact with customers and clients on a daily basis.
Let's look more closely at this career and see if it sounds like the right choice for you.
Front Office Administrator Duties
Front office administrators are the face of a business, greeting visitors with professionalism and courteousness. They handle a range of duties and responsibilities. Let's take a look at a few of them.
Welcoming all visitors and registering them at reception
Answering and screening telephone calls
Scheduling and confirming appointments, meetings, and important events
Copying, scanning, and filing documents
Preparing reports and maintaining records
Typing various documents
Processing incoming mail and distributing outgoing mail
Managing front office staff
In addition, many front office administrators may conduct payroll duties, depending upon where they work.
Front Office Administrator Skills and Qualifications
First and foremost, a front office administrator should have excellent interpersonal skills to succeed in their role. This seems most obvious, but there are some other key skills someone should possess to do well in this position. These include:
Strong organization skills
Effective communication
Excellent customer service
Ability to multitask
Knowledgeable in technology
Able to work in a team
Educational Requirements
Beyond being good at customer service, many businesses require at least a high school diploma or equivalent to land this job. Some employers prefer candidates with an associate or bachelor's degree in business or a related field. Excelsior's Associate in Applied Science in Administrative and Management Studies gives you the knowledge and skills needed for business support roles such as a front office administrator.
Typically, front office administrators receive appropriate on-the-job training related to their company. Though not required, you may even consider completing certifications that can provide you with more knowledge and skills so you can further advance your career.
According to the Glassdoor, front desk administrators make $34,804 as a starting annual salary.
Does a job as a front office administrator match your interests? Talk to a Excelsior admissions counselor today to get started on a business degree.