Fulfilling His Purpose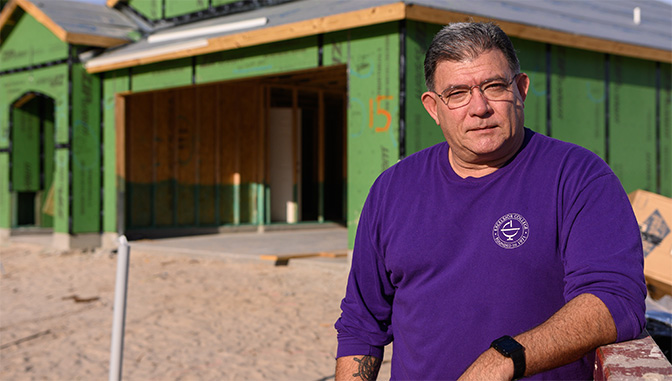 Steve Carriere uses his public service degree to make a difference in emergency management
Steve Carriere's interest in the humanitarian aspect of military service began when he joined the Coast Guard in 1989. For 27 years, he was involved in various emergency aid missions like responding to 9-11 and hurricane aftermath clean-up efforts. He found his calling in emergency management and after earning a Bachelor of Science from Excelsior in 2018 and having criminal justice as a major, he's gone on to join and make a difference with Team Rubicon, a volunteer disaster relief organization serving others in times of crisis.
"I was like a ping pong ball just all over the place," says Carriere, of Jacksonville, Florida, recalling trying to find his way after high school graduation. He decided to enlist with the Coast Guard as a deckhand out of Portsmouth, Virginia, and shortly after enlisting, went to school to become a quartermaster. He retired as a warrant officer in 2016.
One of the things Carriere did while with the Coast Guard was assist with search and rescue operations, which made for a perfect transition into his time with Team Rubicon. The veteran-run, nonprofit organization was set up 10 years ago by former Marines William McNulty and Jake Wood. Its main purpose is disaster response, but it also helps to get newly transitioned veterans back into the community through its volunteer opportunities. One of Carriere's friends introduced him to the organization and he decided to sign up. His first deployment with Team Rubicon was in December 2018 to help with damage assessment and debris removal after Hurricane Michael hit Panama City and Mexico Beach. "From that point on, I was just immensely hooked by their mission," he says.
Team Rubicon is involved in long-term mitigation and recovery and is at the forefront of disaster recovery efforts. Its goal, says Carriere, is to be the leading disaster relief organization in the country.
In addition to disaster response, volunteers for Team Rubicon rebuild homes or buildings that have an impact in the community. They're also working to spread their efforts internationally; recently, they have deployed volunteers to help with the fires raging across Australia.
Veterans are a major segment of Team Rubicon's volunteer force. Of the 90,000 people that have signed up to be volunteers, about 70 percent are veterans. "One of the things that veterans often talk about when they leave military services is that they've lost their sense of purpose, and what Team Rubicon has done is essentially given them back that sense of purpose," says Carriere. He goes on to say that the organization is helpful to veterans suffering from PTSD and other traumatic illnesses. In fact, Carriere says, one of the founders, Wood, is a PTSD sufferer and admits that Team Rubicon's mantra of serving others is beneficial to him. Carriere says, "Being able to help others is to be able to help yourself."
Like his time with the Coast Guard, his time spent with Excelsior transferred into his time with Team Rubicon. "To tie all of that into my Excelsior experience, I took a class called introduction to emergency management… the course just really resonated with me and emergency management. So, you know, at that point I was like, you know, this is the direction I want to go; I want to be involved with Team Rubicon," Carriere says. In fact, he says there were many aspects of Excelsior's curriculum he realized he could relate to emergency management.
Now that he's with Team Rubicon, Carriere feels he is fulfilling his purpose: helping people recover while sharing his experience and knowledge. He suggests others find their purpose, too, not necessarily their passion. He says, "You can have passion, but sometimes passion just turns into a waste of energy. But if you have a purpose, you can be more focused. Because after a while, people get bored of passion. But purpose is always is going to be a continual thing."
Steve Carriere's Path with Excelsior
Hearing about Excelsior College:
Carriere heard about Excelsior when it was called Regents College, but it wasn't until 2003 when he attended the Chief Petty Officer Academy that he did a credit assessment for Excelsior and found out he could transfer in a significant number of credits. He wasn't ready to take the leap then, but a few years later he decided to enroll.
Enrolling with Excelsior:
Carriere was on active duty in the Coast Guard when he enrolled in Excelsior in 2008. He began by taking liberal arts courses and earned an Associate in Science in Administrative and Management Studies in 2016. He spoke to an academic advisor about how many credits he would need for his bachelor's degree and says, "I was really amazed at what I needed to knock out for my bachelor's degree. I was pretty pleased that my experience could be taken in as a substitute for a lot of things I would have spent [time for] in classrooms; knowing that my experience was equivalent to that made me feel like I still had accomplished something pretty impressive." After he retired in 2016, he kicked his degree plans into high gear and started studying full-time to earn his bachelor's.
Time at Excelsior:
"I think what made it easier for me in some respects compared to what some of the other online students [experienced] is that being retired, I wasn't working," says Carriere, and adds that he had time to look over readings, assignments, and do research. Similar to other students, though, he also had to make time to take breaks from his schoolwork.
What's Next:
Carriere says he is going to pursue a master's degree in emergency management and disaster relief.