Course Feature: BUS 311: Organizational Behavior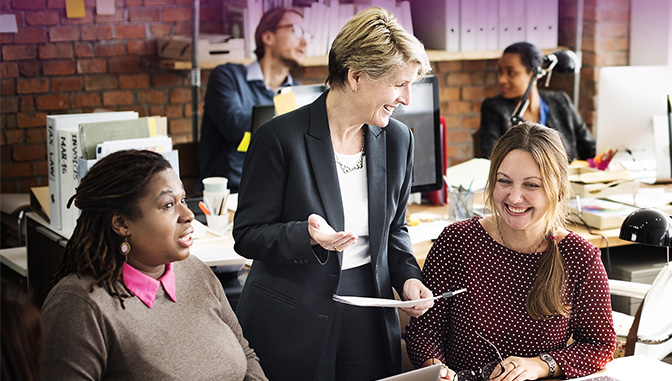 BUS 311: Organizational Behavior offers an overview of human behavior in work organizations. Students study theoretical, empirical, and applications issues from individual, interpersonal, group, and organizational perspectives. Topics covered include the overview and history of the field, perceptions, attitudes, learning processes, personality, motivation, stress, performance appraisal, group dynamics, leadership, communication, decision making, job design, organizational structure and design, organizational change, and development.
The academic study of organizational behavior was not recognized by the American Psychological Association until the 1970s, but the field goes back to the late 1920s when the Hawthorne Electric Company conducted experiments to see how changes in environment and design affected the productivity of its employees. Organizational behavior (OB) covers the study of human behavior in a work environment and determines its impact on job performance, culture, diversity, communication, motivation, power, change, management, and leadership.
It is widely held that companies should invest in OB because it provides recommendations for them to run effectively. In their school blog, the College of St. Scholastica agrees with this report, quoting Charina L. Flores, PHR, vice president of human resources for the Barbelo Group and adjunct professor at Bellevue College: "Businesses excel when employees understand how their behaviors influence an organization's performance and enable strategy execution." Benefits of OB include improved health and productivity, which translates to higher job satisfaction, increased productivity, and a better commitment to the company.
These ideas are covered in BUS 311: Organizational Behavior through a variety of topics from theories of organizational behavior and team building to ethical decision making to negotiation strategies. Faculty Program Director John Coy explains the course is important to human resources students and for anybody who plans to work or interact within organizations. "Understanding how people, groups, and structures affect organizations' behaviors is critical to succeed professionally," he says.
Coy adds that when taking the course, "students learn self-awareness and learn perspective of how they might affect and are affected by the people and environment that surrounds them. Moreover, students learn about individual and team behavior in organizations and opportunities to practice ethical decision making." Students have benefited, saying "I have found this course helpful in my career as well as in my personal life."
Faculty have enjoyed teaching the course, too, with comments including, "I enjoyed teaching BUS 311 because it is easy to engage the students. Everyone can relate their own experience at work or personal lives to the topics that we study in class. I like to see how my students apply theories to their experiences and make sense of situations in a totally new way. Several times, I have had students said, 'I wish I have taken this course before.'"
If you'd like to learn more about organization behavior consider signing up for BUS 311 next term.