Overcoming the Odds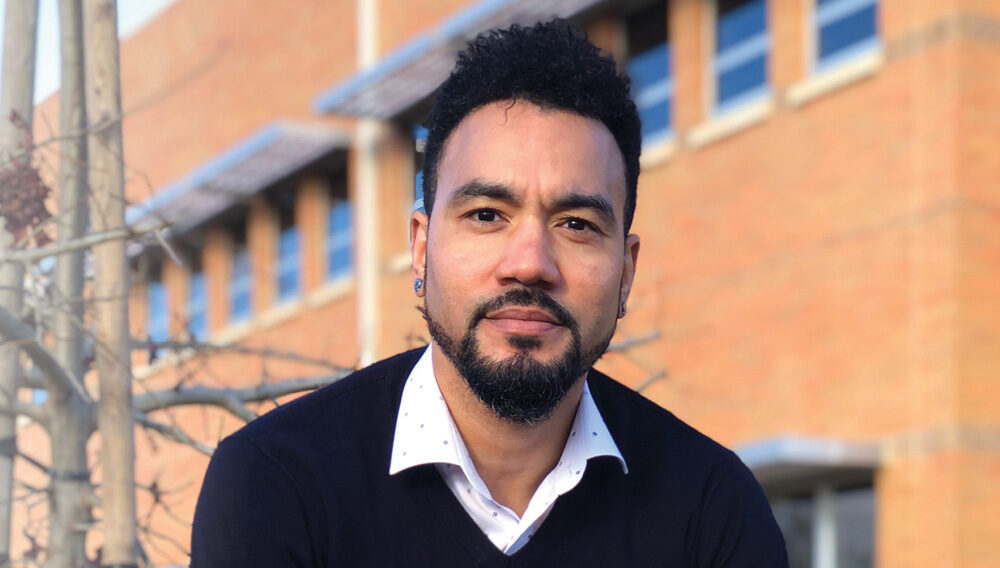 Curnes Williams Jr. overcomes PTSD to earn his degree and start a post-military career.
Excelsior College graduate Curnes Williams Jr., a U.S. Army Medical Command employee and former Army medic, knows the toll PTSD can take but is also proof of the amazing things one can accomplish when overcoming the disorder.
Williams enlisted in the Army National Guard in 1991 as a senior in high school, thinking the military was the best path to lead him to better opportunities. By 2014, Williams' more than 23 years in the military had taken its toll and he was being treated for post-traumatic stress disorder. In 2015, he started a new career in South Korea working as a civilian in the Army Community Hospital, was going to school online with Excelsior, and was transitioning to civilian society. It was a difficult time for Williams. "It was extremely challenging for me to maintain motivation after working an 8- to 12-hour shift to transition into the role of student," he says, and adds, "Many days I struggled to summon the energy to tackle reading assignments, group discussions, weekly projects, and submit written essays on time."
Williams did not give up, though. "The first thing I had to realize was that I couldn't manage PTSD on my own," he says. Williams made behavioral health appointments, attended counseling, and took medications as prescribed. "After a few months, I saw a marked improvement in my moods, reduction in my anger, and was able to focus on living." Williams still suffers from PTSD but says he has learned better coping techniques and has learned to ask for professional help when he feels he is "spiraling out of control." "I learned that [asking for help] is an example of strength and the most unselfish act that I can make, because it not only helps me, but it also helps those who care for me and interact with me on a daily basis," he says.
Just as he had found ways to cope with PTSD, Williams came up with some creative solutions for online learning. True to his disciplined military background, he trained himself to follow strict study habits in a creative learning environment. In the beginning, Williams set up a designated learning space, would nap or relax for 45 minutes, and then start his work. As he found his rhythm, he no longer needed the naps and shifted into a more comfortable automatic mode of doing his work. "In my final years with Excelsior, I started to listen to classical music while drafting papers or posting to group discussions and found that it helped with my concentration and motivation," he recalls. Williams earned a liberal arts degree in 2019.
Overcoming PTSD has led to Williams's current success at his post-military career. As a former health readiness coordinator for the Army Reserves in Mountain View, California, he maintained a close watch on the health of soldiers. "My overall focus was to ensure our troops are healthy and medically fit; that means they are capable of deploying, attending vigorous Army training, and are current on all physical exams and vaccines," says Williams. He also would make the determination if continuing service is in the best interest of the soldier. He will soon start his new career as an electronic health systems instructor with the U.S. Army Medical Command at Landstuhl Regional Medical Center in Landstuhl, Germany.
Williams believes a successful transition to civilian life can be possible for any military servicemember—even those battling PTSD. He encourages service members to seek help either from professionals or trusted family members or friends, even if they don't think they need it. "It takes real courage to admit you need help. You display both courage and strength when you seek that help, and there is therapy in that process," he says. He adds that finding positive venues to occupy your time and explore your talents is a beneficial way to add to the healing process. "Pursuing a college degree or certification is highly beneficial and such a creative outlet to challenge yourself academically," he says. In addition, the human interaction aspect of higher education can be highly therapeutic. "Excelsior College and its professors foster that positive academic environment, while richly challenging your thoughts, beliefs, and values,."
The most important thing, Williams says, in overcoming PTSD and successfully pursuing your education, is to never give up on yourself. "Believe in yourself! Truly understand that [your] academic journey is unique, be honest about your circumstance, reevaluate as needed, but commit to its completion!"