Degrees at Work: Joseph Davern Cleans Up the Streets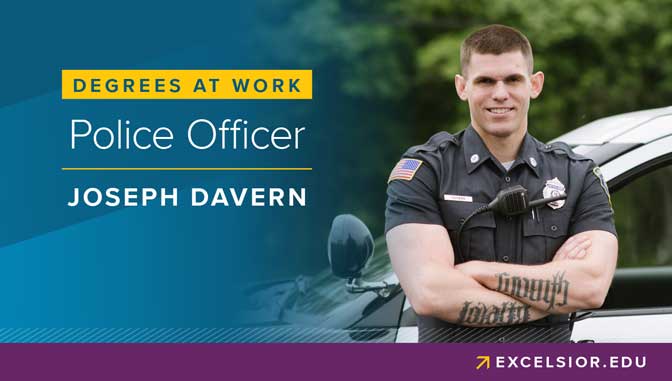 When Joseph Davern was working as an electrician studying nuclear engineering technology at Excelsior College in 2010, he didn't ever picture himself behind a dumpster performing CPR to save a heroin addict's life.
All he knew as he was continuing a college career that started two years prior at the Joint Apprenticeship Training Committee Telecommunications School was that he wanted more.
"After one year in the program, I just knew it wasn't for me," says the 29-year-old Nantasket Beach, Mass., native. "I was missing something. I realized I had a passion to help people and desired to make an impact in the community. I had a calling to clean up the streets."
Eyeing a career in law enforcement, he chose criminal justice, and says that Excelsior made the transition an easy one. Davern started classes and immediately knew he was on the right path.
"My criminology instructor was a retired chief of police and he was simply fantastic," Davern says. "Having an instructor that's been in the field and who's able to share first-hand knowledge and experiences was a great advantage. The amount of papers that we wrote was extensive, but it was a great learning opportunity and it prepared me very well."
As he was working toward his criminal justice degree at Excelsior, Davern tested his luck and applied to the Abington (Mass.) Police Department, knowing it can be a long acceptance process. In 2013, exactly two years after Davern dropped everything to pursue a career in law enforcement, he was offered a job at the Abington Police Department.
The key to balancing all of this – which includes his 5-month-old daughter Olivia – is determination and having an unbreakable support system. "Even though this job has the ability to flip your life upside-down at any moment," he says. "I had amazing support from my wife Brianna and I still do."
In 2014, Joseph attended the Boylston Police Academy and in his final year at Excelsior, Davern was honored with the 2016 Dwayn Hanford Award that recognizes the academic excellence and community service of a student who completed an undergraduate degree in the School of Public Service. That same year he graduated from Excelsior with his bachelor's degree in criminal justice.
Switching gears from nuclear engineering to criminal justice was a big leap of faith, but Davern has no regrets.
"Somedays I deal with overdoses, accidents, and domestic calls and other days I don't have to handle anything serious at all," he says. "Each day on the job is very different, which can be stressful because you really don't know what's going to happen, but I find peace in knowing that I'm making a difference in people's lives every day."
And that unfortunately includes situations like the one when Davern found two older gentlemen behind a dumpster in a parking lot. One had overdosed on heroin, and the Narcan that Davern administered didn't work.
"For the first time in my experience, it failed," he says. "I had to perform CPR on a living human being for the first time behind that dumpster. For what felt like an eternity, 30 seconds of breaking this guy's ribs, he came back to life. Even though this was an extremely traumatic experience, it affected me in a very positive way, because without me, he would've lost his life that day."
He was also recently involved in a high-speed car chase that thankfully ended without any serious injuries.
"Another incident that will stick with me forever was being involved in a very dangerous car chase," he says. "I was chasing a middle-aged man, and he was driving erratically at a very high speed. He went to the extreme of attempting to hit me in my car as well as coming very close to crashing into school buses full of children. I had to smash into him in order to stop him and put my own life at risk. Having the ability to respond well under high-stress situations is key in law enforcement."
When it came time to start college, being a police officer never crossed Davern's mind, but he realized quickly that he had a different calling, and was able to successfully transfer majors within Excelsior and quickly pivot to a successful career in law enforcement.
"Looking back, the criminal justice classes I took mirrored my job very well," he says. "Within the next couple of months, I am going back for my master's degree. I've decided to go back to Excelsior not only because of my excellent experience the first time around, but also because its nationally accredited. My goal is to become chief of police with a Master of Public Administration. I believe you can always better yourself with another degree!"
Professional Advice from Joseph Davern:
On time management:
"I trained in martial arts, was going to school full-time to become a police officer, and taking care of a family. My advice is get all of the work you can done at the beginning of the week and don't put anything off."
>On networking:
"A lot of people feel uncomfortable talking to strangers, but I like talking to everybody. I think talking to as many people as possible is so important. Throwing your name out there is key to networking. You shouldn't be intimidated to talk to someone just because of their position."
On the book to read for this industry:
"In the police academy, we read Emotion Survival for Law Enforcement and Their Families. This job changes you and your life, and this book describes how to deal with that and what things you should look out for."
On being a police officer:
"Never lie. Cliché, but this is the best advice I've received so far in this business. Integrity is the most important trait to stand by. If you don't have integrity, then you are useless as a police officer."