Degrees At Work: How Terry Evans Turned Four Excelsior Degrees Into a Career Fighting International Cybercriminals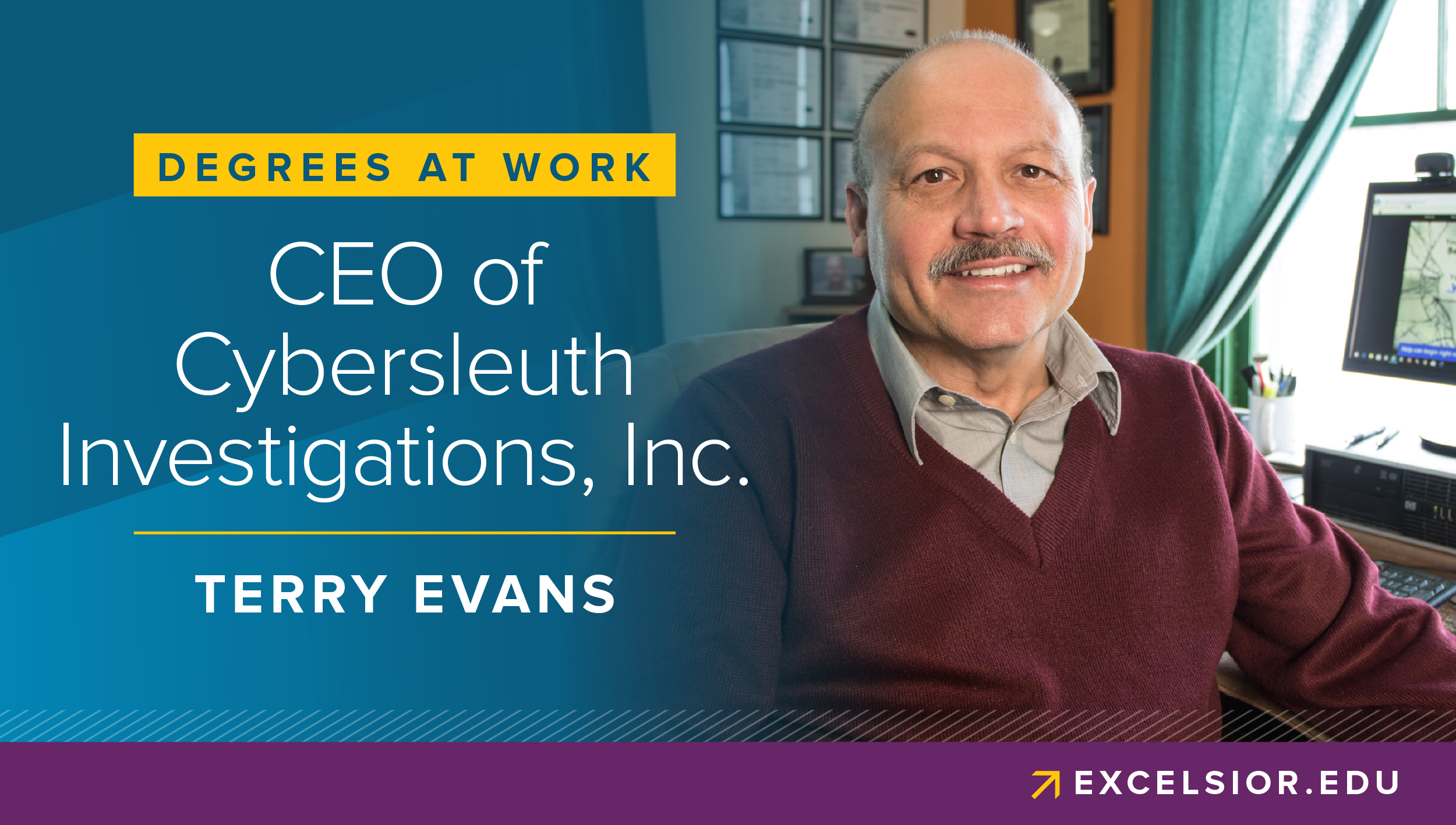 The moment was pretty distinct for Terry Evans. Working in the New York State Attorney General's fraud division in 2012, he had to make a tough phone call to a widow in Buffalo to tell her she was scammed out of $80,000 by foreign criminals.
"I had to tell her her life savings was gone and there was nothing the government could do about it. I wanted to do more and we couldn't," says Evans. "That was the final catalyst: I knew I had to do something else."
He started Lighthouse Business Consulting Services Inc. in 2013, and began looking into further education on cybersecurity. He quickly decided to return to Excelsior College for a fourth degree, having already earned an Associate in Science in Liberal Arts with an area of focus in criminal justice in 2008, a Bachelor of Science in Liberal Arts with focus areas in administrative/management studies and criminal justice in 2009, and a master of business administration in 2012.
Attracted to Excelsior's experience in this rapidly evolving but still somewhat new field, as well as to the college's experienced faculty and diverse students, Evans earned his Master of Science in Cybersecurity in 2014. In 2017, he used his multifaceted work experience (law enforcement, corrections, fraud investigations) to launch Cybersleuth Investigations Inc., after getting an influx of Lighthouse clients asking about personal situations dealing with online predators.
In less than a year, he's attracted an international client base, become a fellow with the National Cybersecurity Institute at Excelsior College, and been quoted as an expert in publications that include Allure magazine.
It's certainly been challenging: as a sole proprietor, he's on call seven days a week and often starts working at 5 a.m. He's also investigating and tracking dangerous criminals in places like the Philippines, Jamaica, Yemen, Russia, and Nigeria. And since his goal is to cut off their income sources ("cash pigs" is what he says cybercriminals call their victims), he's even received death threats.
He's more focused on the success stories than the potential for danger.
"It's very gratifying for me to have a client call up and say 'Thank you for giving me my life back,'" Evans says. "That's a cool rush for me."
Evans admits that people skills and empathy are critical to his job. He also stresses the value of separating work and family, a skill that came in handy as the father of three children (ages 16, 24, 27) who earned four degrees in six years through Excelsior.
"Balance is a tough thing," he says. "It's important to really have someone in your family who has a string on your balloon and pays attention so you don't lose sight of the key areas you don't want to lose sight of. You can't rush through things. It's critical to slow all that down."
Evans' next step is to focus on education and training, in the hopes of helping more people spot and avoid cyber scams. With cybercrime damage costs estimated to reach $6 trillion annually by 2021 according to Cybersecurity Ventures, the risks are only going to increase as criminals get smarter and more sophisticated.
"I want to turn to the piece of the business that really focuses on education and training," Evans says. "I don't believe you can solve this issue with legislation. It's about doing preventative kinds of things. The joy is in getting to people early enough."
His goal is to make more of the positive phone calls than the negative ones.
More advice from Terry Evans:
On Networking:
I strongly encourage current students to connect with their peers and professors. Building a solid network while in school will serve to provide a connection to the industry and assist graduates to remain current and cutting-edge. My peers and the contacts I've made are as valuable as the degree itself. Keep a spreadsheet of the people you're in contact with. Don't get busy and lose sight of making those networking contacts.
On Time Management:
As most Excelsior College students realize, it can be a difficult task indeed to balance work, home and school. Time management isn't about sacrificing one critical area over another but rather involves organizing oneself so that time is equally dedicated and delegated to all of these essential areas. I strongly recommend that students avoid overwhelming themselves by trying to speed through their education.
On His Excelsior Experience:
I earned two advanced degrees from Excelsior College, specifically an MBA and an MS in Cybersecurity. This combination is somewhat unique and provides me with considerable advantages over others with single-focused disciplines. In particular, I am able to translate complex technology into the language of business and individuals. Further, I am able to operate a successful cybersecurity consulting firm without the need for expensive outside business management.
Business Advice:
I have learned that trappings are a waste of money and time. I only invest in resources that further my ability to meet the needs of my clients.
 Best Podcast for Cybersecurity:
The comprehensive series of podcasts offered by Excelsior Colleges' National Cybersecurity Institute provide an ongoing and current stream of information.  Cybersecurity is an ever-changing science and thus requires continual education. The NCI podcast offerings allow me to pick and choose what is most relevant to me in rather quick, concise, and clear presentations on a time frame that meets my needs.
On Upcoming Cybersecurity Trends:
I am particularly concerned about the public's adoption of technology offered by marketing and data collection for-profit companies. Smartphones and other internet-enabled devices requiring excessive permissions are particularly troubling. While the lion's share of cybersecurity needs remains with national security and banking, attention needs to be given to less obvious targets such as public schools, small businesses and individuals.
Click here to discover more information about Excelsior's master's degree offerings in cybersecurity.
<img src= "https://life.excelsior.edu/wp-content/uploads/sites/6/2018/01/EXCEL-15981-Degrees-At-Work-Terry-Evans-PIN.jpg" alt="Terry Evans, 4 time alumnus and CEO of Cybersleuth Investigations, Inc."