From Lobbyist to City Attorney
Mark Lambert credits his law career to his Bachelor of Arts from Excelsior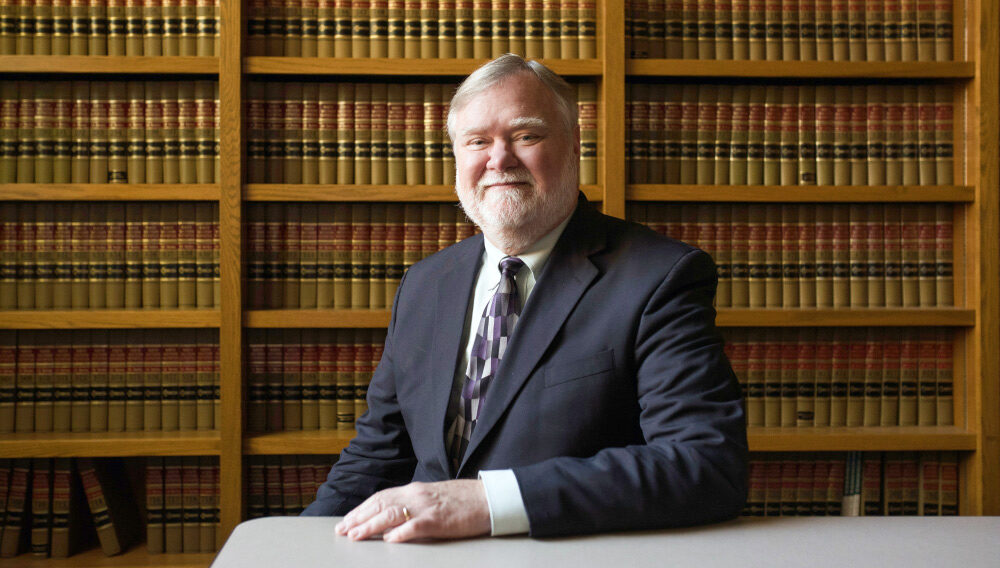 Mark Lambert's love of law began when he was a child, watching "Perry Mason" reruns. The courtroom drama series caused Lambert to pursue what became a decades-long career in law — a career that began after he earned a bachelor's degree from Excelsior College. From there, he worked his way from a lobbyist to his current position as city attorney of Ames, Iowa.
Lambert graduated from high school in 1979 and attended several colleges, including Des Moines Area Community College and Drake University. He completed some courses, but it was also at Drake that Lambert found a book in the library called "Bear's Guide to Non-Traditional College Degrees." Excelsior College was listed as a highly touted option, and Lambert decided that it was the pathway for him.
After Lambert earned his Bachelor of Arts from Excelsior in 1989, he worked at a public-policy consulting firm before starting law school at the University of Iowa Law School in 1992. He graduated in 1995 and began his law career as a lobbyist at the Iowa Legislature. In 2000, Lambert became the executive director of the Iowa Environmental Council, a nonprofit coalition of the environmental and conservation organizations of Iowa. "We were a lobbying entity trying to impact policy of the state environmental issues," explains Lambert. After a year, the governor of Iowa appointed Lambert to the Iowa Utilities Board, which regulates electric, natural gas, telephone, and other utilities in the state. When his term was up after four years, he became an administrative law judge.
In 2013, Lambert became the assistant city attorney in Ames, and in 2017, he was promoted to city attorney. "The common element to all those [jobs] was having a law degree, which I would never would have had if I hadn't gotten my bachelor's degree first to get into law school. So, I've always been very thankful for Excelsior, because I would have gotten there eventually, in terms of finishing my bachelor's, but I was able to do it at a much faster pace, and probably at a lot less money," says Lambert.
Lambert has always loved the concept of public service and looks for ways to be helpful. "I've always felt that government is there to help people, not to harm them, and so I try to kind of make the world a better place, even if it's just a little bit, even just in the city, and even if it's only for a few people or one person. If I can make things easier for them, then I just feel good about that," says Lambert.
He cites several examples of how he has helped better his community. Lambert recalls, as an administrative law judge, making a ruling reversing the Iowa Department of Human Services' decision ordering single mothers to pay back monies from the Children's Health Insurance Program. Lambert discovered the department was citing the wrong federal law, so he wrote a ruling to reverse its original decision. "And suddenly, you know, the state changed their mind and said, 'now you don't have to pay it back.' I was very proud of that."
Recently, as city attorney, Lambert completed all the legal paperwork for an inclusive playground for kids with all levels of physical ability to be built in Ames. "Even though there are a lot of people who made that happen, I felt really proud about that, because it's a wonderful thing and it's going to be there for decades to come."
Lambert has come a long way from watching "Perry Mason" reruns. Reflecting on his long career in law, he remains grateful for what got him started on his path. "I'm just so thankful I stumbled upon Excelsior, and it just made a huge difference in the rest of my life."
More from Mark Lambert
What are the most important traits or skills someone needs to succeed in a law career?
"I would say dedication and persistence…And brains help. You know, being smart helps. But being persistent I think is more important than that. And being honest. I've encountered a lot of people in my life who would have been in much better shape if they had just been honest."
What do you think your prime piece of advice would be for someone pursuing law?
"I would say, first of all, finish your bachelor's degree. And secondly, talk to some people who have been through it, talk to some lawyers about how to apply, contact a law school, talk to the admissions office about what you need to do to apply to law school, and then go through those steps and apply."