Herma Lee Receives a Regional Nursing Honor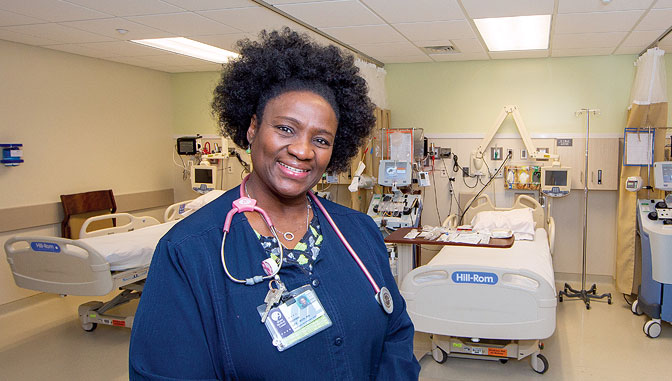 Herma Lee recalls her mother telling her that she was inclined to help people from an early age. That penchant for helping others makes her an asset as a nurse in the Apheresis Unit at Albany Medical Center in Albany, New York. Her nursing skills, judgment, and interactions with patients and families led to her selection as a 2018 Nurse of the Year in the Capital Region of New York state.
Bachelor's Degree:Anthropology from University at Albany
Honors:Inducted into Sigma Theta Tau International Honor Society of Nursing
Ten nurses in the region were recognized as part of the Times Union's Salute to Nurses initiative in May 2018. Each year the newspaper's readers are invited to nominate a nurse for the award, which honors nursing excellence among more than 273,000 licensed registered nurses in the region. Lee, a nurse at Albany Med for the past 15 years, earned a Master of Science in Nursing from Excelsior College in June 2018. She maintained a 4.0 GPA throughout the program and was inducted into the Sigma Theta Tau International Honor Society of Nursing.
"I found my voice and grew in confidence to speak on vital changes needed in health care and nursing."
–Herma Lee '18
In the Apheresis Unit — where whole blood is removed from a patient and components of the whole blood are separated and then a component is removed and the remaining components are returned to the patient — Lee is the experienced educator and mentor to nurses new to the unit. With her years of experience in the unit, she's at an interesting phase of her career. She enjoys the patient-care aspects of nursing and the reward of seeing patients get better, and revels in helping to educate patients and their families and being a patient advocate. As a level 5 nurse, her next step can be nurse manager, director, or any nurse leadership role. She's taking the time to identify her niche, as she also enjoys research. "Excelsior did broaden my horizons greatly as to what is out there and what nurses can do," says Lee.
For the capstone course in the master's program, she wrote a scholarly paper that discusses educating nurses on vascular access to improve the quality of care for patients receiving therapeutic apheresis. Her paper will be published in 2019 by the American Society of Apheresis, the organization of physicians, scientists, and allied health professionals whose mission is to advance apheresis medicine for patients, donors, and practitioners through education, science-based practice, research, and advocacy.
Nursing was a second career for Lee, who was a dental assistant for 10 years after earning an anthropology degree from the University at Albany. As a single parent to a then 4-year-old, she changed her career trajectory and pursued a nursing degree at Hudson Valley Community College. After working at two local nursing homes, she began working at Albany Med and has spent her entire career there in the same unit.
Lee says that having completed the educational experience at Excelsior, she feels empowered to make a change for the nursing profession and, ultimately, for patients. "I had such a great experience overall, but my most personal and impactful experience was feeling empowered, empowered to represent our nursing profession in this troubled and challenging health care arena," says Lee, who was recently selected to sit on the hospital's Institutional Review Board. "I found my voice and grew in confidence to speak on vital changes needed in health care and nursing. I feel like I can do it all. I can change the world."