The Road Less Taken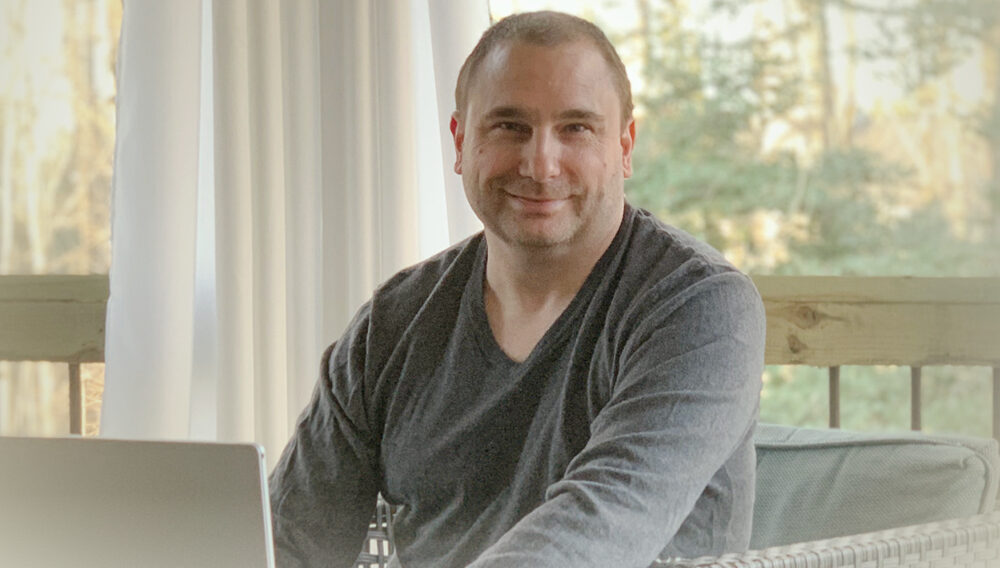 Christopher Johnson's diverse job history leads to his dream career
Christopher Johnson's pathway to becoming the director of the Cybersecurity Operations Center at the National Geospatial-Intelligence Agency (NGA) was not straight or fast. Johnson took some classes here and there to pursue his education and also landed a few different jobs—one with the U.S. Navy—before finally earning two degrees with Excelsior College and settling down at the NGA in Virginia.
After high school, Johnson, of Manassas, Virginia, planned to enter Southern Illinois University of Carbondale's microbiology program with the intention of becoming a virologist. He wanted to study the "worst of the worst," when it comes to viruses, he says, from Ebola to hemorrhagic fevers. Before beginning at Southern Illinois University, however, he enlisted into the Illinois Army National Guard and went to boot camp.
When Johnson returned from boot camp, a visit to see friends at Western Illinois University for about a week changed his trajectory. "I realized that maybe college life wasn't the right decision for me at that moment in time," he says and explains that the way his friends spent their time having parties and not studying didn't sit well with him. Instead, Johnson reached out to a friend in the Army National Guard who worked on building cellphone towers, asking for a job. "The money was amazing for an 18-year-old with no college degree. It was hard work. We traveled all the time. I was on the road three weeks out of a month, traveling all over the country, everywhere from Texas to the northern reaches of Minnesota. I got to see this country. It was fantastic," says Johnson.
But Johnson knew he couldn't build cellphone towers for the rest of his life. After about three years, he reached out to the man his mother was dating, who was in the Navy, and told him he was ready for a change. With his help, Johnson spoke with a Navy recruiter and enlisted. Johnson took some college courses, but he was not yet serious about earning a degree. He says that one of his biggest regrets is that while in the Navy, he didn't take advantage of the free tuition assistance and pursue a degree.
Johnson was a fire controlman on the USS Yorktown, but when he was coming back from deployment in 2004, he learned that the ship was going to be decommissioned. So, he started to look for another assignment. He began to cross-train in the information technology field, which he was already interested in—his interest in PC gaming had led him to start building his own computers. He had the opportunity to study information technology at the U.S. Navy's Center for Information Dominance and says he fell in love with the field. "The idea of playing cat and mouse, like a detective with adversaries, really appealed to me," he says. By 2005, Johnson was ready to take his education further and enrolled in Excelsior. He earned an Associate in Applied Science in Technology in 2007 and a Bachelor of Science in Information Technology in 2019.
As the director of the Cybersecurity Operations Center (or "C-SOC") at the NGA, he is responsible for NGA's 24-7 cybersecurity network defense. He oversees a cyber threat intelligence team whose job it is to monitor networks for adversarial activity and insider threats. If anything comes up, an incident response team responds to the issue by containing and eradicating the threat. Johnson is also chief of the Cybersecurity Operations Division and is usually involved in making real-time decisions critical to the security of the NGA.
Johnson loves his job because he has his hands in many different situations and enjoys working against adversaries who are always changing their technique. "They change and come back, we do something to stop that, they change and come back. I really just enjoy that. That sort of challenge always keeps you on your toes and you can't let your guard down. You can't take a breather even for a moment," he says.
It might have taken Johnson a little longer to land his dream position as director of cybersecurity operations, but sometimes that is how it happens. His varied experiences and technology degrees from Excelsior set him up for success in his role. He is proof that it doesn't matter how long it takes to get to where you want to go; what matters is the dedication to getting there. Learn more about Excelsior College's BS in Cybersecurity program.