Jason Hamerlinck Turns Pizza Hut Work Experience into Degree Credit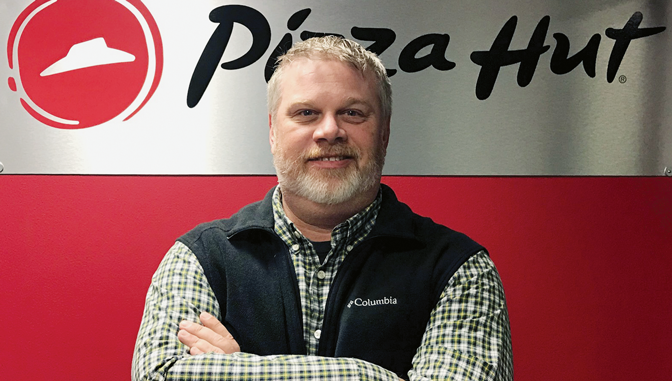 Jason Hamerlinck started his career with Pizza Hut in high school as a server at his home-town restaurant. More than 20 years later, he is the talent acquisition manager for the Little Rock and Georgia Regions and the new program ambassador for NPC's educational partnership with Excelsior College.
Hamerlinck decided to go back to school after building a successful career with NPC.
"Going back to school has always been one of those 'bucket list' items for me," Hamerlinck said. "But being out of school for 20 years and going back is not an easy decision."
In September 2016, Hamerlinck enrolled in the Bachelor of Science in Business program.
"What really sealed the deal for me to actually get started was that with Excelsior, I was not starting totally over. The credits that I had from prior universities transferred to Excelsior. However, the biggest selling point for me was the ability to use Learning Zone and work experience as college credits. This was huge because with those credits, I was less than two years away from a degree. I had to try it out. The discounted rate for Pizza Hut employees was also a big win."
Through a partnership with Excelsior College, NPC provides higher education opportunities to all Pizza Hut employees and their immediate family members through a 45 percent discount on tuition, waived fees, and allowing employees to apply LEAD training courses as credits toward their chosen degree program.
As an ambassador, Hamerlinck will be an invaluable resource for NPC employees who are considering a degree though Excelsior or are working through the program.
"I hope to spread the opportunity of continued learning," he said. "Part of our Leadership Swagger is having an open mind and being an active learner. Excelsior is such a great opportunity for people who are working to continue their education, and it could open doors for so many people if they would explore this option. I think that the more I get involved, it will help NPC become a stronger company and help build leaders for the future."
Hamerlinck, originally from the Quad City area in Illinois, grew up on a farm until his family moved to Hot Springs, Arkansas, when he was a teenager. He moved to Conway, Arkansas, after high school and started college there. Needing a part-time job to cover college expenses,  Hamerlinck knew that he made good money as a server and had a lot of fun doing it, so he applied and was hired as a Pizza Hut server in Conway.
The general manager of the restaurant saw something in Hamerlinck that he couldn't even see in himself at the time — an ability to lead — and pushed him to become a shift manager. From there, his career took off. He transferred to the unit across town to become an assistant manager, and soon after, he was given the opportunity to take over as restaurant general manager.
"This was a lower-volume unit, and I had a lot of success," Hamerlinck said. "I realized at that time, this was a place for a potential future. I also knew that if I ever wanted to move up, I needed to take over a higher volume unit."
Then the opportunity to run one of the Delco units in Little Rock came open, so of course, he took it. While in Little Rock, Hamerlinck ran four different units.
"I wanted to move into multi-unit leadership and was training to move up," Hamerlinck said. "But at this same time, the Region went through a lot of changes, and I left the company."
About two years later, Jason received a call from the regional manager, who wanted to talk to him about the opportunities for him to come back to Pizza Hut. He interviewed and earned an area manager position overseeing eight units. For the next five years, he covered most of the state of Arkansas as an area general manager (AGM).
"Then, I got approached about an opportunity," he said. "And dumb me, I thought the grass was greener, so I left the company again. It wasn't long before I realized the mistake that I had made."
Hamerlinck decided to apply for a driver position at the local Pizza Hut to work part-time. "Luckily the RGM of this unit used to work for me and she gave me an opportunity to come back," he said.
Eventually, the store became short-handed and he was asked to start running shifts on the weekend. And then, like before, his career with NPC started to take off, and he soon moved into an restaurant general manager role. "This was a store that I had opened as an AGM, so I was very familiar with it." He ran this unit for three years before the opportunity to move into HR came available, and he's now been in HR for going on three years.
 Throughout this wild ride with Pizza Hut, Jason was also growing his family. He met and married his wife, Jaime, and the couple is happily married with four amazing kids — Logan, Madison and twins, Hayes and Shelby.
"One of the best things about pursuing my degree with Excelsior is that I get to be a role model for my kids," he said. "I have shown them that education is important — no matter how old you are."
Learn more about how NPC and Pizza Hut will help you invest in your future through a degree with Excelsior College (including information about scholarship opportunities!) here!
About your experience with Excelsior:
The professors are very good. They know the material and they want you to be successful, as long as you make the effort and put in the work. I am majoring in Business. Using my experience has been beneficial in my classes, it has made me aware of "real world" situations and the professors appreciate the honest feedback. I am currently trying to decide if I will continue and get my master's.
What are your career goals?
That is actually a tough question. After several years in operations, I have enjoyed the change to the HR role. I have been able to learn a different side of the business, which I think would make me better in operations. I would like to advance as far in the company as possible. I am hoping that completing my degree will open even more opportunities. If the right position became available, I would like to be considered.
What has been the best part about pursuing a degree with Excelsior?
All the people that have encouraged me along the way. My wife & kids have been great and understanding. My co-workers and supervisors all have supported me along this journey, and this support pushes me to finish. Also, the scholarships that I have received from NPC and Excelsior. This shows that the company supports me and this program.
What has been the hardest part?
I wouldn't say this was the hardest part, but it was more of a mindset change. You have to dedicate yourself to your studies. You cannot hope to turn your assignments in last minute or not do the homework and think you will be successful. Yes, it works around your schedule, but you have to be dedicated. It is all about time management. You must manage family activities, work, and school at the same time. There have been some long nights after long days at work, but you must keep the goal in mind.
If there's one thing you wish you'd have known before you got started, what would it be?
Ask a lot of questions. The staff is there to help you. It is easier to give them a call and help you set up financial aid or register for classes than trying to do it all yourself. Realize they are there to help you.