Every Choice We Make
Jeremy Walkley's choices have impacted his military career and led him to a successful job as a division chief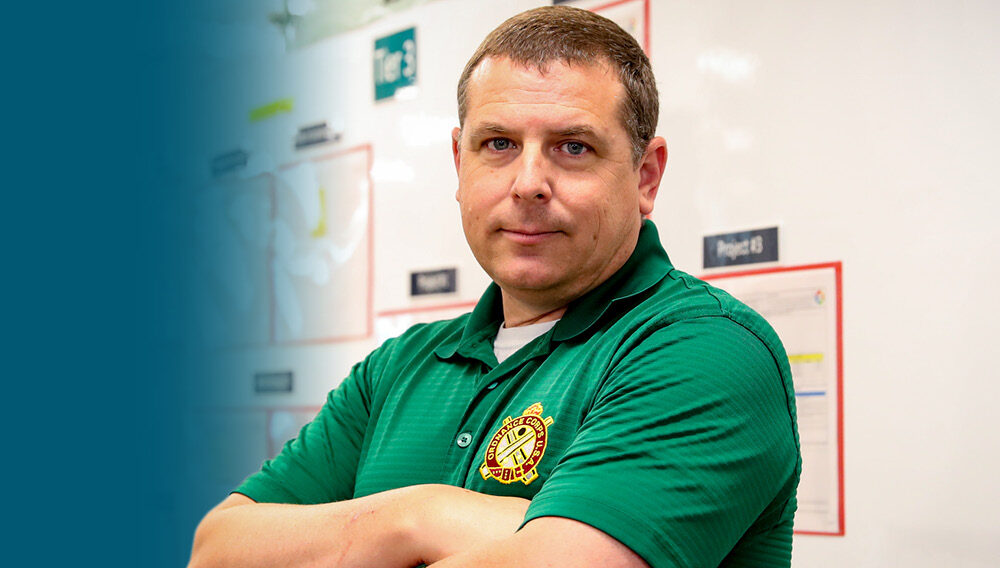 Do you ever wonder what would've happened if you made that one different choice in your life? If you had gotten on the plane? If you had chosen the other college to attend? If you hadn't turned down that job offer? In some cases, the alternative choice could have led to a completely different life. The choices Jeremy Walkley, of Schodack, New York, has made have impacted his career as a military servicemember, his current job as division chief of the Logistics Management Division at Watervliet Arsenal, his role in the National Guard, and his very life.
At 19 years old, Walkley wanted to do what many young men his age wanted to do: be a Navy pilot like the actor Tom Cruise played in the movie "Top Gun." So, he did what anyone his age would do, he went to the Navy recruiter's office to enlist. "And they laughed at me. And they said, you know, 'how much jet time do you have?' I was like, 'I'm a 19-year-old kid. I don't have any jet time,'" says Walkley, who then tried the Air Force recruiter's office with the same outcome. Remembering his grandparents and great-grandparents had served in World War II, Korea, and Vietnam, he decided he would try the Army instead. Fortunately, he learned he could go to flight school with the Army without having to compete with so many other young pilots, and a few months later, he was headed to Basic Training.
Walkley was young, had just married, and had a new baby when he joined the Army. "I was very immature—not making really great life choices. I joined the Army; that actually gave me purpose and direction. I was able to harness some of that energy in a positive way," he says, adding that joining the military allowed him to help people, something he had always been interested in doing. While enlisted, Walkley was deployed to Haiti from 1993 to 1994 and to Bosnia and Somalia in 1995. "I always felt like I had a part in helping at least the people on the ground …," he says, referring to providing aid during the social crises that resulted from the governmental changes at those times. Being part of something bigger than himself taught Walkley leadership, too, something he says that would have never happened had he not enlisted in the Army. "[The Army] was the best decision for me because it just helped me grow up."
Walkley's time as a pilot came to an end when he severely hurt his shoulder in 2000 and then again in 2002. But it was an injury that would save his life. The second time Walkley hurt his shoulder, he was stationed in Germany and was supposed to head to Iraq before Operation Iraqi Freedom had officially begun. "The guy who took my seat and aircraft in Iraq was actually killed, so yes, my life would be very different," says Walkley, who adds that the experience allowed him to focus more on his second wife, his kids, and what really matters in life.
Walkley medically retired from the Army in 2004, but he wasn't ready to give up the military life. By 2008, he wanted back in. He looked to the New York National Guard and joined the logistics department. In 2009, Walkley's superiors mentioned an opening for an ordnance officer at the Watervliet Arsenal in upstate New York. He decided to apply, and he was quickly promoted to a logistics management specialist. At about this time, Walkley realized he needed more education to continue to move up in his new civilian career.
He discovered Excelsior College was a military friendly school and would accept many of the credits from the schools he had attended briefly after he left high school and when he first retired from the military. Excelsior's online format was perfect for his busy lifestyle, and in 2015, Walkley earned a Bachelor of Science in Liberal Arts. He followed up his bachelor's degree with a master's in supply chain management from Syracuse University and "credits where I am today with the two programs, back-to-back."
In 2019, Walkley was promoted to his current role as division chief of the Logistics Management Division. He oversees a large team that handles the front-end production steps of the manufacturing process for the machinery the arsenal makes for the Army, Marines, Navy, and Air Force. Walkley's team inventories the materials, and organizes and stores it in the warehouse until production begins. "We're everything except the actual machining part," he says, adding that his favorite part of his job is working with people to solve problems that might arise, like, for example, a late shipment.
Walkley couldn't have completed any of his schooling or made the move to the Watervliet Arsenal without his wife. She encouraged him through his ups and downs, and he credits her with his accomplishment of finishing his degree and as the reason his "career is going somewhere." It must be said, however, that if Walkley hadn't chosen to enter the Army recruiter's office, he wouldn't be where he is today.
More from Jeremy Walkley
What is the best piece of business advice you've received on the job so far?
My go-to piece as a supervisor is to never have your people waiting on you. If you owe something such as a signature, email, or review of a document, then you put their needs first and take care of yours later. Putting them first allows me more time to focus on removing their obstacles and helping the organization move forward.
What are the most important traits/skills for someone to succeed in your field?
The ability to listen, analyze what is being said, and then address it appropriately. Most of my dealings are with people who are upset or frustrated when something isn't working, and I help them to understand why and how to fix it for themselves.
What networking tips would you give to Excelsior students?
As an introvert, that is a tough one for me to answer. I generally try to be open and honest with everyone that I am dealing with and focus on the person that I am engaged with at the time until complete. I always try to remain positive and have a sense of humor. You never know where you will wind up or who you will work for. The world is a very small place, and links are everywhere if you look hard enough.
What time management tips do you have for students juggling activities outside their Excelsior studies?
You have to make time for the things that make you happy. Sometimes those 15 minutes away from what you are doing change your whole perspective. Stay in the moment and know what you need to get done, but always leave yourself a little room to relax and enjoy the trip.