Life in Health Care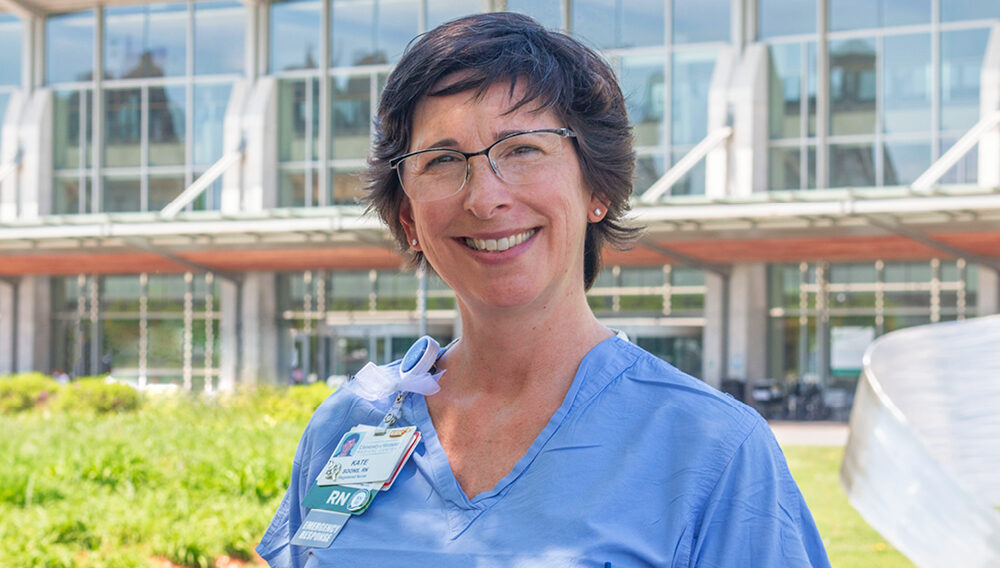 Katheryn Soons uses three nursing degrees to excel in a lifelong career of helping others
Katheryn Soons has been around health care her whole life. In high school, she worked at her father's ophthalmologist office and surgery center and in college, she volunteered with the fire and rescue squad. It was only natural that she pursued a career in health care, and for the past 29 years, she has worked in various capacities at the University of Vermont Medical Center. During that time, she has earned associate and bachelor's degrees in nursing from Excelsior College. She completed a master's degree in nursing education in December 2020.
The oldest of six girls in an Irish-Catholic family, Soons was encouraged to "branch out." She was nervous about leaving home, but her father suggested she attend the same school he had, Saint Michael's College. That decision put her on a lifelong path of helping others. At 19, she joined the Saint Michael's College Fire and Rescue where she became an advanced EMT, which she has been for 32 years. She also began working in the poison control center in the University of Vermont Medical Center's emergency room. Her goal was to become an ER nurse, but she needed more schooling for that. Soons and a group of coworkers heard about Excelsior's online programs and decided it was the best opportunity to pursue their RNs.
The University of Vermont Medical Center is also a corporate partner of Excelsior, which factored into Soons' initial decision to enroll. Referring to the tuition discount that comes with her employment at the Medical Center, she says, "It takes the edge off." She continued to receive discounted tuition during her pursuit of the master's but notes since she is works part-time, she does not receive the full reimbursement. To compensate, she applied for and was awarded a critical care nursing scholarship that honors the life of a former ICU patient.
After she earned her associate degree in nursing in 2008, Soons became a nurse in the surgical ICU at the University of Vermont Medical Center. It was a good fit for her personality, but even though she was happy in the ICU, she decided to return to school again for her bachelor's and earned that degree in June 2019. It was perfect timing, too, because the hospital was beginning to pursue magnet status and encouraged all nurses to achieve the bachelor's-prepared level.
Now Soons is on pace to earn her master's in nursing education in late 2020. "It's very clear what you need to do to earn a good grade," says Soons, "I have a routine with Excelsior. I can map out my term and say on this week I need to start preparing for that paper that's due at the end of the term." Soons says the coursework has been rigorous, but the instructors are accessible and supportive if she ever has any questions, or if she needs an extra day. She says, "They recognize that many of us are working while we're going to school and if you're reasonable and you say, 'this is what I can do, this is how much I have done'—they've been very kind and understanding."
The discussion boards have been a highlight of Soons' time with Excelsior. Having only worked and spent her adult life in Vermont, Soons admits she has one way of thinking, and so she appreciates the broad views and personal perspectives from others she comes across while in her courses. "When I'm on the discussion board, I'm with people from all over the all over the world," she says, "So, it's been great to be exposed to so many different types of nursing. And I find that really has enriched my educational experience."
Soons works part-time with the clinical emergencies response team and per diem in the adult surgical and pediatric ICU at the University of Vermont Medical Center, which demands nursing expertise across the life span. She works two 12-hour shifts a week, and because the schedule can be demanding on her physically and mentally, she has developed a system for self-care. Soons oftentimes wakes early to take a swim to keep her back and brain healthy, she says, and only drinks one cup of coffee per shift. Fridays are spent with her grandson exclusively, and Sundays, Monday night, and Tuesday night are saved for homework.
Soons' dream is to teach. She's already dipped her toes into the pool, too, because she taught EMT training as adjunct faculty for five years and since 1991 as temporary faculty at the University of Vermont. She knows Excelsior's master's in nursing program will help her become a better teacher and already has some feelers out for a new teaching position. She says she owes it to her degrees for getting her this far and adds that she has become a better nurse because of what she's learned. "There are things I've learned in the last three years in the bachelor's in nursing program that were not included in the associate program, and these are the things I think make me a better nurse—things like research, quality, theory—things that you might kind of roll your eyes at, but there's something to be said for this stuff."