Magic Man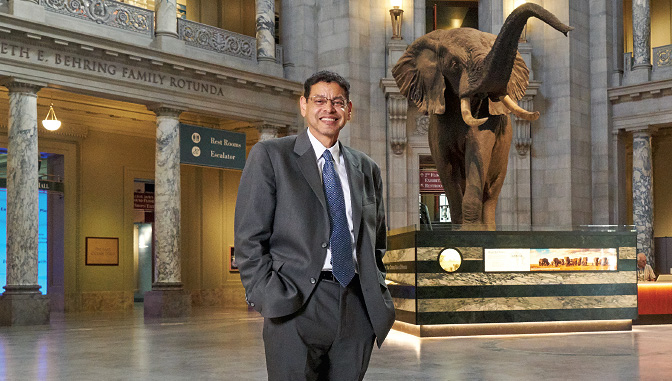 Graduate finds rewarding career behind the scenes at the Smithsonian
---
The halls of the Smithsonian National Museum of Natural History are quiet. Nelson Torres passes by the elephant standing impressive in the rotunda. He glances toward the Hall of Mammals,
knowing that Smithsonian staff has made sure each of the exhibits is open and safe; the escalators are in working order; the air conditioning is ready to cool the mass of patrons coming through the doors in a few short hours. He is behind the scenes, in the shadows, but he helps ensure all the Smithsonian museums are accessible and ready for the public.
Torres, a 1997 BS in Liberal Arts graduate, is the associate director of business operations within the Office of Facilities Management and Reliability at the Smithsonian Institution. He oversees the facilities budget and workforce, procurement process, and property management for the Smithsonian's 19 museums, National Zoo, and a handful of research centers across the country — 13 million square feet of space.
"I really like business, I really like managing resources and programs, and seeing how those programs work and thrive," says Torres of his position. His interest in business management stems back to his high school days. He pursued accounting in college, but ended up going into the Marine Corps where he stayed for the next 20 years. He says of his managing experience in the service: "That's where I learned the rudimentary, hands-on, practical business management… ." Torres completed his bachelor's degree with Excelsior College and earned a Master in Public Administration from Webster University. After he retired from the service, he went on to earn a PhD in business from Northcentral University.
His team is responsible for providing the human, budgetary, and property resources to facilitate the cleanliness, appearance, and maintenance of the iconic Smithsonian Institution facilities. "It's a lot of the back room, enterprise sort of thing that people don't see and maybe take for granted that will always work," he explains. He may work behind the exhibits, but he enjoys seeing the payoff every day. That's what gets him up in the morning. "Seeing the tangible and almost immediate results of what we do, whether it's getting lighting somewhere or flooring, or making sure things are clean," say Torres. "It just really is seeing that tangible result; that the visitor experience goes on uninterrupted, and that it's a good experience here at the Smithsonian."
In his interview with Candid Career, an organization that provides informational interview videos featuring professionals in myriad careers, he describes his daily responsibilities to viewers. Torres is one of a dozen Excelsior alumni who have shared their career trajectories through Candid Career. Excelsior's Career Center houses the short videos on its website so that students
and others can learn about the various professions of Excelsior graduates. The videos are also shared on the Candid Career site.
Interviewees like Torres are asked to talk about their educational background and work experience, what they do at work, and their loves and challenges of the job. They give guidance on how to prepare to enter the field or obtain a similar position, and also share any final advice. Alumni are also asked about their experience with Excelsior College. Maribeth Gunner Pulliam, the director of career services at the College, said it is beneficial to have alumni featured on the Candid Career website. "Not only do our own students get to see them, but prospective students get to see them, and students across the United States get to know the Excelsior brand," she said.
"I don't have to be out there; I don't have to be in front … . But I love making magic, and I love making things happen."
–Nelson Torres '97
Torres's video has become popular on the Candid Career site and it's easy to see why. He is dedicated but also credits his staff for making his job so enjoyable. "They are one of the reasons why I come to work. It's a very pleasant, very collegial, very nurturing environment… . I love that my work involves people and budgets and procurements, but it also involves working with the staff of different museums and different art galleries or the National Zoo or a research center and possibly finding a common theme that we all can work together toward."
At the end of each day, Torres leaves feeling physically and mentally tired, but more than that, he says he often wonders, "Did I do enough? Did I do enough today to ensure that tomorrow is going to be a great day for not only our staff but for our visiting public?" In his position, he often has to think about the next day; it's important to think strategically about what's next. In this respect, Torres's job is never over.
But that's how he likes it, and even though he admits it'd be interesting to be somebody's chief of staff, he would still enjoy working behind the scenes. I don't have to be out there; I don't have to be in front," he says, "But I love making magic, and I love making things happen."