Faculty Focus: David Foster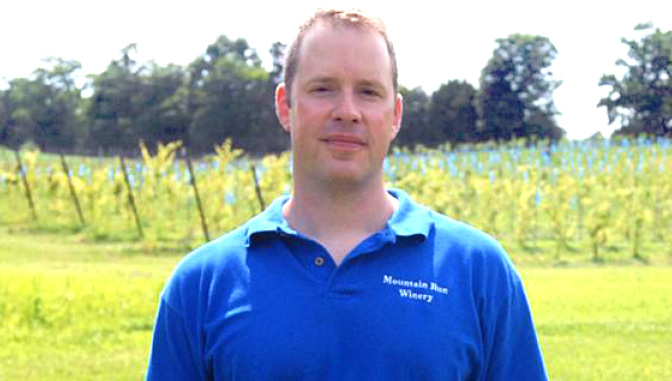 You can often find David Foster on his 36-acre winery in Central Virginia, growing grapes, making wine, and operating the 1950s corncrib-style barn-turned-tasting room. But there's another side to Foster; the former Army civilian enjoys passing on his knowledge of criminal justice to others. Thanks to his background and guidance, Excelsior College students leave his capstone course in the master's in criminal justice program with a higher understanding of criminal justice and are ready to advance in their careers.
Foster received his doctorate in criminology from the University of Maryland, College Park, and is a former George Mason University professor. Prior to that, he worked for the U.S. Army. "Based on my doctoral work on terrorism in Iraq, I was asked by the Army to deploy as a civilian advisor, and I spent 22 months in Baghdad and Anbar province as an Army civilian," he says. Foster brought that experience back to Excelsior students, enriching their education with his expertise, by helping to build the Master of Science in Criminal Justice program. He has designed courses with Excelsior since 2008 and has been teaching with the College since 2012. Now, he teaches MCJ 698 Criminal Justice Capstone, the concluding course of the master's in criminal justice program.
Teaching the capstone course has allowed Foster to push his students to new levels of critical thinking, writing, and organization. He says the course enables his students to use the knowledge they've acquired, saying, "They have spent the last few years developing their academic foundations, and my class gives them the opportunity to bring all of their education, and professional and personal expertise, to bear on each week's assignments."
A recipient of a Distinguished Faculty Award in 2018, Foster takes the time to interact with his students through the online setting. He says he tries to log on each day to see what his students are talking about on the discussion board and is constantly trying to push them to see the "shades of grey" that exist in every situation. "My job is to show them some of the implications of their assumptions or conclusions, and in doing so open their eyes to a more complex, and dynamic world," he says, adding that it's important to balance the negatives and positives within each choice.
Foster emphasizes the importance of writing in his courses, noting that in formal communication, people will often judge you based on your ability to clearly and succinctly communicate your thoughts through writing. He explains that good writing involves hours of editing, proofing, and organizing and reorganizing. "All of this takes time, which is why it's important to start early on assignments and then to continually refine them before they are due," he says. This also comes into play when students are answering questions on the discussion boards. Foster notes that students need to take the time to look at all the evidence and carefully and thoughtfully craft their responses.
He also tells students it's a great idea to talk to their professors, whether for career advice or just to get to know them as a person. "You can learn so much from them by asking about their careers, their high points and low points, their views on how things have changed and are still changing, and more," says Foster. He often speaks with his students on the phone, but most of his conversations are held in the classroom setting.
Foster has enjoyed teaching for Excelsior because the students come from diverse backgrounds and careers. In his words, his favorite teaching moments: "are always when a student raises a point that I had never considered, or one that challenges my own assumptions on a topic." He is often amazed at the knowledge students bring to the classroom, saying it helps to refine his own perspectives on topics. "Excelsior students have some amazing life experiences and careers and it really does make the conversations in the discussion forums that much more rich and meaningful," he says.
More From David Foster:
On how to make the best out of each day:
"Every morning when you wake up, make a list of everything you want to do that day, and as you get things done, check them off your list," says Foster, indicating to start with the "easy wins" in the morning to gain a sense of accomplishment and momentum as you move onto the bigger tasks. "I honestly do the dishes and sweep first thing every morning, because it helps me start my day with having gotten something accomplished, and having a clean workspace helps to set the stage for bigger things to come."
On job hunting:
"Talk to people in the fields you think you want to get into. Ask them about their experience, how they got where they are, and what they would recommend…People with experience in those fields are your best bet for getting insight into how to get into that type of career, and they can often recommend parallel careers or employers who you might not have considered."
On the best piece of advice he's received in his area of expertise:
"Read every day. Read as much as you can about your field, in books, research articles, newspaper stories, and more. Breadth of knowledge in an area is potentially more important than depth, and being 'up to date' with all aspects of your field really helps to put your current work focus into context."