Rising Above: Katharin Rice-Gillis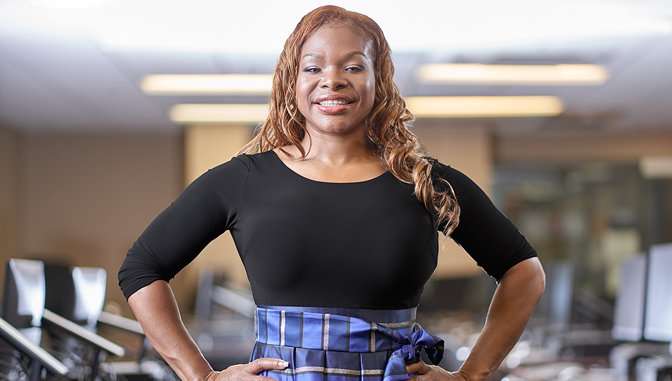 Katharin Rice-Gillis has had her share of tragedy—from having a grandparent murdered to losing a son—but she hasn't let that keep her from achieving her goals. Through ups and downs, she has managed to successfully wear many hats as a sailor, mother, soldier, wife, and student, and was able to complete her educational goals as a three-time Excelsior graduate. Now her life is headed in bright directions and she credits Excelsior with making it all happen.
Rice-Gillis, who is originally from Texas and currently resides in Lawton, Oklahoma, was born into dysfunction. She and her sibling spent quite a few years in foster care until they were adopted by their maternal grandmother. In 1996, when she was 18, Rice-Gillis joined the Navy where she spent nine years, then transitioned to the Army in 2005, under the Operation Blue to Green Program. She retired in October 2016 with 20 years of honorable active duty service.
Rising Above Tragedy
Unfortunately, in 1998, while Rice-Gillis was in the Navy and stationed in Italy, her grandmother was murdered by Rice-Gillis's sister and her sister's significant other. She relocated back to the U.S. to make funeral arrangements and attend criminal court proceedings. Rice-Gillis didn't let the tragedy define her; she kept moving forward. In 2006, while stationed at Fort Drum with the 10th Mountain Division, an Excelsior College representative shared information about the college with the servicemembers. Rice-Gillis decided she would pursue higher education while simultaneously working to further her military career.
In 2007, Rice-Gillis became the first African American female warrant officer to successfully pass marine deck officer school and was assigned to the USAV MG Winfield Scott as a third mate, in Fort Eustis, Virginia. Rice-Gillis never forgot about her education goals. She earned an Associate in Applied Science (Business) in 2009, and a Bachelor of Science in Liberal Arts in 2013, but it was the pursuit of her master's degree in a technological field that was Rice-Gillis's real passion.
Changing Her Focus to Cybersecurity
Rice-Gillis has been drawn to cybersecurity ever since she was deployed to Afghanistan in 2010-2011. As an electronic warfare warrant officer with the 101st Airborne Division, she was responsible for frequency manipulation and for utilizing CREW equipment to protect servicemembers and civilians from IEDs. "Afghanistan really opened my eyes to the importance of protecting the information and systems that we rely on daily," she says. Her interest in cybersecurity was piqued from this experience and she began exploring the discipline.
Pursuing an online master's degree in cybersecurity with Excelsior was a no-brainer for Rice-Gillis, since she had already earned her associate and bachelor's degrees with the school. "My opinion is Excelsior bridges the gap of the ever-evolving cybersecurity field with the shortage of skilled professionals, by offering challenging academics, coupled with educators who are the very best in their field of study," she says of her experience. She also notes faculty were helpful and knowledgeable: "Every instructor I had was the perfect instructor for that course. They knew their stuff, they were passionate, they interacted with all of their students…there was never a time where I was made to feel less than or belittled for asking a question."
Rice-Gillis earned a Master of Science in Cybersecurity in 2015 with a 4.0 GPA and was thrilled to walk across the stage at Commencement. Even more, she was happy her two sons and husband were able to share the moment with her. "All the days and nights of trying to balance school with work and obligations of being a wife, a mother, a soldier…witnessing me walk across the stage was everything for my children and my husband," she says. That same year, she was also awarded membership into Upsilon Pi Epsilon, the honor society for the computing and information disciplines.
Giving Back to Excelsior College
Rice-Gillis wasn't finished with Excelsior after graduation, though. She was elected as a board member of the Alumni Leadership Council from 2015–2016 and says, "It was a wonderful feeling to represent the students and connect with them." She also continues to give an annual monetary gift because, "I believe in Excelsior College and am grateful for the way the educational institution positively changed my life, and desire to be a part of helping others succeed in their educational goals." The Alumni Leadership Council also surprised Rice-Gillis by honoring her mother by creating a one-time scholarship designated as the Nenie Marie Edward Ever-Upward Scholarship.
Rice-Gillis is the first in her family to graduate college and has inspired her children and husband to pursue higher education. In fact, her husband, who served 22 years in the Army, earned a bachelor's degree in information technology from Excelsior in 2018. Her two sons—age 18 and 20—are following in her footsteps and entering the Navy. Rice-Gillis believes that, thanks to Excelsior, she was able to show her family how higher education can positively change your life. She says, "I believe Excelsior taught to me commit to my own dreams…There is no luck when it comes to success, you just have to be willing to believe in yourself…"