MBA Investment Pays Off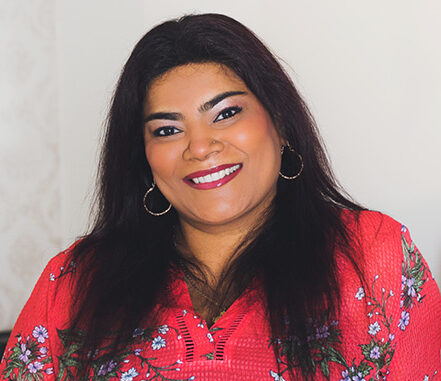 Amanda Alfred MBA '17 began working for Prudential Financial Inc. in Livingston, New Jersey, five years after graduating from Fairleigh Dickinson University. She came from a large family of nine children that had emigrated from Guyana. Education was very important to them, and she was fortunate to go to college, but couldn't even think about continuing right on to graduate school.
Alfred instead poured her time into learning the ropes at Prudential. If a client on a group insurance policy is denied benefits, they can submit an appeal. As an appeals specialist, Alfred communicates with all parties involved to gather information, requests medical reviews or independent medical examinations and reviews policy provisions to determine whether a claim is supported.
As she built her reputation with the company, she was able to work with her manager to increase the days she worked remotely —until she was working from home full-time. So, when she relocated to Groveland, Florida, for a more family-friendly community (and lower cost of living), she was able to take her job with her.
It was that job that ultimately helped Alfred achieve her goal of going to graduate school. She heard from several peers that they were working on their MBA through Excelsior College, which she saw had an excellent reputation, especially for working adults. When Alfred learned that Prudential had a partnership with Excelsior and would potentially reimburse up to 90 percent of the tuition, she knew it was her opportunity.
She enrolled in 2015. "The program worked well with my schedule, even with a 4-year-old in daycare," she said. "The flexibility of being able to log on at any time was helpful in getting discussion questions and assignments completed." Alfred worked for Prudential from 7 a.m. to 3 p.m., so she would get up at 5 a.m. and do two hours of schoolwork, then do more in the evening after her daughter went to bed.
The time spent was well worth it. "Everything the MBA provided was in line with what I was doing for Prudential and was immediately applicable," she said. "It definitely had a positive impact on my job."
"I work with clients of all kinds from many parts of the country. The MBA program gave me a greater understanding of diversity and the importance of tailoring my message to the client in order to communicate more effectively," Alfred shared.
Armed with this degree experience, she feels more prepared and confident when interacting with peers and offering her perspective to colleagues. "I see now how my input and feedback in working groups can help achieve our common goals and minimize risks to our company," she reflected.
Earning her MBA gave her a better understanding of and respect for business practices, from both business and ethical perspectives. "There are laws that govern how we do business at the national level and by state," Alfred said. "The program helped me understand how they were created and why."
Alfred prides herself on bringing both compassion and a strong sense of doing what's right to her work. "It is my responsibility to follow the policy," she explained. "If an exclusion applies to the client, I am careful to clearly communicate the reason to them, but I must administer the policy as it is written." She continued, "By the same token, if someone is ill or disabled and meets the definition of coverage, I do my best to make sure they receive any benefits they are entitled to. I am empowered to apply my knowledge and experience and encouraged to do the right thing — for customers and for Prudential."
Alfred has remained in the same unit —Appeals Review —­ since starting her MBA, but she has received two promotions. She believes that earning her MBA has a lot to do with that.
Alfred sees no end to the possibilities with Prudential. In addition to her regular duties, she coaches two individuals from other departments, responds to state complaints, and does investigative work with another department. Because of that exposure and experience, coupled with her education, she said, "I know that if I ever want to make a change, Prudential offers many opportunities to stretch and grow by taking on new professional challenges."
Alfred has some advice for anyone considering going back to school for a graduate degree. "Go for it," she said. "The feeling of accomplishment at the end is well worth every minute spent on assignments." She adds, "You're not alone on the journey. The professors are there for you, to help you and push you, and the staff is there to answer your questions and make the process easier. Even your classmates are there for you. Everyone just genuinely wants to help each other succeed."