Mentorship Program Links Alumni with Students, Creating Valuable Connections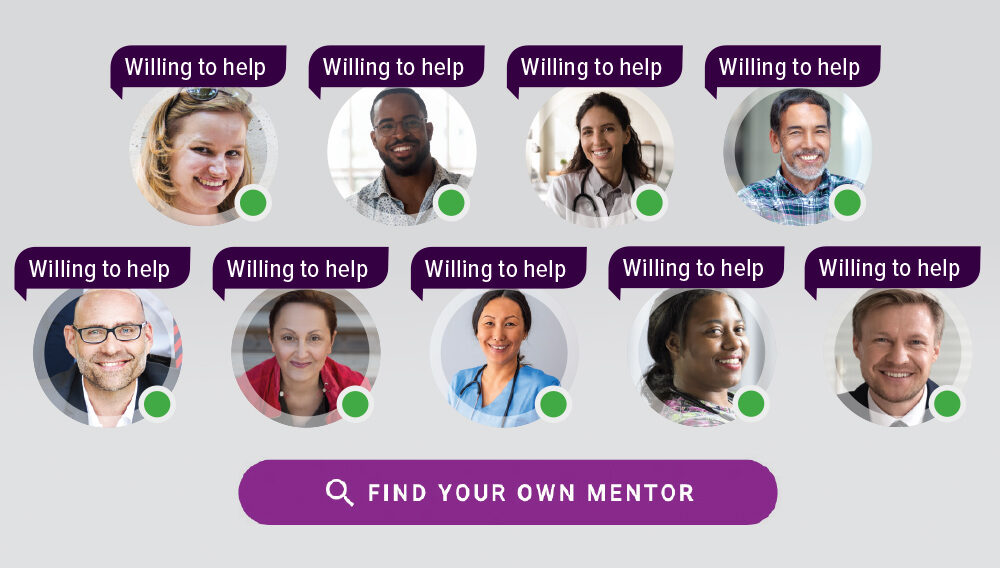 Through Excelsior Connects, alumni can find mentors or register to offer mentoring. Participants are able to send introductions to connect, network within their fields or industries, and ask or answer specific questions.
Last summer, students and alumni participated in a pilot of a mentorship program designed to allow students to build first-hand career knowledge and connections, as well as to network. Although the mentorship experience does not guarantee a job, it increases avenues and the potential for students to reach career goals.
Interested students and alumni filled out intake forms or answered questions over the phone to develop a profile that the mentorship program committee used to form matches. Mentees and mentors were matched using algorithms built on mutual areas of interest, including career and program areas, and other preferences sourced from their profiles.
During the pilot program, mentors were expected to share knowledge about an industry, discuss experiences they have faced and overcome, serve as a career guide (but not help the student find employment), and give direction as a trusted individual. Though not required, mentees could log their mentoring experiences by keeping a journal and they could periodically check in with Tammy Spenziero, the director of the Career Readiness Center. Spenziero worked with Scott Dolan, dean of the School of Graduate Studies, and representatives from Alumni Engagement to develop and now lead the mentorship program.
"No student should go without the critical human connection and opportunities that mentorship provides."
–Tammy Spenziero, Director, Career Readiness Center
Dolan remarked about the success of the program, saying, "Our students often come to us with the goal of advancing or changing their careers, and mentorship can play an important role in career development. Mentors provide valuable advice, help students develop their skills, act as a sounding board for students to test ideas, and enable students to expand their networks. This particular pilot program enabled us to engage with our alumni in new ways. Who better to provide advice to our existing students than our alumni who have translated their Excelsior degree into successful careers themselves."
"Mentors play an important role in the academic and professional growth of students…Engaging with a mentor can help increase their confidence, align their expectations with the realities of life and work, and further their growth and development…No student should go without the critical human connection and opportunities that mentorship provides," says Spenziero.
One mentor who has played such an important role in a student's life is U.S. Navy veteran and retired teacher Thomas Snee, who graduated in 1998 from Regents College with a bachelor's degree in liberal arts. He volunteered to participate in the mentorship program with several goals in mind. He wanted to share his background, maintain regular contact with his student mentee, and help ensure the student's success. Snee was paired with Ashley Gammon, a loan officer who was in the final months of the Bachelor of Science in Liberal Arts program. She earned her degree in November 2020.
"I suggested she take the futuristic view in the value of her Excelsior degree—how and where it will lead in the future, short- or long-term. In short, giving assurances that time spent on the numerous papers, in 'meetings,' and other factors enhances her persona as a person," said Snee.
Snee and Gammon kept in close contact, sharing emails and frequently talking on the phone. Gammon recalls the relationship as being very beneficial and friendly, saying she enjoyed having the opportunity to bounce ideas off Snee and having his wisdom and guidance available.
"While there is quite the age difference between us, he gave me such great insight and wisdom," says Gammon. "I loved [that] I had someone who was so intelligent and a published author to look over my resume and give gentle guidance on it. I gained a friend. We now email all the time and talk on the phone about once a month."
The pilot of the mentorship program completed successfully with most of the mentees and mentors having positive reviews. The committee plans to continue the three-month model of the program, which is open and running for anyone interested. The committee has also incorporated Excelsior Connects, the alumni engagement platform, to allow mentees and mentors to seamlessly correspond during the mentorship experience.
"We have witnessed Excelsior alumni open doors to expanded job opportunities and new professional pursuits for each other and for current students through mentoring," says Jamie Hicks-Furgang, executive director of development and alumni engagement. "Now, with Excelsior Connects as our platform, we are increasing opportunities for more formal mentorship and even greater connection among the alumni and student body…These types of connections are incredibly valuable for career and personal growth and are also personally rewarding for both alumni and students alike."