Mercedes Acuna's Career Follows Her Moves from Base to Base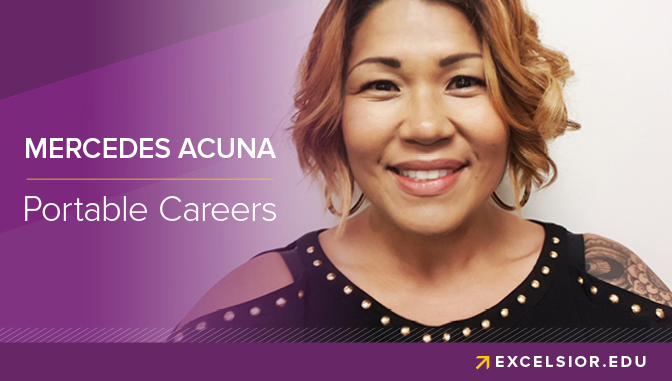 Seven years ago, Mercedes Acuña—military spouse and mother of three—earned the Adult Learner of the Year Award from the American Council of Education. It was a prestigious honor accepted by Acuña at ACE's Annual Meeting in Washington, D.C.; for the Excelsior student and now alum, it augmented an education that was the fulfillment of a lifelong dream.
It was also just a stop on a continuously shifting journey, and one that continues to provide twists and turns for the former student.
"It's had its ups and downs, but I'm glad I'm here now," says Acuña, now living in Camp Humphreys, South Korea. Working as a SHARP (Sexual Harassment, Assault Response, and Prevention) instructor, she teaches soldiers and civilians how to become victim advocates, and has been doing the work for five years—in several places: Fort Campbell, Kentucky, where she lived from 2010 to 2015; Fort Lee, Virginia, until March 2018; then to her current home in South Korea.
And all this for a student whose nine-year path to a bachelor's degree was executed from locales in New York, Hawaii, and Germany. She's now in a vocation that speaks to her passion: helping people. As for the position, it's not exactly what she intended when she earned her Bachelor of Science in Liberal Arts (with a concentration in Criminal Justice) from Excelsior in 2008, but it's a career that was enabled by her Excelsior experience.
"It certainly helps open more doors for you when you have an education," says Acuña. "As a military spouse, it's helped having the degrees because you're always on the move—and you have to reinvent yourself every single time. When employers [in every new stop] see that you have a degree, it helps."
Since leaving Excelsior, Acuña earned a master's in conflict and negotiation management, which has helped solidify her current role as a SHARP instructor working with families in crisis situations. Her work toward her degrees showed that she has the drive and initiative to complete whatever tasks are put in front of her.
"Those degrees really helped me understand the intricacies of human behavior and how we all interact with each other," she says. "What I mainly deal with now is trauma and how soldiers and civilians can recognize some behaviors to attribute to a traumatic experience. The education I received [through Excelsior] helped me learn how to talk to people about things they don't necessarily want to talk about."
As for Acuña she's now talking about settling into her current South Korean home. Her youngest daughter, Gianna, will soon join her; and she has designs on pursuing her doctorate, but isn't certain on a concentration. For now, she appreciates the ongoing discovery her travels have afforded her, and can't wait to see what the future holds.
"The journey has been awesome, and I wouldn't change it for the world," she says. "I'm living in a foreign country, now working with a demographic that I love working with."
Tips for military spouses from Mercedes Acuña
 Put yourself out there
When you arrive in a new place, it can be tough to assimilate and adjust to your new locale. Acuña's solution to accelerating this process? Dive right in. "It was mainly me putting myself out there, ready to volunteer or invest time in learning new skills sets," she says. "You're only somewhere for as long as your spouse is going to be there, and you have to find something about yourself to sell. It's all about timing."
 Don't fear reinvention
At times, transferring from one locale to another means leaving a career—and possibly all the training that goes with it—behind. But education can be the great equalizer, and Acuña recommends military spouses shouldn't be afraid to take their intelligence and, if necessary, head in another direction. "As a military spouse, we have to reinvent ourselves every time [we relocate]. If you continue on with your education, it will open doors."
 Use your military resources
Wherever Acuña's travels have taken her and her family, she's been sure to use the resources—such as Army Community Service—available through her service affiliation. She directs others to do the same. "We advise military spouses to look for the opportunities and resources that are out there, and use them. There are a lot out there—but you have to put yourself out there to discover what you want."
 Enjoy the journey
College courses. Juggling family and work. Moving from place to place. It can all be exhausting, but Acuña wouldn't have it any other way. The life of a military spouse can be a trying endeavor, but it's an exercise to be savored. "Enjoy the journey," she says. "As military spouses, we sacrifice so much, so be sure to think about what you want to do in the end."