Pipeline to Nuclear Energy Jobs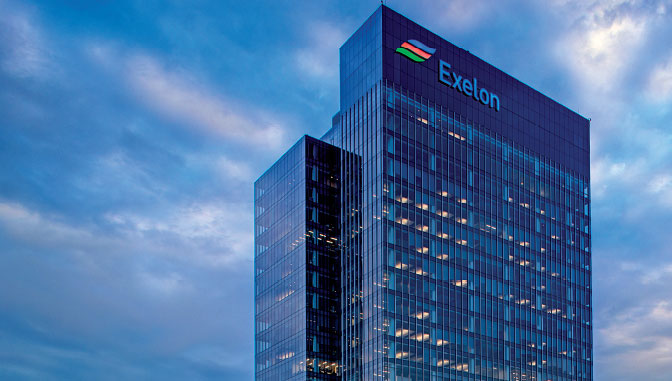 Excelsior College helps Exelon strengthen its workforce
Joanna Lew left a traditional college to enlist in the Navy, and her naval career led her to a job at Exelon. Ken Buske wanted to strengthen his performance at Exelon's Nine Mile Point Nuclear Station. Michael Johnson retired from the Navy in 2000 and was eager to translate his experience into a civilian career.
While each took a different path, they all benefited from Excelsior College's partnership with the Energy Providers Coalition for Education (EPCE), earning a nuclear engineering technology degree from Excelsior College.
Excelsior College began its partnership with EPCE over a decade ago. EPCE, a nonprofit founded in 2000, connects energy companies with academic programs that they can offer to their employees. A vital resource for the energy industry, EPCE works with more than 2,500 companies to share industry-inspired academic programs, such as Excelsior College's bachelor's in nuclear engineering technology program.
"Our partnership allows companies that are EPCE members to enroll employees in our diverse energy programs, no matter the number of employees, whether it's one from one plant or 10 from several plants," said EPCE Director Christine Carpenter. "Because we are providing this opportunity nationally to all of our different utility companies, it's very much a shared resource … that addresses national, regional, and local employer workforce education and training needs whenever they come up."
EPCE's energy industry members recommend programs based on their workforce needs to EPCE's governance committee. EPCE then works with its partner colleges and universities to ensure programs are available to train workers to fill those needs. In 2007, the nuclear technology field became a focal point for Excelsior College as it began offering a Bachelor of Science in Nuclear Engineering Technology through an EPCE partnership.
"In the 1970s and 1980s there was a large demand for nuclear workers, but the demand started to slow down. There was no longer a need to hire personnel, so the hiring process stagnated over the years to the point where that influx of people that we were hiring then are now ready to retire," said Willie Plaza, a senior operations instructor at Calvert Cliffs Nuclear Plant in Maryland. "We forecasted that this population will be retiring, and we needed to supplement that workforce."
In 2015, the Nuclear Energy Institute issued a report that estimated nearly 40 percent of the nuclear workforce would be eligible for retirement by 2018. This means the need for nuclear workers continues to be significant. The wave of opportunities available in the field is good news for students pursuing degrees in nuclear engineering technology.
Introducing Exelon Employees to Excelsior
Exelon employees gain on-the-job experience in the nuclear field. While some don't have college degrees, their professional training — and any previous military experience — can translate into college credit. EPCE works with Excelsior College and other colleges and universities to convert previous experience into credit. This helps accelerate the academic journey for energy industry workers who want to earn their bachelor's degree.
"Being able to apply someone's previous learning toward college credit is an absolute must for adults. It is something that every one of our education providers are experts at, and I believe this is one of the areas where Excelsior College really shines," said Carpenter. "They have assessed the type of employee training provided in the nuclear industry, and because that training is accredited, they can provide actual college credit.
"In some cases, over half of the credits required for a bachelor are already obtained," she added. "When you think about that, it's saving time, saving money, and it is validating the training that's already being provided within the industry."
On average, employees from EPCE-member companies earn 67 college credits based on their previous learning and training experiences — which moves these employees more than halfway toward achieving a degree at Excelsior.
Earning higher academic credentials allows workers to move up the ranks. At Exelon, officials have seen how education through the EPCE partnership has been a catalyst for their employees' careers.
"We've literally had individuals start as contract administrators and become Exelon Corporation employees who are now managers in our company because of this program," said Janna Jackson, senior site communications specialist at Calvert Cliffs, an Exelon facility commissioned in the 1970s.
Excelsior College has sent representatives to Calvert Cliffs for its Educational Conference Days, which many energy plants hold for their employees and run similar to job fairs. During these events, Exelon highlights individuals who have gone back to school to earn college degrees.
"Their stories can be so impactful to those who may be in similar shoes and may not realize this program can really be leveraged to springboard their career into something bigger and better," said Tiffany Curry, senior HR generalist at Calvert Cliffs. "You don't have to come in with a degree to somehow land on the leadership team. You can start at the bottom, gain your experience, work through Excelsior College, and ultimately land where you want to be."
Academic advisors at Excelsior College review Exelon employees' transcripts, which are submitted prior to any site visit. This preliminary evaluation gives power plant employees a better idea of how many credits they may already have earned based on their previous experience and training. It allows them to have a more meaningful conversation with Excelsior College representatives during Educational Conference Days.
In addition to reviewing military and employment training records, Excelsior College reviews any college credits employees may have earned. Excelsior College has partnerships with academic institutions and community colleges throughout the country — and at power plants, like Calvert Cliffs, those partnerships open up new pathways for Exelon employees.
"Students can follow the curriculum at the College of Southern Maryland (a community college near Calvert Cliffs), follow that associate degree and rest assured that all of those credits will transfer, in addition to other credits, to really help employees save money and maximize their time at the community college," said Lisa Romano, Excelsior College's regional director of government and workforce partnerships. "It's a great opportunity to save money."
Michael Johnson first met Willie Plaza when they both worked at Exelon from 2011 through 2014, partnering with Plaza on a training audit at an Exelon facility. They both shared an interest in helping workers gain the skills they needed to advance their careers.
Later, Johnson left Exelon to become a faculty program director at Excelsior College and, after other roles, became the associate dean for technology for the School of Undergraduate Studies.
When Johnson eventually reconnected with Plaza at a Calvert Cliffs education day, it helped strengthen Excelsior's collaborative relationship with Exelon. In this role, Johnson helped design and implement Excelsior's strategic effort to introduce Exelon workers to the value of ongoing higher education.
Centered around targeted outreach to Exelon employees, the plan bolsters the impact of Excelsior's site visits. Ahead of the visit, college staff members complete transcript evaluations and encourage interested employees to take advantage of this on-the-job opportunity to learn about their programs. Once on site, Excelsior's representatives communicate directly with Exelon employees about how an Excelsior degree can accelerate their nuclear careers. Excelsior College also gives employees the option to enroll on the spot.
180 Nuclear Engineering Tech Grads Each Year
The carefully executed visits have worked well for Excelsior College, EPCE, and Exelon. At least five Exelon employees enroll in the nuclear engineering technology program with each visit.
Exelon values the high-quality education Excelsior is providing its nuclear engineering technology students, and Excelsior has found Exelon employees to be ready and eager to work hard to quickly earn their degree. The trust and partnership between Exelon and Excelsior has grown so strong that Exelon interviews nearly every nuclear engineering technology graduate, who is not already committed to another company, for job opportunities at their facilities.
"Exelon, as a company, offers a very generous tuition reimbursement program, and coupling that with the relationship with Excelsior College, we've had a lot of success stories come out of our own specific station at Calvert Cliffs to where we're able to develop and grow our employees from the ground up," says Curry. "It's been really fun to watch, and I feel as though we are better prepared to take on the future of nuclear. We have the right leaders, or people waiting in the wings to take on those leadership roles."
The capstone course, the final requirement for the nuclear engineering technology degree, usually has 12 students over five sections, which means each year 180 students earn their degree. Since the program's inception, more than 1,772 students have earned a degree in nuclear engineering technology.
The BS in nuclear engineering technology program at Excelsior College has a unique strength in its ABET accreditation. Only 19 schools have online programs that are ABET-accredited. The Accreditation Board for Engineering and Technology, a national non-governmental organization, reviews and accredits programs that meet certain standards and successfully prepare graduates for jobs in engineering and technology fields.
However, it's not only the nuclear engineering technology program that Excelsior College promotes with its Exelon visits. Excelsior also has two other ABET-accredited programs, the BS in Electrical Engineering Technology and the BS in Information Technology, that employees often pursue. Several have enrolled in Excelsior's MBA program, too.
One example is Bill Klee, who connected with Johnson on an Excelsior College visit in 2016. Klee was drawn to the BS in Information Technology program. Johnson kept in contact with Klee after their visit. Klee decided to enroll, partially because Excelsior College provided 72 credits toward Klee's degree. He's expected to graduate in mid-May 2020, which will help him advance in his career.
A Real Difference in Students' Lives
Joanna Lew wanted to advance her career. Employed within Exelon's Philadelphia-area Limerick Station, Lew had joined the U.S. Navy after her first year of college. She then served in the Nuclear Power Program for two years. Lew felt it was essential that she earn a technical degree to supplement her professional experience, which is why she chose Excelsior College's nuclear engineering technology program. She earned her bachelor's in January 2017.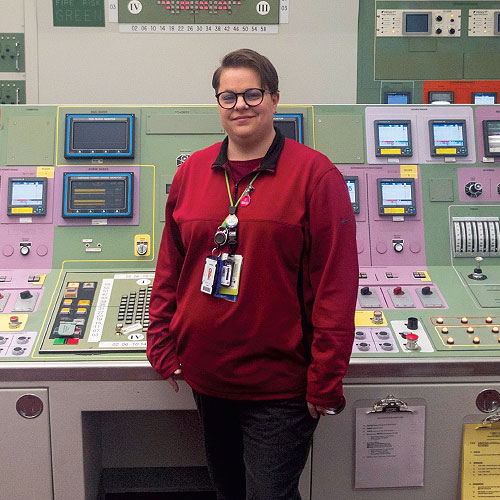 Joanna Lew had 10 years of industry experience before earning a bachelor's in nuclear engineering technology from Excelsior College in 2017. Since then, she has been promoted twice. In January, she became the supervisor in instrumentation and controls maintenance at an Exelon nuclear plant in Pennsylvania.
Photo courtesy of Joanna Lew
"Online education provided me the ability to continue to work full-time and go to school, while still being able to spend time with my husband and my two little twins," said Lew.
After graduation, she earned a promotion to lead instructor. Additionally, Exelon placed her in its Emerging Leader Program, and at the recommendation of her supervisors, she was invited to participate in Leadership Tri-County, an exclusive leadership development program offered by her local chamber of commerce.
By securing her degree in nuclear engineering technology, she has accelerated her career and gained new responsibilities in the workplace. "In addition to supervising the group's instructors, I am responsible for their training and professional development; ensuring compliance with corporate procedures and federal regulatory requirements," said Lew. She has since been promoted in fall 2018 to a supervisor position.
Ken Buske, as a reactor operator, knew a nuclear engineering technology degree would help assist in the safe, everyday operation of Nine Mile Point Nuclear Station. Buske ultimately chose Excelsior after one of the college's site visits.
"Excelsior College has positioned themselves very favorably in the online academic community, not only in terms of administrative excellence, but through their selection of faculty," said Buske. "I had the opportunity to work with incredible minds; individuals who pushed my limits, and those who provoked the essential critical thinking that creates graduates worthy of success in competitive career fields."
Johnson's New Role in the Nuclear Field
Earlier this year, Johnson returned to the nuclear industry after accepting a job as site manager for an alliance partner with Exelon at the FitzPatrick Nuclear Power Plant in central New York state.
He still works as an instructional faculty member at Excelsior College. He'll remain an essential part of Excelsior College's nuclear workforce development efforts as he expands and advances his own professional career at Exelon's FitzPatrick plant.
As a site manager, Johnson takes on an especially vital role for Exelon during routine outages, which are scheduled periods of time when electricity demand is low and workers are deployed for equipment inspection, maintenance, or refueling.
"I develop all of their estimates. I'm responsible for the workforce. We bring in the local union guys whenever we have work on the schedule, so I have to manage them and supervise," said Johnson. "During an outage, you can get up to close to a thousand people who are working directly under my leadership."
With his high level of expertise in nuclear energy and higher education, Johnson understands how to access programs and resources to prepare the workforce he directs with the necessary skills to excel in their jobs.
"This is another opportunity for me to engage with the industry … and help the industry become more efficient and be more competitive," Johnson said.
The workforce needs of the nuclear energy industry remain significant. However, through its relationship with Excelsior College, Exelon has created a vital workforce pipeline that has helped the company find the people they need: well-trained, highly skilled nuclear energy workers like Lew, Buske, Klee, and Johnson.