Preparing for Nursing School: All You Need to Know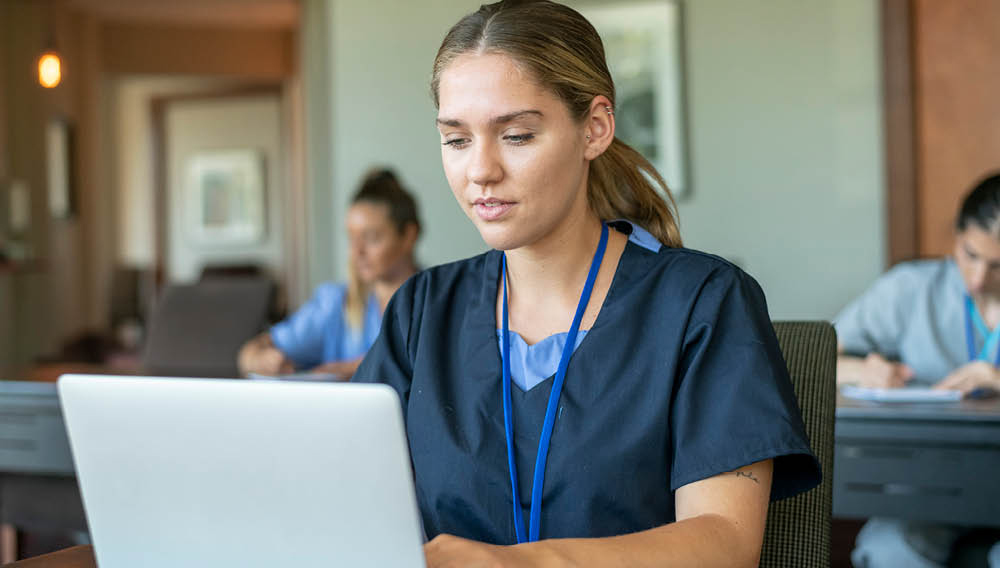 Do you feel called to a career in nursing? If so, you'll need to begin with nursing school, where you'll learn the ins and outs of patient care, professionalism in a clinical setting, and other vital skills. Whether you aim to obtain your Associate in Science or Associate in Applied Science in Nursing, a Bachelor of Science in Nursing, or a more advanced nursing degree, knowing how to prepare for nursing school can set you up for success.
Why You Should Pursue a Nursing Degree
Having a nursing degree can help you qualify for specific nursing work you wish to do. For example, an Associate in Science in Nursing can prepare you to pass your NCLEX exam and begin working as a registered nurse (RN). Meanwhile, a BS in Nursing may prepare you for more advanced nursing leadership roles. Interested in teaching the next generation of nurses? A Master of Science in Nursing Education can prepare you to expand your career options into teaching and training.
In addition to fueling professional growth, there are several other reasons to pursue a nursing degree. For those who enjoy helping others, nursing can be a rewarding, fulfilling, and exciting career. Many nursing degrees can also be earned online, so you can complete your studies in your own time with flexible scheduling.
Finally, the nursing field has an excellent job outlook, as there will always be a need for compassionate and skilled nurses. According to the Bureau of Labor Statistics, the growth in demand for nurses is expected to increase by 6 percent between 2021 and 2031.
How Long Do Nurses Go to School?
The amount of time it takes to complete a nursing degree depends on the program and the student's enrollment. An Associate in Applied Science in Nursing, for example, typically takes two years to complete for a nursing student enrolled full-time. A Bachelor of Science in Nursing, on the other hand, may take closer to four or five years. More advanced degrees, such as a Master of Science in Nursing, may require an additional year or two after earning a bachelor's degree.
How to Prepare for Nursing School
Nursing school isn't for the faint of heart; it requires a great deal of perseverance and dedication. As you get ready to apply for a nursing program, there are some things you can do to prepare yourself for success.
Research Different Programs
Start by researching your options. After all, not all nursing schools are created equal. Make sure that the school you're considering has a solid reputation for its nursing programs and that the school itself has been accredited. Ideally, the specific nursing program that you're interested in should also be accredited by a third-party organization to ensure the curriculum is meeting certain standards.
Get Organized
Next, take time to get organized. Whether you're enrolled part- or full-time in nursing school, you'll have a lot on your plate. You may have multiple assignments due simultaneously or you may have several exams to study for. Prepare now by investing in a quality planner (or use a digital planner on your computer or smartphone) to better track important deadlines and other obligations. This will also help during the process of submitting applications—especially if you'll be applying to more than one school and want to keep things organized.
Complete Prerequisites
Depending on the program for which you're applying, there may be certain prerequisites that you need to have to be considered. Take time to understand these requirements ahead of time so you can plan accordingly. The same applies to any prerequisites that are part of your desired program; getting these out of the way early in your enrollment is a wise option to keep the ball rolling.
Take Practice Exams
Some schools may require applicants to take an entrance exam to gain acceptance into a nursing program. Some common examples of nursing entrance exams include the Test of Essential Academic Skills Exam (TEAS), Health Education Systems Inc. Admissions Assessment (HESI), and Pre-Admission Exam (PAX). To maximize your chances of success in any of these exams, consider taking practice exams. The same applies for any exams you may need to take as part of your nursing program, such as the NCLEX.
Know the Admissions Requirements
Admissions requirements for a nursing program can vary significantly from one school to the next, so be sure to thoroughly research the requirements for each program you're considering. While any school will likely require you to have at least a high school diploma (or GED), some will have stricter requirements in place, such as a minimum high school GPA or a passing score on an entrance exam. In some cases, you may also need to submit an essay, letters of recommendation, or other materials as part of your application.
Gain Experience in the Health Care Field
While you're in your nursing program, get the most out of it by gaining real-world experience in the health care field. This can be done through an internship working in a medical office, a clinical rotation, or a similar experience.
Get to Know Your Classmates
Your fellow classmates will ultimately become one of your biggest support systems as you work your way through your nursing program. Take time to get to know your classmates and form bonds with them. You might even consider forming a study group to help each other and further connect.
Have Realistic Expectations
All too often, nursing students struggle with nursing school not meeting their expectations. They might expect to cruise through their coursework with a perfect 4.0 GPA—but, in reality, they may struggle with less-than-perfect grades. While it's good to hold yourself to high standards, it's just as important to maintain realistic expectations to avoid burnout.
Build a Support System
In addition to your classmates, having other support systems in place can be just as important. Family members, friends, and even co-workers should understand your goals and can be a helpful source of support in your pursuit of a nursing degree.
Keep Your End Goal Top-of-Mind
When you're facing an especially difficult semester, the temptation to give up or start slacking may be strong. However, by keeping your end goal in mind, you can find the strength and motivation to keep going. Whether your end goal is to walk across the stage and earn your degree, to start caring for patients, or to begin teaching, you should remind yourself of this goal regularly.
Utilize Available Resources
The right nursing school will offer plenty of resources, ranging from career preparation services to tutoring, academic advising, and more, to help you get the most of your experience. Not all students have the same learning style, so it's important that you take advantage of the resources available to you and adapt your education to your needs.
Maintain a Healthy Work-Life Balance
It can be easy to get so caught up in your nursing studies that other aspects of your life fall by the wayside. However, this is not sustainable, and maintaining a healthy balance between school, work, and your everyday life is essential to your continued success. Utilize time management skills to ensure that you still have time to enjoy the things you love outside of nursing, such as spending time with friends, hitting the gym, or even watching your favorite television shows.
Earn Your Degree from Excelsior University
Enrolling in a nursing degree program is a major decision that can affect the course of your professional life, so choosing the right program and taking steps to prepare for nursing school are crucial. With these tips in mind and with support from a great school, you'll be well on your way to success.
At Excelsior University, we offer a range of online nursing degree programs to prepare you for a rewarding and exciting career in the nursing field. Request more information today or begin your application online!