Q&A Lifang Shih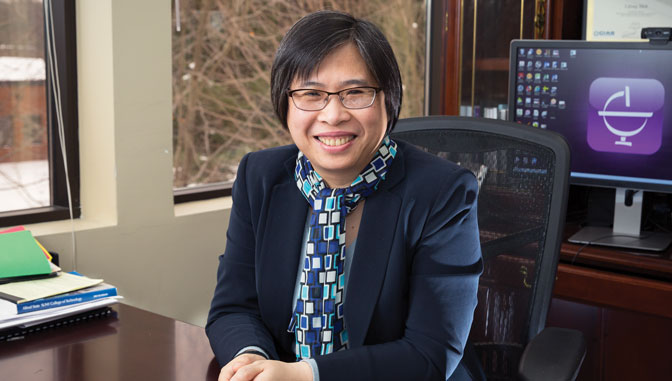 1. What are three things at Excelsior College that you're excited about
A lot of exciting initiatives are taking place within the College. Let me use three examples to represent our three focuses to enhance the student experience.
The first example relates to our efforts in enhancing student success. We reviewed student success data and found there are some courses that are quite critical to students' success in the program. These are usually foundational courses that prohibit students from moving to the next level if they fail the courses. We call these courses obstacle courses. Based on these data, each responsible faculty program director worked with an instructional faculty member to either do a minor revision or make some enhancement to the identified course to enhance student success.
The second example is our efforts in fostering career readiness. Recognizing the importance of equipping our students with workforce-ready competencies, we are integrating authentic learning experiences, such as case studies from top companies in business, health science, and technology programs, into courses so that students are required to apply what they have learned from the class to solve real workplace challenges. Additionally, to enhance students' hands-on skills, we incorporated various learning activities such as hands-on labs, simulators, and virtual labs in these programs.
The third example is our efforts in faculty development. High-quality instruction is key to the student experience. To ensure faculty are supported with appropriate tools for success, we developed an onboarding process to ensure early success for new instructors. Our faculty program directors also devoted a lot of time and effort to reaching out to their faculty to provide any needed coaching and support throughout the term.
2. How do you describe your leadership style?
I believe that effective leadership is an art as well as a technique. The foundation is in relationship building. It requires profound understanding of your staff. You need to know the strength of your staff and their career aspirations. I usually use a quote from John Quincy Adams to remind and encourage myself as a leader, "If your actions inspire others to dream more, learn more, do more, and become more, you are a leader." I want to be a leader who inspires others to continue to grow and to achieve their career and/or life goals.
3. What opportunities do you see for women in technology?
I think society has made good progress in providing greater opportunities for women in technology as more and more leading companies have recognized the need of an inclusive working environment for company success. GE, for example, has committed to hire 5,000 women in STEM positions within the next few years. One good way to stay connected and learn about available opportunities is to be involved in professional organizations. There are also mentorship programs available in professional organizations such as IEEE and ACM, and the National Cybersecurity Institute at Excelsior College, which resides within the School of Business & Technology, hosts the Initiative for Women in Cybersecurity (IWICs).
4. What do you find inspiring about Excelsior College?
What I really love about Excelsior College is the opportunities it provides to our students. One might argue that Excelsior is just like any other online institution that provides a flexible learning environment to adult learners. However, with our extensive experience in the evaluation of prior learning, including transfer credits from other accredited institutions, professional trainings, and industry certificates, we are the only institution that can meet students where they are and serve as a true partner to enable them to achieve their life and professional aspirations.
Read about Lifang Shih's passion for STEM education on our blog.