Q&A with Catherine Seaver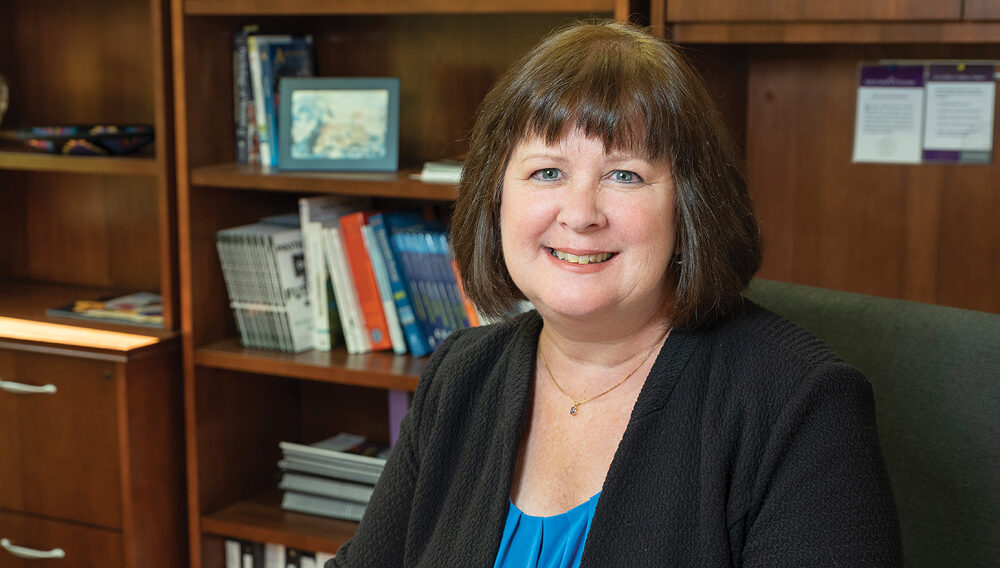 Dean of the School of Undergraduate Studies

Catherine Seaver began her career with Excelsior College in July 2019 as associate dean of business, science, and technology. In December 2020, she became dean of the School of Undergraduate Studies.
Seaver has extensive experience in higher education. Prior to Excelsior, she was vice president of academic and student affairs at Greenfield Community College in Greenfield, Massachusetts. For 14 years, she worked at Manchester Community College in Manchester, Connecticut, as director of the business, engineering, and technology division; interim associate dean of student affairs; and department chair of engineering and technology.
Seaver earned a PhD in leadership with a specialization in education from the University of the Cumberlands. She also has an MS in educational technology from Eastern Connecticut State University and an MS in computer and information systems from the University of Phoenix. Photo: Mike Hemberger

What do you enjoy most about Excelsior College?
At the core is the mission of the school and how it drives what we do and how we do it. It lets us give students opportunities for higher education and degree completion that they wouldn't get elsewhere. Our mission and the CARES credo [guiding principles for employees: Each Excelsior employee is Compassionate, Agile, Respectful, and committed to Excellence and Service] empower faculty and staff to do what they can to help students be successful, advocate for them, and support them in ways not found elsewhere.
I also enjoy the people I work with. Not only are they passionate about their work and supporting students, they are good, nice, and fun people. I felt at home so quickly when I came to Excelsior. And as we have continued to work during the [COVID-19] pandemic, everyone has been so wonderful and supporting of each other.
How would you describe your leadership style?
Foremost is trust. I hope that people trust that I have their backs, that I am looking out for their well-being, and that I want them to be successful. And it is important that I trust those around me.
I try to remove barriers for people so they can do their jobs. It is important to me that others feel comfortable around me and there is open communication. Also, I am an optimist and I think that is important when leading others. This doesn't mean that I don't see challenges and obstacles, and that I don't recognize failures; it means that I look for ways to get around obstacles and overcome challenges. And if someone or something isn't working, then we should find a way to fix things.
How is online education changing? How are you preparing Excelsior College to meet those challenges?
I have been involved in online education since the very beginning, being one of the first to teach online at a community college in 2002. At the beginning, we tried to do what we do in the physical classroom. Now we know that the way we learn online is different, so the way we design our online courses needs to be different.
It is also great to see growing acceptance of online education. I've always found that both teaching online and being an online student are challenging, rewarding, and have the potential for deeper learning than in the physical classroom. If you think about it, students can go to a classroom, sit in a chair, daydream, or fall asleep—but they get credit for attending. You can't fake your participation in an online class. If you aren't participating, it is obvious. It is not unusual for students to say that they had to work a lot harder in an online class.
One of the challenges we face at Excelsior is from competition. The pandemic has forced many schools that were not embracing distance learning to open their minds. Now that they have overcome hesitancy to teach online, many will continue offering at least some of their courses online. We need to make sure that our courses continue to be dynamic and engaging. We have the advantage of having been teaching online all along, and we need to make sure that students know about our experience.
In my role as dean, I need to make sure that our faculty and staff have the resources they need to continue to update our existing courses and develop new programs and courses to meet the needs of our students.
What skills can students expect to gain in Excelsior's undergraduate programs?
We design our curriculum to provide students with the skills they need to meet their goals and be successful in their careers. We do this by providing not only the subject matter skills such as accounting, engineering, health science, etc., but also by being aware of other skills that employers are looking for and including those in the curriculum. We know that employers are looking for graduates who can think critically, be creative, solve problems, communicate, and work as part of a team. We build these components into our courses and include them in our general education and career competencies, which are also addressed in the courses. We also focus on outcome assessment to monitor how well we are doing this—how do we know that students are learning what we want them to learn.
How did your own college education affect you?
I had a nontraditional start to my college education. I graduated from high school at age 16 and went to a community college for a semester. At that time, I thought I wanted to be an accountant, so I focused on accounting courses. When I transferred to Miami University of Ohio, I decided I wanted to be a veterinarian. I learned in those science and biology courses that I am not good at memorizing things. By the end of my sophomore year, it was obvious that I had to change majors due to poor grades in the science and biology courses. My grades were good in math and physics, so I changed to manufacturing engineering technology. That degree has served me well and it gave me the start I needed. My subsequent degrees were all online or hybrid, which was what got me to where I am now. My experience in online master's and doctorate courses gave me our student's perspective, which has been invaluable. I was a single parent with a full-time job, staying up late after the kids went to bed so I could participate in online discussions and write papers. I was the parent at soccer games sneaking in a few minutes of studying before an exam. I appreciate the challenges of our students because I have been there myself.
I thought that college was a required part of education just like high school for most of my childhood. I am aware of the advantages this gave me and have always tried to be particularly supportive of first-generation students who do not have the support and encouragement of their family as I did. As a college, we have to make sure that we have the support systems and services in place to help our students be successful no matter their story.