Rep. Paul Tonko Receives an Honorary Degree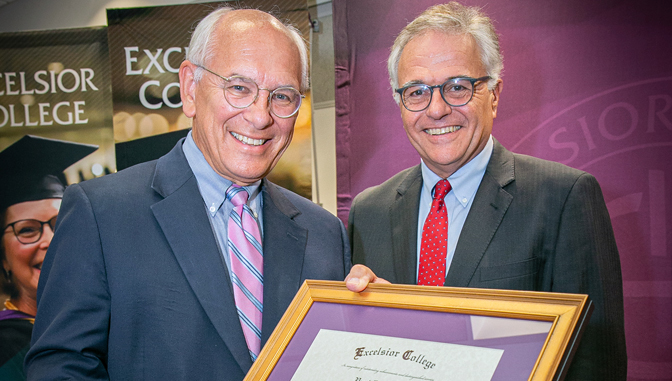 ---
On September 3, 2019, President James N. Baldwin awarded an honorary degree to Rep. Paul D. Tonko, a sixth-term member of the U.S. House of Representatives, representing New York's 20th Congressional District in the Capital Region.
"Throughout his career, Congressman Tonko has been a champion for the working class and advancing policies that create jobs. He has been a champion for the underserved and underprivileged," said Baldwin, heralding Tonko as an advocate for education and for adult learners.
Tonko had planned to attend Excelsior College's 48th Commencement on July 12 and receive the honorary degree, but he was needed in Washington, DC, for a critical vote on the 911 Victim's Compensation Fund. He opted to speak to graduates via a recorded video.
In recent years, Tonko has worked with Excelsior College on many initiatives and events, such as the Nyquist Leadership Series and Workforce Development Strategy and Policy Forum, and supported a grant for Excelsior College to develop the Diagnostic Assessment and Achievement of College Skills (DAACS). In 2014, he helped the College with a grant establishing new and creative uses of technology to increase college opportunities for low-income students.

---