Roger Parrino Makes a Difference with Career in Public Service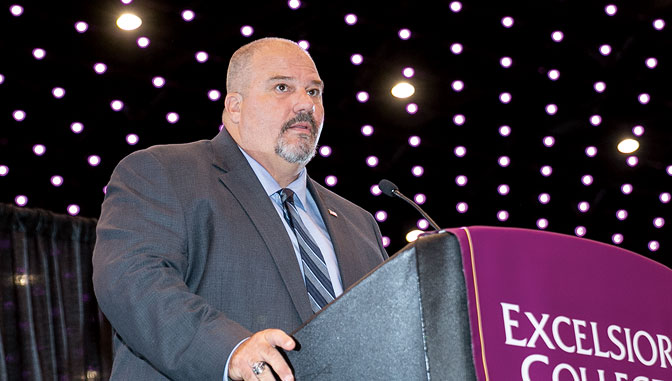 Roger Parrino Sr., commissioner of the New York State Division of Homeland Security and Emergency Services, has always had a sense of service and desire to serve his country. His dedication to public service stems almost 40 years, and throughout his career, he has developed and polished his skills as a leader, analytic thinker, and crisis manager by working hard and, as he puts it, "showing up," physically and mentally, every day.
When he was a freshman in college, Parrino enlisted with the Marine Corps Reserves during the Iranian hostage crisis. He knew he wanted to serve his country; during a family trip, his father gave him an important piece of advice considering the choice: "We were looking at a war memorial that listed the names of the soldiers that had died in the Civil War and my dad said to me that it is important to serve the country but the objective is to stay off lists like these."
In 1980, Parrino attended boot camp and then returned to college. Following his fifth semester, he was hired by the New York City Police Department, which was a childhood dream. He says, "I became a narcotics detective and was later promoted to sergeant, supervising a plainclothes anti-crime team, and later became lieutenant commander of detectives and a member of the Hostage Negotiation Team for over 10 years."
"I think the two biggest challenges have been keeping one's integrity and sense of humor. You need both of those to succeed; if you lose either one, you lose yourself."
–Roger Parrino '89
Parrino decided that to advance in his career, he needed to return to school. He always wanted to complete his degree, but it was difficult to balance the different aspects of his life. That's when he learned that the NYPD helped officers interested in pursuing their education and he heard about Excelsior — then named Regents College. After meeting a Regents recruiter who explained how Regents' program worked, Parrino knew the college was right for him. The non-traditional learning experience motivated him to go back to school while working as an officer. As a student, Parrino's biggest challenge was time, but Regents' flexible structure and helpful advisors helped him achieve his goal of earning a college degree. He graduated in 1989 with a Bachelor of Science in Liberal Arts.
Parrino retired from the New York City Police Department in 2003. He spent some time with his family before becoming a civilian advisor to the Marine Corps and serving four combat deployments to Iraq and Afghanistan. He then served as senior counselor to U.S. Department of Homeland Security Secretary Jeh Johnson where he worked in counterterrorism, and then in May 2017, New York State Gov. Andrew Cuomo appointed Parrino as the commissioner of the Division of Homeland Security and Emergency Services.
There isn't a typical day as commissioner, says Parrino, who considers himself a crisis manager. Established in 2010, the Division is comprised of the Offices of Counter Terrorism, Emergency Management, Fire Prevention and Control, Interoperable and Emergency Communications, and Disaster Recovery Programs. Together, these offices coordinate the state's response with the federal government's efforts during and after a declared disaster. Parrino believes in having firsthand knowledge when situations arise so that he can best present information to Governor Cuomo. He has two offices — one in Albany, the state capital, and one in New York City — and travels about 40 percent of his time, making sure he is on hand to get the information he needs.
"In the 17 months that I have served as commissioner, we have had some unusual challenges," says Parrino, describing a rare flooding event that resulted when Lake Ontario's water level was unusually high. He also notes going to Puerto Rico "to help ensure that donations from New York made it into the communities that needed them the most, which required partnering with local organizations to get the goods out of the port quickly."
Each day at work presents different situations, says Parrino. He has some good advice, though: "I think the two biggest challenges have been keeping one's integrity and sense of humor. You need both of those to succeed; if you lose either one, you lose yourself."
Early Career:Worked in food service and retail
Post-Retirement Jobs: Advisor to U.S. Marine Corps and then Senior Counselor, U.S. Department of Homeland Security