Rosendo Ramos Aspires for More than Degree Completion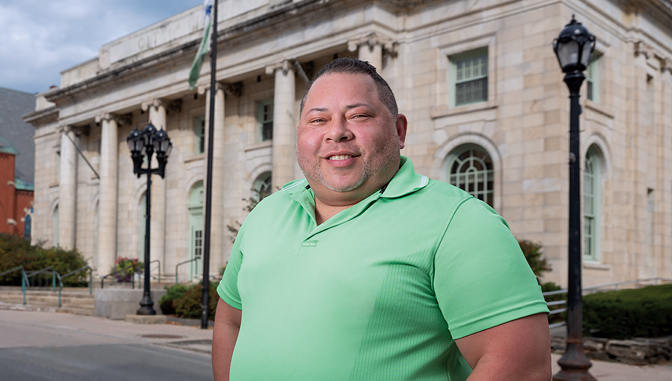 When Rosendo Ramos began looking for a bachelor's program in electrical engineering technology, he knew he wanted to enroll in an ABET-accredited program. He also knew he wanted to pursue his degree online. That was two factors in Excelsior's favor. The third factor was a nostalgic one: Excelsior was the name of a junior college in Ramos' native Puerto Rico, so when he heard the name in reference to an online ABET-accredited program in electrical engineering, it was memorable.
Former Career:
Missile Technician, U.S. Navy
Bucket List:
Teaching high school students
Degree Program:
BS in Electrical Engineering Technology
Ramos, of Pittsfield, Massachusetts, is a senior systems engineer for General Dynamics, an aerospace and defense company. He joined the company in April 2014 after retiring from the U.S. Navy, where he served 13 years as a missile technician on submarines. While in the Navy, he attended the University of Central Florida part-time when stationed in Florida and began learning about ABET accreditation while working at the Naval Ordnance Test Unit at Cape Canaveral.
When he enrolled in the Bachelor of Science in Electrical Engineering Technology program in August 2017, Excelsior accepted 24 credits toward the degree. He is on track to complete his coursework for the bachelor's degree in the spring 2020 term. "Excelsior College offers one of the finest programs in the country, and I consider myself fortunate to attend," he says. "The program allows adults like me to continue our education with different options to accommodate work and school schedules."
He has been able to fit coursework within his work schedule, which is typically 9-hour days with a day off every other week unless there is a project milestone to meet. That was the case recently, when he completed three consecutive days of working 6 a.m. to midnight. When the client is the U.S. government and the project is developing a replacement for the submarine now in use by the Navy, missing the milestone is not an option. "It's part of your pride," says Ramos. "At the same time, it's a challenge."
"I want to be the best in my field. I want my kid and grandkids to be proud of me."
– Rosendo Ramos
Challenges are something Ramos welcomes. He has four courses in addition to the capstone to complete, but the courses are not required for his degree. He's taking them, he says, because it will help him determine what to focus on when he enrolls for a master's degree. "I would like to get some base knowledge. Degree credit I don't need, but intellectually, I need it," he says.
Ramos enjoys his work. He started at General Dynamics as a nuclear safety engineer analyzing software and hardware requirements to evaluate modifications to ensure compliance with the Department of Defense and safety requirements. He says his degree plan was discussed as part of his interviews, and he's had two promotions, first to a systems tester and then to his current position. "They know that I am not an engineer yet, but because of my experience in the Navy and the courses I'm taking, they gave me a real engineering position," says Ramos, and adds that the company has tuition reimbursement and his yearly performance evaluation includes a discussion of what he's doing to become a better professional.
Earning a bachelor's degree in electrical engineering technology ­­— and then a master's degree — is central to that plan.
"I want to be the best in my field," says Ramos, who is the first in his family to attend college. "I want my kid and grandkids to be proud of me."
---