Living the Dream
Steve Adams' Determination Propels Him from Poverty to Success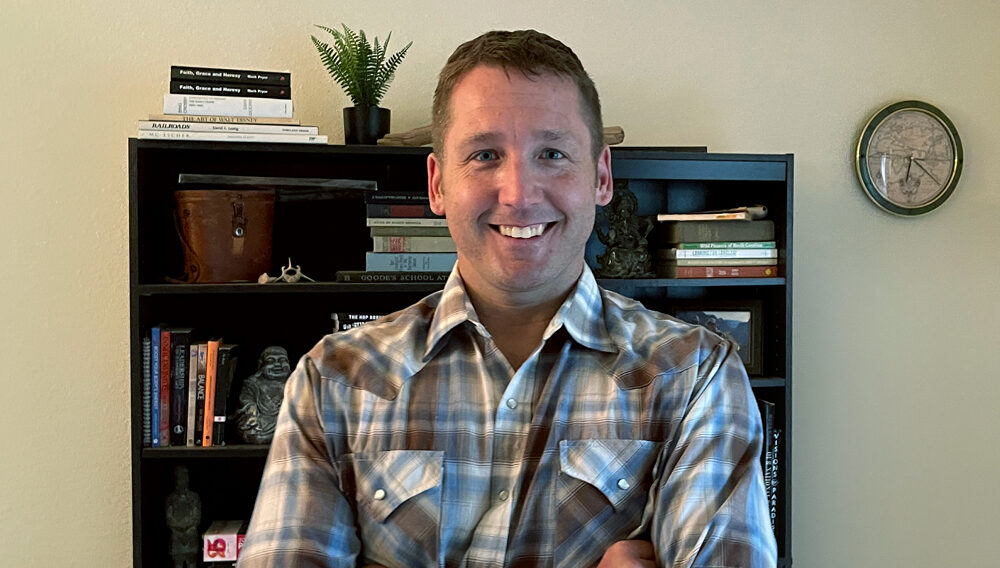 For Steve Adams, college never seemed like a possibility.
Adams, who lives in Aurora Colorado, grew up poor in Eastern Kentucky. He sometimes helped his mother carry groceries long distances and even spent a couple winters in a camper trailer without plumbing. Wearing inexpensive clothes and shoes in middle school drew the unwanted attention of more affluent kids and he dreamed he owned Air Jordan sneakers just to fit in. It was the kind of childhood that leads him to say, "By the time I turned 18, as far as I'm concerned, I already had a Ph.D. in poverty."
But Adams refused to let his background win. He is a survivor, he says, and he chose to accomplish a lifelong dream of achieving higher education.
Out of high school, Adams sometimes worked long 60–70-hour weeks doing manual labor for a natural gas developer. "I loved the work. In just a few months I lost 30 pounds of awkward-didn't-play-sports-senior-year-of-high-school fat, and my forearms got swole from carrying gravel and laying pipe," he says. Eventually, he enrolled in a few courses at a local community college. His mother had instilled the importance of education in him—when he was young, she got her GED and attended community college in order to enrich herself and eventually be a role model to him.
By the time Adams was in his early 20s, he needed a change. He ended up in California and joined the California Army National Guard. While there, he was eventually accepted into the Defense Language Institute (DLI) in Monterey where he studied Chinese. His time there was a truly enjoyable experience—he went surfing, became scuba certified, and went snowboarding in the California mountains. "It was great. That was my first sort of college experience," he says. But his college experience didn't end there. Just a couple of months after being in the DLI, Adams was deployed to Kosovo, and while at Camp Bondsteel, an education counselor suggested he look into Excelsior College to complete a degree.
"Excelsior College accepted all my previous credits, and I eventually completed 12 upper-division credits in PoliSci from Excelsior during that deployment and my next. On my third deployment, I studied and completed the college mathematics CLEP exam, earning 6 credits and fulfilling the requirements for a BA in Liberal Arts," says Adams, who completed his bachelor's degree in June 2014 while entirely overseas. What was most interesting is that while he was deployed, he was simultaneously studying Contemporary European History and Politics. His location helped to put him in the frame of mind needed for the military situations he was in.
A few years later, while deployed in the Middle East, Adams' Contemporary Middle East History and Politics professor, who had worked for the RAND Corporation for 20 years and was also a professor of Denver University, introduced him to and encouraged him to apply to University of Denver's Josef Korbel School of International Studies. In 2021, he was accepted into the International Economic Affairs program. This was a dream come true for Adams. And, what's more, Adams's Post 9/11 GI Bill® and the Yellow Ribbon Program will pay for his education at the Josef Korbel School and supplement his mortgage.
"Maybe some of y'all don't think this is a big deal," Adams says about receiving his bachelor's degree and going for his graduate degree. "But those of you who grew up poor, and who value organized higher education, understand that this is a milestone in living the dream."
Currently, Adams works as a security guard for a contractor with the federal government. He likes the flexible hours and other benefits. The job provides stability and flexibility that will allow him to go to school while also supporting his family.
In a few years, Adams will have 20 years in the National Guard and can retire. He often encourages other servicemembers to take advantage of their GI Bill benefits and go to school. He says he wouldn't be on the path he is today if it wasn't for earning his degree at Excelsior. But, "I try to remember that living the dream isn't about arriving at the destination. It's about enjoying the ride." Check out Excelsior College's History Degree.
GI Bill® is a registered trademark of the U.S. Department of Veterans Affairs (VA). More information about education benefits offered by VA is available at the official U.S. government Web site at benefits.va.gov/gibill/.