Pursuing a Higher Education in the Military: Tips for Success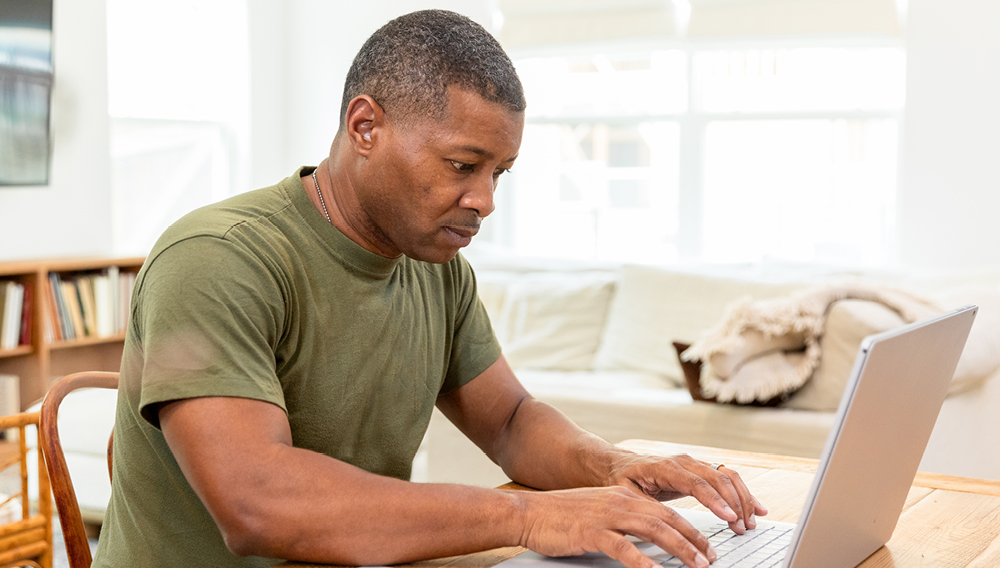 Whether you are a military veteran or nearing the end of your military service, you might wonder, "What's next?" While your military service has taught you a lot, you may have aspirations to pursue an entirely different career.
Regardless of what field you may be interested in, there's a good chance you'll need a formal degree to be competitive and break into a new career. In fact, recent studies have found that up to 62 percent of today's employers consider a college degree a "must-have" for job candidates.
At the same time, transitioning from the military to college isn't always easy. The good news? There are some tips you can follow to help make college after military life an easier transition.
Can You Go to College While in the Military?
First and foremost, understand that if you're still serving in the military, nothing is stopping you from enrolling in school now. More colleges and universities than ever offer online degree programs you can access from anywhere in the world, whether you're deployed or awaiting your next orders.
Yes, attending college while in the military requires some careful time management and planning on your part. However, with enough dedication and foresight, you can actually finish your degree program serving in the military and be ready to hit the job market in your ideal industry once you complete your military service.
The Importance of College for Veterans
Even if you decide to wait until after you finish serving in the military to attend school, it's crucial to understand the importance of a college education for vets.
First, going to school can help veterans gain a better sense of what they may want to do with the remainder of their careers. General education courses and electives allow veterans to experiment with different interests and decide on long-term career prospects. From there, being enrolled in college allows them to pursue a degree that will prepare them for the competitive job market and to potentially stand out from the competition.
Tips for Transitioning From the Military to Higher Education
Going from military service to college may seem overwhelming, but it doesn't have to be. With the following in mind, you'll be well on your way to success in school.
Research Schools
Start by taking the time to research your options and find a school that works regularly with military members and veterans. Ideally, the school you choose would offer specific resources and services to military students as well as a flexible curriculum that will work around your busy schedule. Not all colleges and universities are military-friendly, so it's important to do your homework here so you can set yourself up for success.
Utilize Veterans Affairs (VA) Benefits
Whether you're currently serving in the United States military or are a veteran, you are entitled to special benefits and programs that will help you pay for tuition and other expenses. In particular, be sure to take advantage of options like the Yellow Ribbon Program and the GI Bill, as these can significantly offset the cost of college.
Attend Transition Assistance Programs (TAP)
Another excellent resource available to you as a military veteran is the VA's Transition Assistance Program (TAP)—designed to help military veterans adapt to civilian life with resources for things like education, employment, financial stability, and more. You can access the TAP curriculum from the comfort of your computer or mobile device, so this can be convenient as you prepare to start school.
Understand the Admissions Process
Once you've narrowed down options for colleges and universities you're interested in attending, take time to research the admissions processes for each school and program. You may be required to submit different documents based on each program's requirements, ranging from high school transcripts to letters of recommendation to admissions essays.
Connect With Fellow Veterans
If you're feeling anxious about starting school after your military service, try connecting with some fellow veterans who have already gone through school or are even preparing to enroll. Being able to talk and commiserate with people who understand your situation can be helpful, and veterans who have already finished their degree programs can provide useful guidance and reassurance.
Choose the Right Major
You don't necessarily have to declare your major right away (especially if you have general education requirements to meet), but it's critical to be sure about your major once you do select it. Changing your mind about your major partway through your schooling may mean it takes longer to finish your degree—so stay the course.
Seek Academic Support
Don't be afraid to ask for help when you need it. Many colleges provide academic support in the form of tutoring, counseling, and advising services, so take advantage of these resources when you need them.
Explore Internships
No matter what industry you're going into, there are sure to be some great internships to explore. Take time to research these opportunities and apply for the ones that are most appealing to you. Not only is this a great way to gain hands-on experience in your field, but certain internships may also entitle you to college credit or a stipend.
Take Care of Your Well-Being
Completing a college degree program is challenging, but it's essential to prioritize your well-being above all else (just as you did when you were in military training). You can't expect to perform at your best if you're not tending to your mental and physical health, after all. Even on your busiest days, it's important to find time for self-care so you can stay motivated and focused.
Be Patient With Yourself
Perhaps above all else, give yourself grace and be patient with yourself as you navigate this new chapter of life. You'll need to make adjustments before finding your stride as a college student, so go into it with the expectation that things may not go perfectly at first. Allow yourself some time, and you'll find that things get a little easier each day.
Is College After the Military Worth It?
If you're serious about pursuing a rewarding career after you complete your military service, then attending college is an important stepping stone to your future goals. Even if you're not certain where you see yourself working in five years, attending college can help you explore your interests and get back into the academia mindset.
The key, of course, is choosing a program from a military-friendly college that will support you every step of the way. At Excelsior University, we take pride in being ranked as one of the "Best Colleges for Vets" by the Military Times, with 50 years of dedicated service to military and veteran students. And with more than 35 career-focused degree programs, you're sure to find the program that's right for you.
Get in touch to request more information about our degree and certificate programs or begin your online application today!