What Makes a College Veteran Friendly?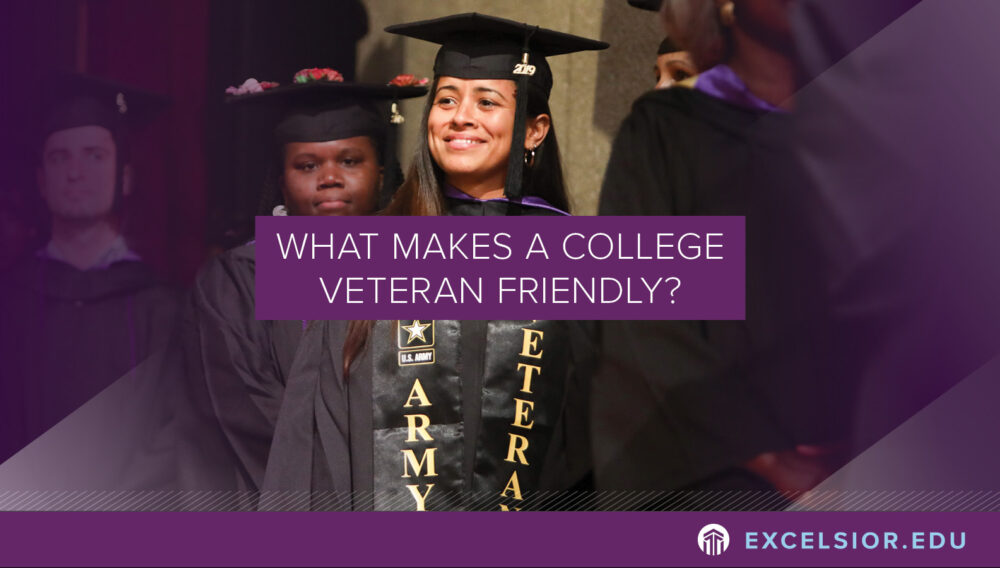 Many colleges advertise themselves as "veteran friendly" or "military friendly," but not all provide the services that meet the promise of those words. At Excelsior University, administrators, faculty, and staff pride themselves on providing an educational experience that helps veterans make a smooth transition from military service to the civilian workforce.
In 2013, Excelsior created the Lt. Col. Bryant A. Murray Veterans Center with funding from alumnae Bryanne Hamill. A former Excelsior trustee whose father served 30 years in U.S. Air Force, Hamill also created two endowment funds to support scholarship awards for veterans.
Hamill said her father never had the opportunity to earn a college degree because of having to move around and support his family.
"Appreciating how important education is, I wanted to be able to give back to Excelsior and also be able to really support military servicemembers and veterans in obtaining and completing their education, so that they could pursue their dreams, either while they are in the military or to prepare for the transition out," Hamill said in a video about the veterans center.
That commitment to helping servicemembers and veterans are what sets a true veteran-friendly college apart.
Characteristics of a Veteran-Friendly College
Veterans searching for the right online college will frequently come across schools claiming to be veteran or military friendly. But actions speak louder than words. The first step in finding colleges that deserve the title "veteran friendly" involves researching what they offer military students.
Some of the ways to identify schools that are veteran friendly include the following.
Flexible admissions process. Members of the military and veterans need flexibility in the admissions process. Many of the items needed for a civilian application — high school guidance counselor recommendations or updated senior high school grades — don't apply for veterans who graduated high school years ago. Veterans should look for schools that offer them flexibility, such as using letters of recommendation from military officers.
Credit for military training. A military-friendly college should review what a veteran has learned in military training, including from classes in military technical schools, as potentially qualifying for credit in similar college courses.
Flexible withdrawal rules. For active-duty students or those in the National Guard, a college should have flexible rules in place in the event a military student is deployed and must withdraw from classes.
Emphasize diversity. Many schools pursue students from diverse economic, racial, and ethnic backgrounds. The same commitment should apply to veterans, who make up about one out of every 30 college students nationwide. Veteran-friendly schools show a commitment to making the educational experience better by seeking to recruit a diverse mix of students on campus.
Clear financial aid. Veterans can face a bewildering amount of bureaucracy in securing financial aid to pay for their college courses. While veterans receive aid through the Post-9/11 GI Bill, that often does not completely cover costs. The most veteran-friendly schools offer scholarships to support veterans in pursuing their academic goals.
Why Excelsior Is Veteran Friendly
Excelsior University offers veterans and active duty servicemembers support in all the categories above. But Excelsior goes beyond these areas in providing services to military students. Here's a look at some of the highlights of what Excelsior offers.
A generous credit-transfer policy that allows veterans and servicemembers to receive college credit for qualified military training
Transition support for veterans that includes military education representatives on bases throughout the United States
Scholarships designated exclusively for veterans
Online degree programs that provide veterans and servicemembers more flexibility to earn their degree
Popular degree programs for veterans such as the Bachelor of Science in Cybersecurity
The online veterans center with resources for mental health and wellness and career development
Excelsior also has a strong record with military students, working with more than 72,000 veterans, active-duty servicemembers, and their families since its inception.
Through the Lt. Col. Bryant A. Murray Veterans Center, Excelsior provides military students a point of entry into what Excelsior can offer them. Hamill said the center helps Excelsior "meet the veterans and the military servicemembers wherever they are."
"Learning is a lifelong pursuit. We never stop learning. We always want to be growing and learning and availing ourselves of different opportunities," said Hamill. "My hope with the veterans center is that veterans and military will tap into the education that's available here."