Moving Up: Missy Washington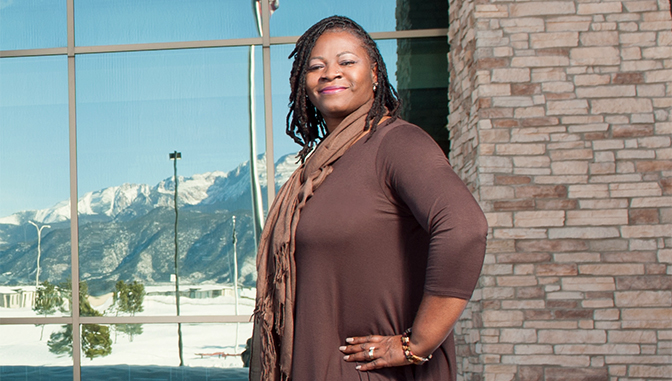 Missy Washington Uses Her Master's in Health Care Administration to Advance in Her Career
Missy Washington says that crossing the stage at Commencement in July 2019 was one of the happiest times of her life. She not only achieved a goal of pursuing higher education, but also earned the degree that would enable her to better help veterans like herself in her role at the Department of Veterans Affairs.
Washington, of Colorado Springs, Colorado, retired from the Army in 2015 after more than 23 years serving as a flight operations specialist and administrator. In these roles, she carried out tasks like tracking pilots' flying hours and the weather, communicating with pilots on the radio, and coordinating flights. She later became an inspector general, resolving conflicts and conducting trainings.
Washington knew she wanted to work for the Department of Veterans Affairs when she retired. She had heard of the negative stigma surrounding the department and wanted to do her part to change the rumors and help support veterans. But because she only had a bachelor's degree and no medical background, Washington started in an entry-level position. It was a great way to get her foot in the door though, she says, and it was meaningful to help people. "I think just me, one little bitty person, a little country girl from North Carolina, I feel like I'm making a change that other people can see so they want to be a part of that change as well," she says.
To advance in her career at the Department of Veterans Affairs, Washington knew she needed a more advanced degree than the Bachelor of Science in Liberal Studies she earned in 2017 from Excelsior, so she re-enrolled at Excelsior College to earn a master's in health sciences. Washington earned the master's degree in 2019 after a rigorous two years of studies. "I pushed myself because I was so excited and proud of myself that I was actually accomplishing that goal. I went pretty much bachelor's, master's, all the way through with, I think I only had a two-week break," she recalls, noting how determined she was to earn her degree. She adds that she is a first-generation graduate student and hopes that by earning her master's, her three boys see that with grit and determination, you can accomplish anything.
Since earning her degree, Washington has become a supervisor of 50 schedulers at the Colorado Springs Department of Veterans Affairs. She oversees administrative duties such as appointment scheduling and coordination, and also makes sure veterans have access to care even if it isn't with the Department. Oftentimes, Washington's job entails speaking directly with veterans who might be upset and disgruntled—like if their appointment is canceled, for instance. "If you relate to them, and you communicate with them, and you have empathy for what they're going through, a lot of times, even though they don't get what they want, they'll walk away thanking you," she says, and adds that it helps she is a veteran and can relate to those who come into the VA. Because of Excelsior and the education she received, says Washington, she has been promoted four times since 2015. "When I actually found my niche in health care and got the job here and started moving up the ladder, I was just grateful that my education I was pursuing was lining up with what I'm doing, and definitely where I plan to go," she says.
Washington sees a future for herself as a director at the Colorado Springs Department of Veterans Affairs because she feels that's where she is meant to be. "I want to be the one to make some changes on how people perceive the care in the VA…and I think, with health care administration, I can do those things. I'm taking care of the employees and taking care of the veterans; I'm that middle person, being the voice," she says.