Welcome Back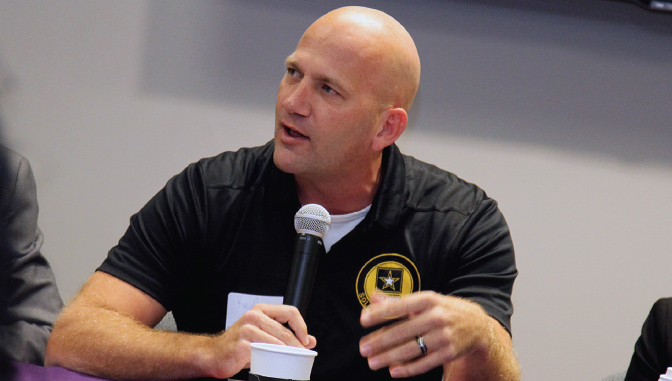 Nyquist Leadership Series event considers how communities can streamline support for military veterans

Keith W. Wilson, of the Army's Soldier for Life program, encourages communities to establish a network of services for veterans. Photo: Jason Hughes
With about 200,000 servicemembers leaving the military each year, opportunity exists to ensure veterans make a smooth transition to the civilian workplace. On October 17, 2019, during the latest event in Excelsior College's Nyquist Leadership Series, representatives from military- and veteran-focused organizations, businesses, higher education institutions, government agencies, and economic development organizations brainstormed ways to collaborate for the benefit of veterans and our communities.
The Veteran Workforce Collaboration, presented by Excelsior College in coordination with the Center for Economic Growth in Albany, New York, and the Mental Health Association of New York State, drew about 50 participants from New York's Capital Region and beyond. Participants heard from panelists and participated in two breakout sessions to discuss topical issues related to transitioning servicemembers and veterans. Topics included:
Veteran workforce attraction
Improving resource and service coordination
Strengthening education-workforce partnerships
Service mental health and wellness in the workplace
Enhancing veteran training and retention programs
Making proper accommodations for veteran workers
Igniting communities to recognize and support servicemembers
Discussions centered around what is working well, where there is opportunity for improvement, and recommendations for actions. A common theme emerged from the breakout sessions: with more alignment and collaboration — as well as some improvements — transitioning servicemembers and veterans will have access to robust and helpful resources when they need them.
An informal network that relies on referrals already exists, but the challenge is in coordinating and publicizing the services available to transitioning servicemembers and veterans. "What we don't have is a formalized network of some sort where everyone has access to those same services and those same resources," said Keith W. Wilson, a lieutenant colonel in the U.S. Army and director of the northeastern United States and Europe for the Army's Soldier for Life Program. Wilson facilitated discussions on igniting communities to recognize and support servicemembers.
During the event, speakers and participants brainstormed ways workplaces, government offices, educational institutions, and communities can support servicemembers, veterans, and their families.
Although this was a local event, the topics are relevant to communities universally and the takeaways could prove meaningful for others. "There are many resources available for veterans and sometimes accessing these resources can be confusing," says James Lettko, chief operating officer of Excelsior College, who participated in the event and is a retired U.S. Army general. "This collaboration brought together many of the local and regional providers and afforded an opportunity to collaborate on the most effective way to communicate to veterans about available services and how to best serve their
needs."
View highlights from the recent discussion.
The Nyquist Leadership Series explores New York State's most pressing contemporary challenges through the eyes of prominent government, education, and industry leaders. The series honors the late Ewald B. "Joe" Nyquist, a civil rights leader and former New York State education commissioner who played a key role in efforts to desegregate New York schools. The "visionary author" of Excelsior College, Nyquist fought to extend quality educational opportunities to learners of all ages.
---