A Role Model for Moving Forward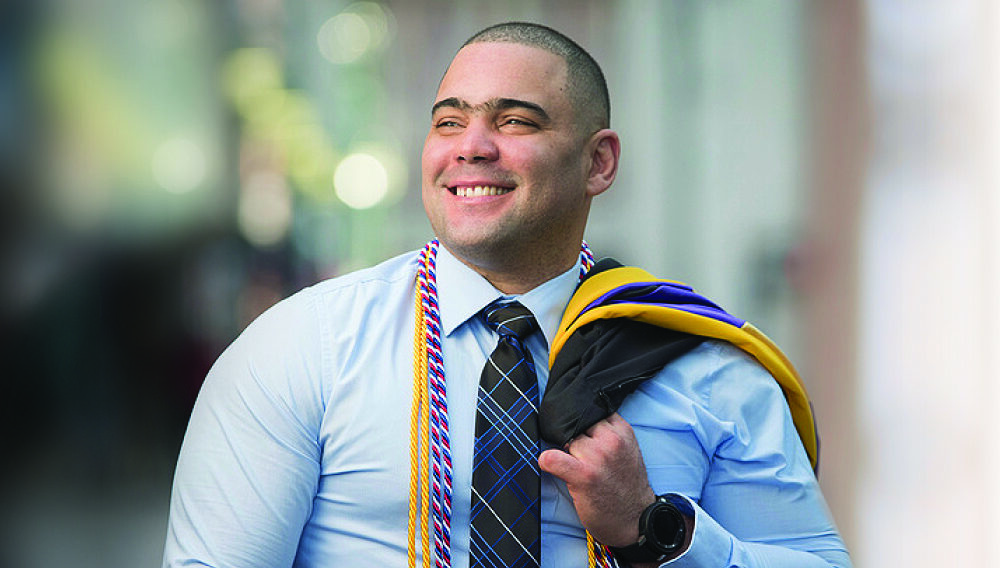 Wilfrido Abreu '20 decided to go back to school for his bachelor's degree because he wanted to be a role model for his four children. "As they reached the age where I had to talk to them about their grades, I needed to lead by example," he said. "I want them to understand that we have to keep learning, keep pushing forward, and never give up. That's what is going to separate us from the rest."
Abreu grew up going back and forth between the Dominican Republic and New York City. When he met his wife, they settled in New York's Capital Region where he worked in production for uniform and workwear provider UniFirst. "I hit a level in my job where I wouldn't be able to advance without a bachelor's degree," Abreu said, and he started looking for online business degrees.
He chose Excelsior College because the College offered a great program with the flexibility to allow him to continue working and an affordable per-credit cost. He got even more from his education than he expected—rapid career advancement.
"My professors were very strategic about helping us obtain a better career," Abreu said. "We learned about what's trending in the business world and tips and tricks for how to open doors." For example, several professors encouraged him to increase his marketability through additional certifications such as Lean Six Sigma. This certification is a combination of lean manufacturing and Six Sigma quality improvement approaches that teach process optimization for maximizing quality and performance. Abreu was introduced to the system in Excelsior courses on Strategic Management, Global Business Environment, and Operations Management. He then completed an 18-hour online training program to earn Green Belt Certification.
Armed with new knowledge, he received a promotion to assistant production manager at UniFirst. Abreu was on his way up.
Originally enrolled in the combined BS/MBA program (another reason that had drawn him to Excelsior), Abreu decided to shift to the BS in Business program due to financial constraints. However, he was fortunate to receive three scholarships from Excelsior plus a private scholarship. With some of his financial burden alleviated, Abreu was able to enroll in the MBA program at Excelsior as soon as he finished his bachelor's degree in March 2020.
His efforts to earn his degree paid off almost immediately when he applied for an opportunity with Target Corporation. He got the job and is now an operations manager at the Capital Region distribution center. "I wouldn't have gotten my current position without my bachelor's degree, and I am applying what I've learned at Excelsior every day."
Abreu is not stopping there. Currently, he is working toward his MBA and pursuing Six Sigma Black Belt Certification. "I'm taking courses that are helping me to become better at my job," he said. "It's a degree that will add to my value as a professional, as well as my personal growth. With it, I will be more equipped for even better opportunities."