8 In-Demand Allied Health Careers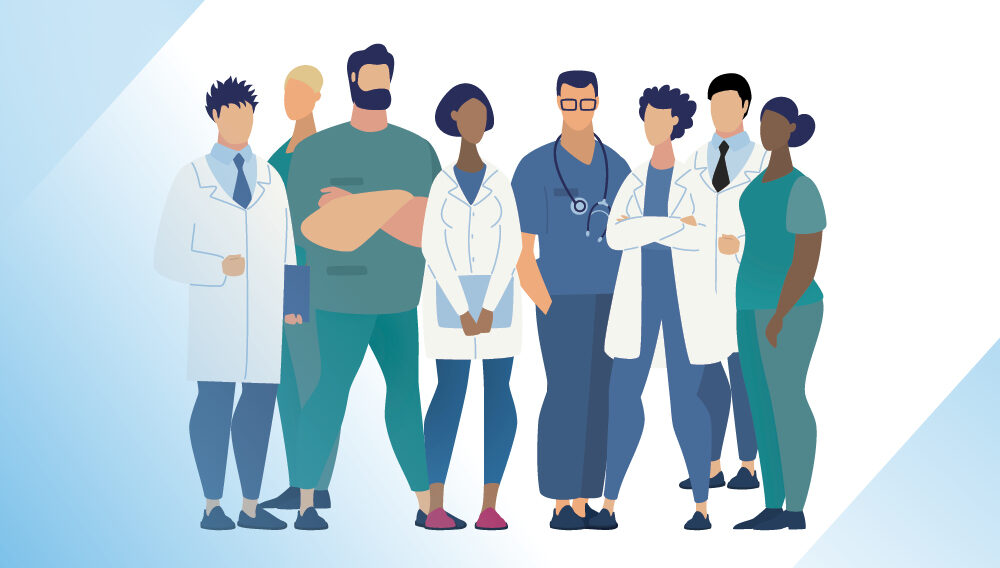 If you're not already working in health care, the term "allied health" might be new to you. But with every visit to a doctor, dentist, or specialist, you've surely encountered one or more of these essential health care professionals.
If health care is the goal for your next move, allied health jobs are a great place to start or grow your career. We'll break down what allied health is, what you need to break into the field, and eight of the most in-demand careers.
What Is the Allied Health Field?
Careers that are included as part of the allied health field have different roles than those of a doctor or nurse but operate together as part of a team in the pursuit of patient care.
The Association of Schools Advancing Health Professions (ASAHP) defines allied health professionals as those being "…involved with the delivery of health or related services pertaining to the identification, evaluation and prevention of diseases and disorders; dietary and nutrition services; rehabilitation and health systems management, among others."
Examples of common allied health job titles include: dental hygienists, sonographers, dietitians, medical technologists, occupational therapists, physical therapists, radiographers, respiratory therapists, and speech language pathologists just to name a few.
The need for health care professionals is growing by the year, and the ASAHP estimates that around 60 percent of the U.S. health care workforce could be classified as allied health.
8 In-Demand Allied Health Careers
Medical Coders
Medical coders work in hospitals, clinics, outpatient facilities and doctor's offices to communicate with insurance companies. The medical coder interprets patient files and updates them with medical codes. They analyze all parts of a patient's file, including tests, consultations, in-office procedures, and medications. Learn more about how to become a medical coder.
Medical Assistants
Medical assistants are the backbone of medical facilities. They focus on the administrative and clinical tasks involved in health care, like taking vital signs, administering medications per a physician's order, or gathering medical history. They also may help with scheduling appointments, billing insurance, and processing paperwork. Learn more about how to become a medical assistant.
Clinical Nutritionists
Clinical nutrition is the study of how nutrients in food are processed, and what combination of nutrients are right for different health conditions and goals. Clinical nutritionists use research and medical tests to determine the best course of action for a patient to lead a healthy life. Learn more about how to become a clinical nutritionist.
Registered Dietitians
Registered dietitians work in hospitals, long-term care facilities, and inpatient and outpatient clinics, and often work with individuals experiencing eating disorders, substance abuse, or medical conditions with symptoms that can be improved or managed with a more specific diet or meal planning. Dietitians create unique nutrition plans for clients and help them maintain healthy eating habits based on their medical needs. Learn more about how to become a community health worker.
Occupational Health Workers
Occupational health workers help businesses keep their workplace safe and healthy. Occupational health is designed to protect employees from potential risks and hazards on the job, assisting with everything from injury prevention to injury care. Learn more about how to become an occupational health worker.
Epidemiologists
Epidemiologists are public health workers who investigate patterns and causes of disease. Their main objective is to reduce the risk and occurrence of negative health outcomes. Epidemiologists typically specialize in a specific public health area, such as environmental health, infectious disease, and mental health. Learn more about how to become an epidemiologist.
EKG Technicians
EKG technicians operate equipment that measures, monitors, and graphically traces the electrical activity of the heart. They may also review images or test results to check for quality and coverage and analyze diagnostic information to provide a summary of findings for physicians. Learn more about how to become an EKG technician.
Potential Career Paths with a Bachelor's Degree in Health Sciences
Each of the above jobs needs at least an associate degree or a bachelor's degree to start at the entry level, but an advanced degree is often required.
A health sciences degree combines practical science with care and teaches you how to apply both laboratory science skills like biology, chemistry, and physics, and social science disciplines like psychology and sociology to real-world health issues facing individuals and communities.
To advance your career in the in-demand field of allied health, you'll need a bachelor's degree in health sciences. A BS in Health Sciences is a flexible degree that widens your path of opportunity for careers in both the patient-facing, and administrative sides of health care. It is also the degree of choice for those looking to continue on to a medical degree or advance their career further with a master's degree in health sciences.
No matter what professional direction you decide on, an Excelsior admissions counselor can help you choose the right health sciences degree for your goals.