Degrees at Work: Robert Leonard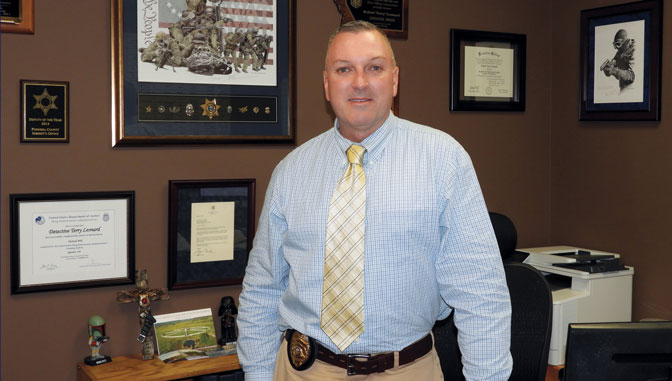 Robert "Terry" Leonard's career in law enforcement has spanned more than two decades in various capacities, from a 911 dispatcher to a criminal investigator. The knowledge he gained from earning a Bachelor of Professional Studies in Business and Management in 2015 has contributed to advancements in his work, and his passion for his career is evident each day he is on the job.
Leonard is one of six state criminal investigators with the Montana Department of Corrections headquartered in Helena, Montana. He began his career as a 911 dispatcher with a county sheriff/police department communications center, eventually becoming a deputy. He then became a detective and worked for a High Intensity Drug Traffic unit where he became a DEA task force officer. He recalls, "Narcotics work is very hard on the family with long and irregular hours. I loved it, but when the state investigator position was offered, we decided as a family it was really the best move all around."
Now, Leonard spends 60 percent of his work days in the office and 40 percent of them in the field where he could be doing anything from conducting interviews and coordinating operations to obtaining warrants and subpoenas. He notes that conducting a criminal investigation is time consuming and that, "rushing an investigation can lead to any number of mistakes," so it's important to pay attention to the details.
Leonard says to succeed in his line of work, it's important to be a self-starter and to have empathy. He notes that "cases don't just solve themselves;" you have to track down even the most minuscule lead even when the case doesn't seem to be going anywhere. He also says that empathy goes a long way during an interview: "Being able to get inside the person's mind and really try to understand 'why' from their point of view is really helpful." He adds that just being nice is some of the best advice he's ever received; sometimes if you are nice to a person in an interview, you can end up uncovering small details that can lead to solving the case.
When Leonard came to Excelsior College, he was able to transfer prior military and coursework credit from the University of Florida toward his bachelor's degree. He says it might seem like his degree doesn't fit into his line of work, but that couldn't be farther from the truth. "The project management courses I took at Excelsior are my baseline for setting up how I am going to run a major case," he says. He adds that knowledge of finances is also helpful since the No. 1 rule when running a major criminal enterprise investigation is to follow the money. He says, "Those accounting courses I took really help me when analyzing financials and trying to determine the flow of cash and assets in a criminal network."
While he credits some Excelsior courses with help in his career, he thanks his wife for helping him get through his courses. He says it is already stressful enough to be a parent and to hold down a full-time job, but going back to school adds another layer. "My wife was really supportive on my limited off-time while I completed my Excelsior coursework…I could not have done it without her support."
Leonard has come far in his more than 20 years as a law enforcement officer. He has been able to advance in his career thanks to hard work, dedication, and pursuing his higher education. He has advice for others, however: when it comes to being successful in his career he mentions the importance of sustained performance. He says, "You can't just make a couple of cases and then sit back on your laurels. Being dedicated and passionate about my career field helped as well."
Industry Notes From Robert Leonard…
Best book/podcast/e-newsletter that's relevant to your industry?
"'Sworn' podcast is awesome, especially for detectives and investigators. The National Tactical Officer's Association magazine is also a great resource."
What time management tips do you have for current students juggling activities outside their Excelsior studies?
"Set a schedule and make it a routine. Be flexible, but have that routine in place. Keep your eyes on the prize and stay dedicated. Everything else will fall into place."
What networking tips would you give to current Excelsior students?
"There is no better asset than a good network. Here's my advice to establishing a good network: never turn down the opportunity to help someone in your job field. Do anything you can to help a colleague obtain their objective and that will pay itself off 10 times down the road. I wouldn't be where I am today without an awesome network of colleagues that know they can count on me and are always there when I need them."