From Cornerstone to Capstone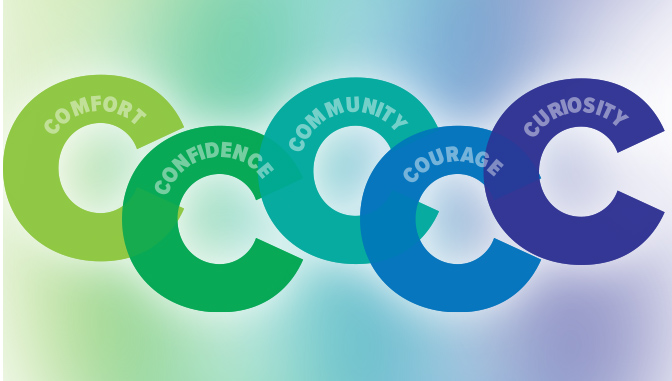 New first course positions learners for success throughout their degree program
To help provide students with an engaging start to their learning experience at Excelsior College, all undergraduate students admitted to the College as of November 1, 2019, are taking a Cornerstone course that will provide them with foundational skills and the resources needed for academic and career success. The 8-week, 3-credit course will introduce students to the skills, resources, tools, and mindsets that are critical for success throughout all their coursework — and beyond to their careers.
The course encourages what are referred to as the "5 Cs" — confidence in students' ability to achieve their educational goals, comfort with online learning and available resources, courage to think deeply on open-ended questions, intellectual curiosity, and a sense of community. The course focuses on giving students a "smart start" for their educational journey and skills to rely on as they progress through their degree program.
Many, if not most, students start at Excelsior with no previous experience with the Canvas learning management system or the College's other digital resources and platforms. As a result, it takes them some time to reach a comfort level and develop confidence with how the courses work, including where to submit assignments, how to see their weekly schedules, and where to contact their instructor, says Mary Berkery, the faculty program director for the Cornerstone course. "The Cornerstone provides a safe place to land and get comfortable in a low-stakes environment where everyone is learning the LMS and the resources at the same time, with plenty of help from their instructor," says Berkery.
In developing the Cornerstone experience, Excelsior's faculty program directors also recognize that some adult learners who are returning to college after many years express a lack of confidence in their abilities, such as writing academic papers or navigating the technology. "Starting college with a mindset of 'I'm not sure I can do this' is a recipe for failure as opposed to adopting a growth mindset and believing you can and will be able to finish your degree," says Berkery. "The Cornerstone is a place where students can build their confidence over the eight weeks and recognize that they have everything they need to be successful in their next courses."
That focus on student success is the motivation behind developing the course.
"The Cornerstone is a place where students can build their confidence over the eight weeks and recognize that they have everything they need to be successful in their next courses."
––Mary Berkerey
"The Cornerstone course is an innovative way to give adult learners the best possible start on their journey toward achieving the goal of degree completion," says John Caron, provost and vice president for academic affairs at Excelsior College. "We talk a lot in higher education about meeting the learner where they are at. The Cornerstone course gives our faculty and advisors the ability to assess each learner's level of readiness and get them on a degree pathway that is personalized to their academic success."
The interdisciplinary Cornerstone course was developed in two versions — one for students entering Excelsior College with more than 60 credits and one for students entering the College with fewer than 60 credits. Both courses cover the same material, but they are tailored to the academic experience of students. The Cornerstone course consists primarily of activities, such as readings, videos, multiple choice questions, and reflections, and discussions within eight modules:
Module 1: Is There Anybody Out There? Why You're Not Alone in Your Pursuit of a Degree
Module 2: Is Intelligence Predetermined? Why Passion and Perseverance Matter More in Future Success
Module 3: What Is the Future of Human Thought? Critical Thinking, Reasoning, and Argument in the Digital Age
Module 4: Is This the Dawn of the Post-Truth Era? Determining Truth in a Glut of Information
Module 5: Why Do I Need to Take that Class? How General Education Can Save Us from Dystopia
Module 6: Will the Robots Replace Us? How to Remain Employable in the Unpredictable Future of Work
Module 7: What Makes Us Human? Diversity, Bias, the Workplace, and Ourselves
Module 8: Can We Create the Future? What We Can Take Away from the Course and What's Next
Through the module topics and their associated discussions, students will hone their skills and increase the flexibility of their minds to help them navigate the change and uncertainty in our future societies, workplaces, and selves. They will plan and write a research paper during the course that they will upload to an online portfolio in the final module. As they take other courses, students can continue to upload work to the online portfolio.
The Cornerstone course stands apart from other Excelsior courses in another way: A section of the course might consist of the most diverse group of students one will encounter during their studies. Because it's a required course for all undergraduate students, those registered for any given section reflect a variety of degree programs. The different interests and backgrounds of the students add to the overall learning experience.
Focus on Student Success
The Cornerstone course was piloted in the Fall II term and made available to all new students for the Spring I term. It is one of three courses students are required to take at Excelsior College rather than transferring in credit to meet the requirement. The others are Information Literacy — a self-paced 1-credit course that focuses on cyber literacy, library research, academic integrity, and critical reading, thinking, and writing skills — and the Capstone, the culminating experience of all degree programs. The Capstone course has traditionally been required to be taken at Excelsior College since it's an opportunity for students to show their cumulative knowledge of their chosen discipline and for instructors to evaluate that knowledge.
With these changes in requirements, maximums for credit acceptance and awarding toward undergraduate degrees has changed. Excelsior College will now accept all but 7 credits transferred from other institutions of higher education institutions, earned through exams, awarded for workplace training and professional certifications, or from other options toward a bachelor's or associate degree. This change reflects efforts to ensure Excelsior students have the knowledge and skills they need for academic and future success.
Alignment with Capstones
Each degree program has a Capstone experience, typically a project or paper that gives students the opportunity to demonstrate knowledge acquired throughout their course of study. With the addition of the Cornerstone course, students will gain stronger preparation for all their coursework, including the rigorous experience of the Capstone. Since all students will complete an independent research project during the Cornerstone course, they will gain skills in locating credible information, citing information correctly, and creating an academic argument — all skills they'll use again throughout their course experience, including in the Capstone. In addition, most students will use the online portfolio again in their Capstone course.
While faculty have been working on giving students a strong start to their Excelsior experience, they have the Capstone experience. LA 498 Liberal Arts Capstone, the largest of the Capstone courses in terms of enrollment, is being revised and will premiere for Summer I. The updated course focuses on this question posed to the student: What problem do you want to help solve?
"The course is designed to allow students to be experts on different topics and facilitate problem-solving and support their peers in discussion formats," says Amber O'Neil, the faculty program director for the capstones in liberal arts. "All formal weekly discussions in this course are focused on group discussions where students serve as experts on things critical to the Capstone like global issues, writing, interviewing, internships, and cultural diversity."
In the course, students must choose a short experience that informs their project — the problem they want to help solve — and also highlights the importance of having experiences in the learning processes, says O'Neil. Students are also required to have a draft of their final paper reviewed by a professional in the field, and then they must share the feedback with Capstone faculty and incorporate it as appropriate into the final paper.
The Cornerstone and Capstone courses complement each other, with the Cornerstone laying groundwork with broad interdisciplinary perspectives and the Capstone completing the degree program with work focused on a specific discipline. "The Cornerstone and Capstone are meant to serve as bookends to a student's Excelsior experience," says Berkery.
---