Helen Benjamin Becomes Chair of the Board of Trustees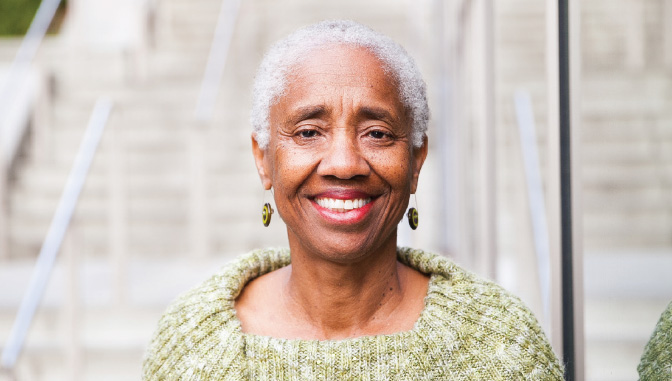 In January 2018, Helen Benjamin was elected by her peers to serve as the chair of the Excelsior College Board of Trustees. The first woman to serve as board chair, she brings a wealth of knowledge, deep experience, and commitment to higher education and student success to the position.
Benjamin retired as chancellor of the Contra Costa Community College District in Martinez, California, in December 2016 after serving as chancellor for more than 11 years. Before that, she held a variety of senior-level positions in the district since 1990. She had been an educator in secondary and higher education for more than 44 years. Benjamin started her career as a high school teacher in Dallas, Texas, and then was an assistant professor at Bishop College in Texas. She was with the Dallas County Community College District for 22 years, including four years as a dean.
She joined the Excelsior College Board of Trustees in 2011. "Excelsior's mission of serving historically underserved adult learners no matter where they are academically or geographically resonated very strongly with me because of my own educational experiences," says Benjamin. "Excelsior makes a huge difference in the lives of so many students, and I enjoy being a part of an institution with such an important mission. One of my goals as an educator has always been to support underserved students because I identify with them, having attended segregated schools through my years as an undergraduate student."
She says she is honored to have been selected to chair the Board of Trustees and intends to continue the leadership work of those who have served in the position before her to ensure Excelsior remains true to its mission.
In addition to her work with Excelsior, Benjamin serves as a member of the Texas Woman's University Foundation Board and as a volunteer at the African American Museum in Dallas. President of HSV Consulting Inc., she is a consultant to community colleges in a variety of areas.
"Excelsior makes a huge difference in the lives of so many students, and I enjoy being a part of an institution with such an important mission."
–Helen Benjamin
Benjamin maintains an active role in a variety of professional and community organizations, many committed to increasing opportunities for students of color and increasing access to education for economically disadvantaged individuals. She worked tirelessly for the improvement of community and junior colleges and served as president of the California Community Colleges CEOs, as president of the board of the Community College League of California, and as chair of the California Promise Leadership Team. She holds the distinction of being the first community college representative appointed by Congress to the Advisory Committee on Student Financial Assistance. Benjamin served with distinction as convener of the Presidents' Round Table of Community College African American CEOs and on the Board of Directors of the American Association of Community Colleges.
Known as a champion for student success, Benjamin has written on the topic, has delivered many presentations, and has been acknowledged for her efforts. She co-authored, with Darroch Young, "Harvest from the Vineyard: Lessons Learned from the Vineyard Symposiums" (2016) and contributed to "The Chocolate Truth: An Anthology of Perspectives from Community College CEOs" (2012). She was among 20 community college CEOs from throughout the United States to participate in the first White House Summit on community colleges held by President Barack Obama.
Benjamin earned a Bachelor of Science in English from Bishop College where she graduated magna cum laude, and earned a MEd in supervision and reading and a PhD in English from Texas Woman's University in Denton, Texas.