Jeffery Hoffman Powers Toward a BS in Nuclear Engineering Technology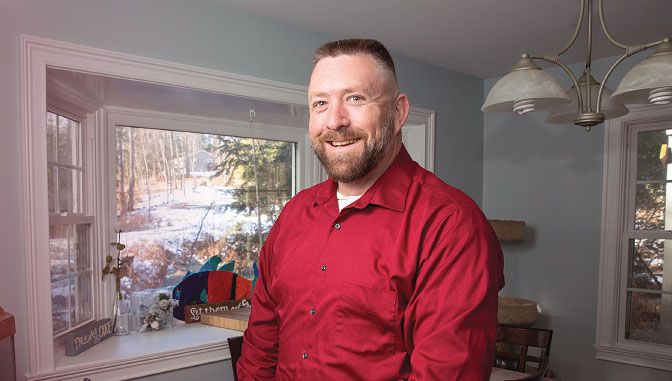 Two years ago, Jeffery Hoffman retired from the U.S. Navy after 26 years of service. Retirement may have brought him some changes, but not a change of job. He stayed on as an engineering technologist at the Naval Nuclear Laboratory in West Milton, New York, having transitioned from a military position to a civilian one. He also continues with his pursuit of a bachelor's degree in nuclear engineering technology.
Hoffman has entered the home stretch of his studies. Retirement has provided a more structured work schedule, so he has typically taken one course every 8-week term. The desire to finish his degree is strong, and he took two courses in one 8-week term in fall 2018 to keep to the time line he set for degree completion. He expects to earn the nuclear engineering technology degree in June 2019.
The nuclear engineering technology degree complements his Navy experience and background as a nuclear power plant operator and supervisor, and positions him for future opportunities. "To have any prospect of advancement, it's very important. To have any future advancement in the company, I need the degree to open up doors," says Hoffman.
"It's what every adult student is going through with trying to balance life and college."
–Jeffrey Hoffman
Hoffman has been working on his degree since 2005, when he was an educational services officer counseling sailors about the educational opportunities and how to use Tuition Assistance and GI Bill® benefits. At that time, coming off sea duty, he was in what he describes as a "family tour" shore-duty job, meaning he was working Monday through Friday working hours instead of the rotating shift work that is most common to Navy sailors in the nuclear power field. When he started courses at Excelsior, he was all in — and college took up all his time. The timing for pursuing his degree at that rigorous pace wasn't right for him, given his family and work responsibilities, and he opted to "suspend himself" from pursuing his degree to enjoy this family tour. He scaled back on his studies, and took one course each year until recently.
"I would have liked to have finished earlier [but] I wasn't as disciplined in completing my degree as many of my sailors were. Also, I wasn't ready to have my career in the Navy over, but 26 years is high year tenure for a senior chief," says Hoffman. Now, post-retirement, he plans study time around his work schedule and makes sure everyone in the family knows his study times. He still has the challenges of being a husband, father, putting a child through college, full-time work, pets, maintaining a home, and the responsibilities that come with each. "It's what every adult student is going through with trying to balance life and college," he says.
To help with that balance, Hoffman received a 2017 SEFCU Partners in Lifelong Learning Scholarship. The SEFCU scholarship provides financial assistance to students in the Capital Region of New York state who are veterans or active military. The impact of the scholarship was about flexibility, he says. "I came into this with a plan on how to do everything … but receiving that scholarship allowed for an extra amount of flexibility that didn't exist."
When Hoffman earns his degree, it will have been 14 years in the making. He plans to use this degree to pursue advancement in his current employment. He doesn't have any solid plans yet, but the prospect of becoming an engineer or a project manager for the company are a couple of the positions he is considering.
GI Bill® is a registered trademark of the U.S. Department of Veterans Affairs (VA). More information about education benefits offered by VA is available at the official U.S. government Web site at benefits.va.gov/gibill/.
Military: U.S. Navy Veteran
Support: SEFCU Partners in Lifelong Learning Scholarship