Personal and Professional Financing for the Health Care Administrator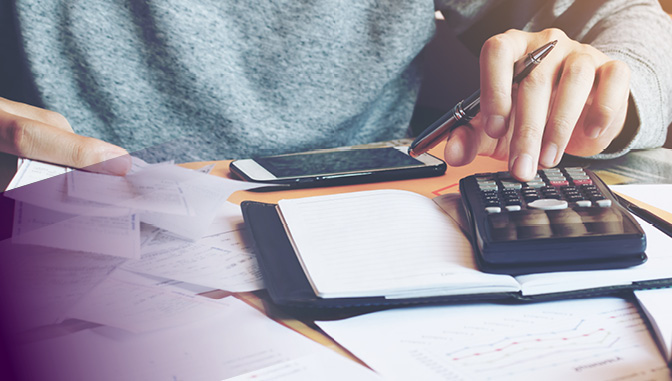 Finance and budgeting may seem like a thousand miles away when deciding your path toward a health care administration career, but it only takes one step to begin the journey of budgeting on a professional level – or even in our personal lives. My students often students say, "Is it math?" I promise you it is not! Well, there is math involved, but it is completed using the basic tools of a calculator, an Excel spreadsheet, or software. Budgeting is much more about decision making and less about math. The financial information we usually need is easily generated through software programs.
Why Do I Need a Budget?
Most people ask themselves if they really need a budget. If you have financial goals, such as saving for a new TV, or a larger goal of putting money away for your or your children's college education or even for retirement, then I highly recommend a budget even if it is only a few entries.
A budget can be a guide and allow you to control your finances. This is especially vital for college students, who are often incurring college expenses or anticipating student loan expenses. For military personnel who are planning to return to civilian life, having a workable budget can make all the difference.
When budgets are not in place, and this goes personally and professionally as a manager, you lose control. Budgeting and saving for something specific, or just for an emergency, is the best outcome of any budget. With control of my finances I can sleep well knowing I am possibly preventing financial hardship if it were to knock at my door tomorrow. I remain prepared for most emergencies that may arise unexpectedly (auto repairs, medical bills, etc.).
When budgeting, make sure to include:
Cash Savings/Emergency Fund – Have at least three months of living expenses (mortgage, utilities, food, car payment, insurance, and whatever else you normally budget for) in a savings account. Whatever you do, don't touch it. It's not yours to spend (I tell myself that every day)! It may or may not take a bit of time to save this up, but with a budget you'll plan to save. I've been to many financial seminars that stress paying yourself first. Don't keep more than six months of living expenses in savings; if you have more, consider investing the rest to earn a higher level of interest.
Percentage of your Income to Retirement – An IRA, or retirement type of account offered by your workplace. A small percentage adds up over the year and you'll barely miss it. Make sure your percentage also meets your goals (and at least the max percentage your organization is matching), that's free money for your retirement plan. Retirement plan advisors are always helpful in discussing the type of accounts that will suit your needs, goals, and based on your age at the time you open the account.
Take advantage of flexible spending accounts (FSA) and/or health savings accounts (HSA) – These a can be pre-tax contributions put aside for out of pocket daycare or medical expenses on an annual basis. With four school-age children at one time with summer daycare/camp and after school care, I was able to pay for it on my pre-taxed contributions, another way to save money. You are never too young or old to have a retirement account and/or flexible spending accounts.
Budget for fun – Yes, budget for fun— a date night, your special coffee, and even your vacation. When you don't budget for it you'll spend more than you really wanted, and you can never get it back, trust me on this one.
Budgeting Software
Being in finance, working with health care organizations software programs, I realized it was also convenient to use software to keep track of my personal finances. The financial software available can assist in keeping you on target, and most are good; it's just based on your individual needs and what you're willing to spend. Most financial institutions now can download your transactions directly into your software and with a few clicks of your mouse, let you know exactly where you stand, financially. There is software that can assist with your personal finances and software that can account for multiple financial records. For example, your personal and maybe a small business or consultant income and expenses can be kept separate within the same program, which is important, since reporting can be separated for budgeting and even tax preparation.
Professional Budgeting
Just as important as a personal budget is a professional budget. As a health care administrator, I worked in billing for medical practices and hospitals, and as business manager of several retail businesses that were owned by the doctors, as well as a veterinary clinic. In each financial management position, I continued to build my knowledge. I encourage you to take every opportunity while in school to learn financial management principles so that you can identify a strong budget and identify warning signs in a budget that could spell trouble for a unit or organization. In our courses at Excelsior College, you will learn about a collection of commonly followed accounting rules (commonly referred to as GAAP or generally accepted accounting principles) and standards for financial management and reporting used in the health professions. Our health care management students learn how to read and interpret standard financial statements, organizational budgeting, navigate the complexities of reimbursements in the healthcare sector, and manage financial risk while meeting the needs of their client base. Our students create a budget using spreadsheet software and make informed decisions to help health care organizations remain competitive and successful.
With that said, most elements of budgeting are the same across professions. In health care, we focus on patient revenue and make decisions on how to remain profitable while increasing the quality of our services and decreasing costs. It's always a fun challenge, as the health care industry is ever-changing.
Are you interested in learning more about budgeting or financial management for health care? Finance does not have to be scary! Consider signing up for HSC 414 Budget and Finance in Health Care Organizations in the Bachelor of Science in Health Care Management program (or the Management emphasis of the Bachelor of Science in Health Sciences program) or HSC 518 Health Care Finance in the Master of Healthcare Administration.