2020 Graduate Award Recipients
Congratulations to all of the 2020 awardees!

This award recognizes the leadership and vision of founding trustee Lt. General Arthur J. Gregg [U.S. Army (Ret.)]. General Gregg chaired Excelsior's Board of Overseers and guided the transition to independence as a private institution, becoming the first chair of the Board of Trustees. With a distinguished career in the U.S. Army, General Gregg has contributed greatly to Excelsior's service to the U.S. military. The award is presented to a graduate who is on active duty in the U.S. military and who demonstrates outstanding academic and career or professional achievement.
Gregory S. Myers
Gregory S. Myers, of Shrewsbury, Pennsylvania, completed a Master of Business Administration in December 2019 with a 3.93 GPA. He is a lieutenant with the U.S. Navy, working as an airframe and powerplant division officer for Fleet Readiness Center Mid-Atlantic Detachment Norfolk.
Myers is responsible for managing the production of Navy aircraft engines and structural components as well as overseeing the personnel associated with those tasks. Myers completed several deployments in support of Operation Iraqi Freedom, Operation Enduring Freedom, and Operation Inherent Resolve. He was also deployed in support of humanitarian operations such as Operation Unified Response, and he has volunteered with the Naval Air Station Patuxent River Base's Sexual Assault Prevention and Response team, serving as a victim's advocate.
Myers was selected as the 2012 Sailor of the Year and his military awards include the Navy and Marine Corps Commendation Medal, Navy and Marine Corps Achievement Medal, Battle Efficiency Award, Military Outstanding Volunteer Service Medal, and other personal and unit awards.
Myers volunteers as a firefighter/EMT for the Shrewsbury Volunteer Fire Department. He was a member of the Calvert K-9 Search Team in Maryland where he served as a K-9 handler in training, search and rescue Technician, EMT, and rope rescue technician.
A three-time graduate of Excelsior University, he also earned an Associate in Applied Science in Technology in 2011 and a Bachelor of Professional Studies in 2016.
This award is given in memory of Catherine Craig-Erhardt, a member of Excelsior's staff beginning in 1980. From 1984 until her untimely death in 1986, she served as Excelsior's liaison to the military. The award recognizes and commemorates her commitment to helping military servicemembers attain their educational goals and is presented for service to others, commitment to education, and for academic, professional, and personal achievement.
Jeffrey A. Lemon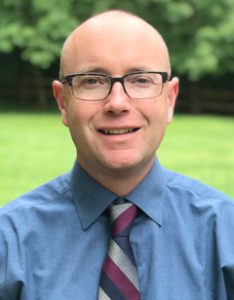 Jeffrey A. Lemon, of Fredericksburg, Virginia, completed a Bachelor of Science in Liberal Arts in February 2020 with a 3.93 GPA. He is currently stationed at Marine Corps Base Quantico, working at the Air Station in direct support of HMX-1 Presidential Helicopter Squadron. Lemon oversees the meteorologists and the communication and radar technicians at the installation.
Lemon has served over 19 years in the Marine Corps, serving in Operation Iraqi Freedom, Operation Enduring Freedom, and Special Purpose Marine Air-Ground Task Force-Crisis Response-Africa in 2015. From 2015 until 2019, he provided training and guidance at Training and Education Command, Marine Corps Base Quantico.
Since 2015, he has served with his church as a member of the Kairos Prison Ministry where he ministers at local prisons. He currently supports his church with developing its future posture and service for after the COVID-19 pandemic.
Lemon's decorations include the Navy and Marine Corps Commendation Medal, two Navy and Marine Corps Achievement Medals, Iraq Campaign Medal, Afghanistan Campaign Medal, Joint Service Commendation Medal, Global War on Terrorism Expeditionary and Service Medals, and six Good Conduct Medals.
Lemon received his OSHA certification in March 2020.
This award is presented in recognition of Excelsior University alumnus Dwayn Hanford. As past president of the Excelsior University Alumni Association and Alumni Leadership Council, a C. Wayne Williams Award recipient, and adjunct instructor, Hanford is a strong advocate and ally of Excelsior and the mission to educate 21st-century public sector leaders and citizens. The recipient of the Dwayn Hanford Award has completed a public service degree with academic excellence and significant community involvement.
Anthony L. Barker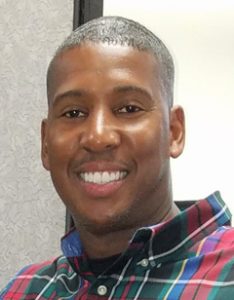 Anthony L . Barker, of Castroville, Texas, completed a Bachelor of Science in Criminal Justice in February 2020, cum laude, with a 3.6 GPA. He is a human resource assistant for the 802d Force Support Squadron, Joint Base San Antonio, United States Air Force.
Barker processes identification card applications for both United States and foreign service members, their family members, Department of Defense employees, and contractors. He applies regulations and instructions to a variety of individual situations, makes final decisions on entitlements or limited authorized privileges, and maintains suspension files to ensure revocation or reinstatement of privileges. He previously spent time as an Army first sergeant in a training battalion with an academic setting, as a first sergeant in an Army medical center, and as a first sergeant in a combat support hospital.
Barker was a member of his community's Mayor's Fitness Council where he mentored children around the city of San Antonio. He was involved in the health project with San Antonio Food Bank as a tasting judge. He also served as a member of the Communities in Schools of San Antonio through My Brother's Keeper (MBK), mentoring troubled teens in high school. He also volunteered at the elementary school level showing children how to safely and correctly cross the street and use other safety measures.
Barker was awarded the Legion of Merit for Exceptional Military Service in 2016. In addition to his bachelor's degree, Barker also earned an Associate in Science from Excelsior in 2015.
This award recognizes the leadership and vision of founding trustee Jean Smith. Smith's career in banking has been characterized by a deep commitment to institutions that are devoted to improving society. Her passion for social justice informed her work with Excelsior, first as an overseer and later as a trustee, as she worked to support its students. The award is presented to a graduate who has demonstrated outstanding academic and professional achievement in the world of business.
Nicole Stewart
Nicole Stewart, of Avondale, Arizona, completed a Bachelor of Science in Business in June 2019, summa cum laude, with a 4.0 GPA.
Stewart, a former Dominos assistant manager, works as a behavioral health professional for Community Bridges Inc. The nonprofit organization focuses on helping people in crisis, including those struggling with homelessness, psychiatric instability, domestic violence, and substance abuse. She currently works with a team of managers to learn necessary direct patient care skills, so she can advance in the organization and use her education to help both patients and staff in the process of recovery. For a brief time, the organization was one of the only resources available to vulnerable groups during the COVID-19 crisis in her area.
Throughout her educational journey with Excelsior University, Stewart learned to enjoy facing new challenges and saw herself grow as a person by learning to look at and appreciate the bigger picture. She says, "Overall, my education has allowed me to understand the importance of people in the business environment, and realize that reduced power distance between management, employees, and patients is essential to create a safe and productive work environment to better reach our goal of maintaining human dignity."
In addition to her bachelor's degree from Excelsior University, Stewart earned a certificate in automotive technology from Penn Foster in 2006.
This award recognizes the leadership and vision of founding trustee Joshua L. Smith. During his three years as chair of the Excelsior University Board of Trustees, he encouraged Excelsior to expand the graduate degree programs. Smith, a retired professor and director of the Program in Higher Education and Center for Urban Community College Leadership, New York University, School of Education, dedicated his career to education. This award specifically highlights graduates with volunteer or career experience in the field of education and is presented to a graduate receiving a master's degree.
Anthony Cinquini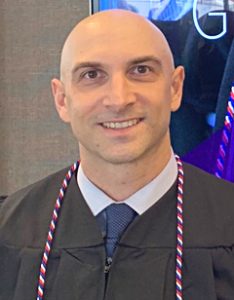 Anthony Cinquini, of Glendale, Arizona, completed a Master of Arts in Liberal Studies in May 2019 with a 4.0 GPA. He is a veteran of the U.S. Air Force and the U.S. Army, a rental property manager, and a home-school teacher.
As a certified special education teacher, Cinquini has taught 5th and 6th grade, working closely with students with special needs. During his time in the Osborn School District in Phoenix, Arizona, he made a positive impact in the lives of his students and built strong connections between the special needs program and the rest of the school. He has left a positive impact on the students he has taught, like encouraging a student with Asperger's to compete in a spelling bee and encouraging students with special needs to participate on the boys' volleyball team.
Pursuing his master's degree with Excelsior University gave him the opportunity to further his education while also working as a stay-at-home father. He now uses his educational knowledge and experiences as a home-school instructor to his children.
In addition to his master's, Cinquini earned a Bachelor of Science in Liberal Arts from Excelsior University in 2004. He has previously worked as a Korean language analyst and a battalion chemical officer.
This award is given in memory and recognition of the vision and contribution of Marvin Curling to the development of collaboration between industry and education through the integration of corporate-sponsored training and college-level learning. A New York Power Authority training superintendent, Curling motivated employees at NYPA to persist in educational advancement and helped establish degrees in technology at Excelsior (then Regents). In honor of the superior model of collaboration that he helped establish, the New York Power Authority contributed the endowment to maintain this annual award which is presented to a graduate who achieved outstanding academic achievement while pursuing a degree in a technology program.
Thane Allan Douglass
Thane Allan Douglass, of Coronado, California, completed a Bachelor of Science in Nuclear Engineering Technology in February 2020 with a 4.0 GPA. He is a retired command master chief in the U.S. Navy.
Upon transitioning into the civilian sector after 25 years of service in the Navy, Douglass embarked on a new career with General Atomics, a defense and energy research company, General Atomics. Earning a degree in nuclear technology has unlocked opportunities previously unavailable. He is an engineer in the Quality Assurance Division where he collaborates with engineering and manufacturing personnel to develop and implement quality control methods, procedures, and corrective actions in support of Navy aircraft carrier launch and recovery systems, high voltage capacitors, radiation monitoring systems, missile defense systems, and a developmental fusion reactor project. Douglass thinks his degree, coupled with his military experience, equips him with the credibility necessary to advocate for the sailors and soldiers who use his company's products every day.
Douglass is an active participant in the Keep San Diego Clean initiative and a volunteer with the General Atomics Scientists/Engineers Supporting Scientists/Engineering for Students program.
This award is presented to a health sciences graduate in memory and recognition of the contributions of Michael J. Cooley, a beloved and dedicated adjunct health sciences faculty member. The recipient of the award earned a health sciences degree and embodies exemplary academic achievement and exceptional perseverance. This graduate accepts the challenges that befall an adult learner and embraces the opportunity to grow academically, professionally, and personally within the health sciences discipline.
Wendi Michelle Sykes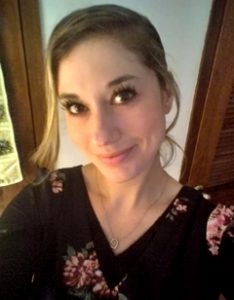 Wendi Michelle Sykes, of Vacaville, California, completed a Bachelor of Science in Health Sciences in February 2020, cum laude, with a 3.63 GPA. She is a medical technician in the U.S. Air Force.
During the time Sykes was pursuing her degree, she was deployed, lost loved ones, moved countries, changed schools five times, and encountered many personal burdens. She also spent time on special duty as an accredited diplomat oversees. However, despite the hardships, she was determined to finish her degree. She says, "I was able to accomplish my academic goals without sacrificing the quality of my work despite the mounting hardships I faced."
In addition to her bachelor's from Excelsior University, Sykes earned an Associate of Applied Science in Allied Health Science in 2012 and an Associate of Applied Science in Business Management in 2017, both from the Community College of the Air Force.
This award is given in recognition of Dr. Mildred L. Montag's national leadership in nursing and nursing education and her distinguished contribution to the development of the nursing programs offered by Excelsior University. The graduate selected to receive this award has completed the Excelsior University Master of Science in Nursing program and has demonstrated outstanding academic achievement and excellence in all the nursing courses, including the capstone course.
Mary Joy Cohen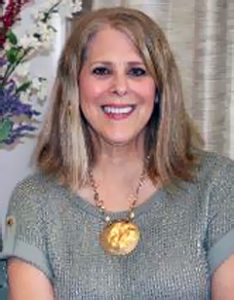 Mary Joy Cohen, of Highland, New York, completed a Master of Science in Nursing Education in February 2020 with a 4.0 GPA. She is a nursing skills lab instructor at Dutchess Community College in Poughkeepsie, New York.
Cohen serves as a role model, coach, and mentor, teaching by example to foster the continual growth of aspiring nurses. In response to the COVID-19 pandemic and the transition of instruction to remote learning, she created interactive online strategies to teach psychomotor skills previously delivered in the lab setting. She works in the operating room of a Level 2 Trauma center, realizing the most rewarding role of a nurse is as a patient advocate in their most critical time of need.
She is also responsible for developing and implementing a cardiac teaching and stress management program for coronary care patients. During the 1980s, she implemented and trained an entire hospital in the conversion of paper charting at the origination of electronic health records.
She believes in the transformation of nursing education, saying "I believe it is through a robust, innovative educational process that nurses will develop the confidence they need to make sound contributions to the profession in the real-world setting."
Cohen also earned a Bachelor of Science in Nursing from Excelsior University in February 2017.
This award was created in recognition of Dr. Long's service and contribution to Excelsior University. He was regarded as an expert in nuclear education and a proponent of the link between training and education and the safe operation of nuclear facilities. Students selected for this award must work in the nuclear power industry and be a member of the American Nuclear Society.
Michael Jacob Knoebel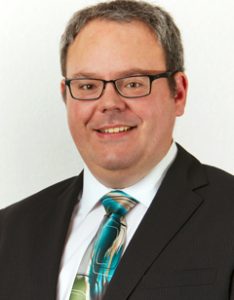 Michael Jacob Knoebel, of Albuquerque, New Mexico, completed a Bachelor of Science in Nuclear Engineering Technology in June 2019 with a 3.79 GPA. He is a general engineer for the National Nuclear Security Administration (NNSA) of the U.S. Department of Energy.
Knoebel and his department oversee the requirements and expectations of worker safety and health responsibilities of headquarters and field offices by reviewing safety management programs and federal regulations. Specifically, Knoebel leads assessment review teams to ensure programs are meeting federal requirements; supports the DOE PPE Coordination team in managing Personal Protective Equipment data collection for NNSA sites in response to COVID-19; supports the Safety, Analytics, Forecasting, Evaluation, and Reporting (SAFER) project as a subject matter expert; leads the NA-50 Quality of Work-Life Team; and is the NNSA Technical Standard Manager.
During his tour of duty in the U.S. Navy, Knoebel completed many submarine qualifications and acted as a shutdown reactor operator, electrical operator, and quality assurance inspector, among other roles. He received three Admiral's Commendations and two Navy-Marine Corps Achievement Medals for training and technical expertise, and he completed a second MOS rating for Automated Electrolytic Oxygen Generator (AEOG) Maintenance Technician. After his military service, while working for Bridgestone, he was awarded the Wilson Plant's Great Attitude Award in 2017.
In recognition of Dr. Robert P. Mahoney's outstanding contributions to liberal arts education at Excelsior and his devotion to serving his community, this award is presented to a liberal arts graduate who completed his/her degree in the face of significant challenges and demonstrated a dedication to community and volunteer service.
Curnes L. Williams Jr.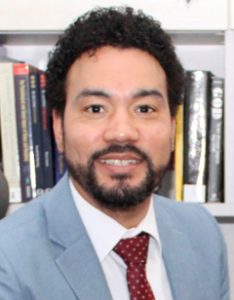 Curnes L. Williams Jr., of Sunnyvale, California, completed a Bachelor of Science in Liberal Arts in July 2019, magna cum laude, with a 3.84 GPA. He is a senior health benefits advisor with the U.S. Army Civil Affairs and Psychological Operations Command. He is responsible for organizational health protection, medical needs, and health promotions for more than 1,900 employees and mentors.
Williams served 22 years in the U.S. Army as a healthcare manager, recruiter, and combat medic, with combat tours in Afghanistan, Iraq, Kuwait, and Saudi Arabia. Upon retiring, he realized that war experience had not prepared him to enter the corporate workforce. After a few job rejections, it became clear that he needed to earn a college degree. He discovered Excelsior University and in attending, gained a renewed sense of confidence. He learned better research techniques, improved his writing, and developed better public speaking skills. He says, "I learned that despite my age or length of absence from school, I was still highly capable of learning and could excel amongst my academic peers."
Williams's improved research and public-speaking skills were noticed by the director of his local Red Cross chapter and he was selected to help with many special projects and as the spokesperson for an initiative to address and reduce veteran suicides. His degree has enabled him to fulfill a role in response to COVID-19 where he serves as a crucial advisor in organizational disease management, surveillance, and prevention.
This award is given in memory and recognition of the distinguished contributions of Ruth V. Matheney to nursing and nursing education, her nationally acclaimed leadership toward progressive, patient-centered practices in the classroom and at the bedside, and of her wise and willing counsel to the Excelsior University nursing programs. The recipient of this award has completed an undergraduate degree in nursing at Excelsior University and has demonstrated outstanding academic achievement.
Patricia A. Tolan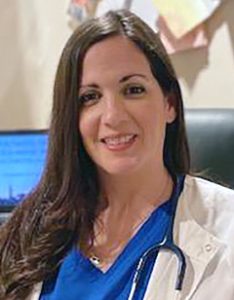 Patricia A. Tolan, of Simpsonville, South Carolina, completed an Associate in Science in Nursing in October 2019, with honors. She is currently working with the State of South Carolina's COVID-19 response division.
Since first becoming an LPN in 2014 and then passing the CPNE—on the first try—in 2019 and becoming an RN, Tolan's nursing goals have evolved. She plans to study holistic nursing to focus on her patients' wellness and intends to earn her bachelor's in nursing with Excelsior University with the goal of becoming a holistic certified FNP. She would like to open her own practice and care specifically for families with special needs and those who are underserved in her community, as she has personal experience as a mother of a child with special needs.
In addition to her associate degree from Excelsior, Tolan graduated from Piedmont Technical College's practical nursing program in 2013 at the top of her class. She was named outstanding graduate in the practical nursing program and received the college's Distinguished Student Award.
This award is presented to a person (or persons) whose assistance played a significant role in helping a graduate earn an Excelsior University degree.
Shirley R. Drevo, nominated by Cynthia S. Wanek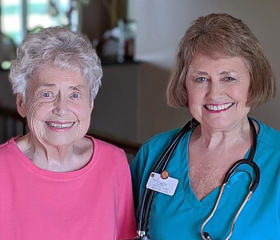 Cynthia S. Wanek, of Crete, Nebraska, nominated Shirley R. Drevo, also of Crete, for this year's Student Support Award. Wanek nominated her mother for her unwavering encouragement throughout Wanek's time pursuing her Associate in Science in Nursing, which she earned in July 2019 with honors.
As Wanek says, "It's not unusual for a parent to support and pay for their child's education. It is unusual, however, when the child completes their degree at age 60 and the parent is 83." Drevo helped Wanek prepare for her CPNE, quizzing her on material and even offering to be her mock patient.
Wanek found courage in her mother, who was one of the first women in the United States to have heart surgery while pregnant. Her lifelong heart problems have never gotten her down and she has always inspired Wanek. "My mom's endless instances of beating the odds inspired me to pursue my childhood dream of becoming a nurse, despite starting in my fifth decade of life. If my mom could overcome all she did to teach full-time, be a Brownie leader, Sunday school teacher, community volunteer, rental manager, breast cancer survivor, and hands-on grandmother like she has always done, I could surely earn a second associate college degree," says Wanek.
Wanek couldn't have asked for a better patient or teacher, and says she is blessed to have her mother be proud of her, just like she is proud of her own daughter, an ICU registered nurse who has taken care of COVID-19 patients in Hartford, Connecticut.