Chair Emeriti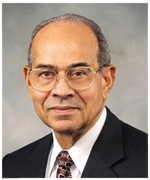 Arthur J. Gregg
Title
Lt. General, U.S. Army (Ret.)
Education
BS in Business Administration, summa cum laude, Saint Benedict College
Service
Trustee, 1998-2007
Chair, 1998-2004
About Arthur Gregg
Arthur J. Gregg has more than 44 years of professional experience, having held senior-level management and command positions in the military and industry. Currently retired from active management, he maintains a busy schedule as a member of several corporate and academic boards, serving as chair of three of them. Most recently he served as president, James Martin Government Intelligence Inc., an information technology firm providing senior-level consulting services to law enforcement, intelligence, and defense agencies. He also has served as executive vice president and chief operating officer for Steeltech Manufacturing Inc. and for American Coastal Industries Inc., as vice president and general manager for Cox Cable, and as an independent consultant engaged in general management and cable television services. Following a distinguished career in the military, Gregg retired from active duty with the U.S. Army in 1981, serving then as the Army's deputy chief of staff for logistics in Washington, DC.
A graduate of Saint Benedict College in Atchison, Kansas, with a Bachelor of Science in Business Administration, summa cum laude, Gregg completed graduate-level studies at the Army War College and the Command and General Staff College. He also attended the concentrated Executive Program in National Security at Harvard University's John F. Kennedy School of Government.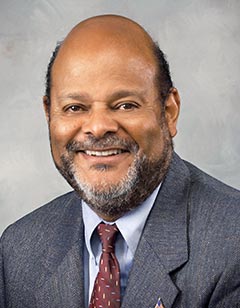 Joshua L. Smith
Title
Professor and Director, Program in Higher Education and Center for Urban Community College Leadership (Ret.) New York University, School of Education
Education
Service
Trustee, 1998-2007
Chair, 2005-2007
About Joshua L. Smith
A prominent leader in higher education, Joshua L. Smith was a professor and director of the Program in Higher Education and Center for Urban Community College Leadership, School of Education, New York University until 2000. In 2002, he was appointed Emeritus Professor of Higher Education. Smith has served as chancellor of the California Community Colleges, president of the Borough of Manhattan Community College of the City University of New York, dean of the School of Education for the City College of New York, and president of Brookdale Community College in Lincroft, New Jersey. He was also a program officer for the Ford Foundation in the development of new educational administrative programs at top universities across the country.
Smith has been chairman of the board of directors for the American Association of Community and Junior Colleges, president and chairman of the board of the National Humanities Faculty, and an active participant in the American Association of School Administrators.
Smith served as a captain in the United States Air Force. He earned both a Doctor of Education and Master of Arts in teaching from Harvard University, and a Bachelor of Arts from Boston University.
Richard Yep
Title
Executive Director and CEO
Education
Master's in Public Administration, University of Southern California
Service
Trustee, 2004-2013
Chair, 2008-2013
About Richard Yep
Richard Yep is CEO of Ocean Vista Advisors in Alexandria, Virginia. Previously, he was the executive director and CEO of the American Counseling Association (ACA), a post he has held from 1998 to 2022. ACA is composed of more than 45,000 professional counselors and counselor educators. The association has an annual budget of more than $10 million, employs 54 full-time staff, and is headquartered just outside of Washington, DC, in Alexandria, Virginia. As CEO, Yep successfully guided the organization from a budget deficit position to one with a surplus and investments of more than $3 million.
Yep is the past chair of the Diversity and Inclusion Committee of the American Society of Association Executives (ASAE) and currently serves on that organization's board of directors. He is a former Volunteer in Service to America (VISTA), where he worked with Native Americans in northern Arizona on health, career, and education issues.
Yep has worked in the U.S. Department of Education's TRIO programs, specifically with Upward Bound and Talent Search, programs that advocate for access to higher education for disadvantaged populations. He has been a legislative assistant in the U.S. House of Representatives and is a former board member of the Committee for Education Funding. He earned a bachelor's degree at the University of California, Santa Barbara, and a Master of Public Administration at the University of Southern California.