A Love of Learning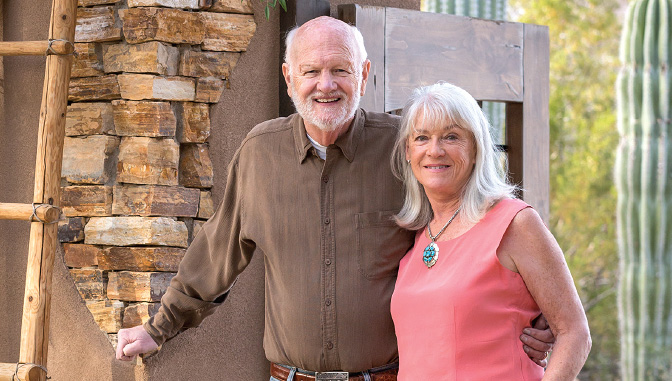 When Ted and Gidget Nyquist attended the inaugural Nyquist Leadership Series panel discussion in September 2015, they saw how the Regents External Degree program — a concept developed by Ted's father, Ewald Nyquist, more than 45 years ago — had evolved into Excelsior College.
Ted Nyquist remembers how his father, the New York State commissioner of education and president of the University of the State of New York from 1970–1977, had advocated for a way for people to earn an advanced degree without having to attend a traditional four-year institution. Recently, Ted and Gidget furthered their own commitment to continuing education by donating a major portion of their family charitable remainder trust to the Ewald B. Nyquist Scholarship Fund. The fund provides scholarships for students who demonstrate high academic achievement and need financial support to complete their degrees. Their gift qualifies them as members of the Nyquist Legacy Society.
"If, in a small way, we can assist in making those dreams come true, we welcome the opportunity to do so, as well as honoring my father at the same time."
–Ted Nyquist
Education has always been important to the Nyquists, who met in 1959 when they were 18 and have been married for 53 years. They have supported each other's pursuits of continuing education and ongoing learning. Ted, a retired chemist, earned a PhD in organic chemistry from the University of Pennsylvania, and worked at Dow Chemical and Standard Oil before he and his wife began two franchise companies. He has lectured on how to grow rhododendrons, one of his favorite plants, and keeps up with his interests in botany and landscape photography. A licensed pilot, Ted volunteers as a pilot for Flights for Life and delivers blood platelets to outlying communities in Arizona, where the couple resides in addition to having a home in Chicago. Gidget is a former teacher in the public school system in Albany, New York, and in Philadelphia, where she worked before leaving to raise five daughters. She volunteers at school reading programs, at a homeless shelter, and as a diver at Chicago's Shedd Aquarium, where she gives presentations to visitors.
"We can't think of a better way to utilize part of our estate than to make it available to students needing assistance to attend Excelsior College," says Ted. "Excelsior College is unique in offering the opportunity to further one's education while managing family responsibilities and/or working at the same time. If, in a small way, we can assist in making those dreams come true, we welcome the opportunity to do so, as well as honoring my father at the same time."