Degrees at Work: James Davenport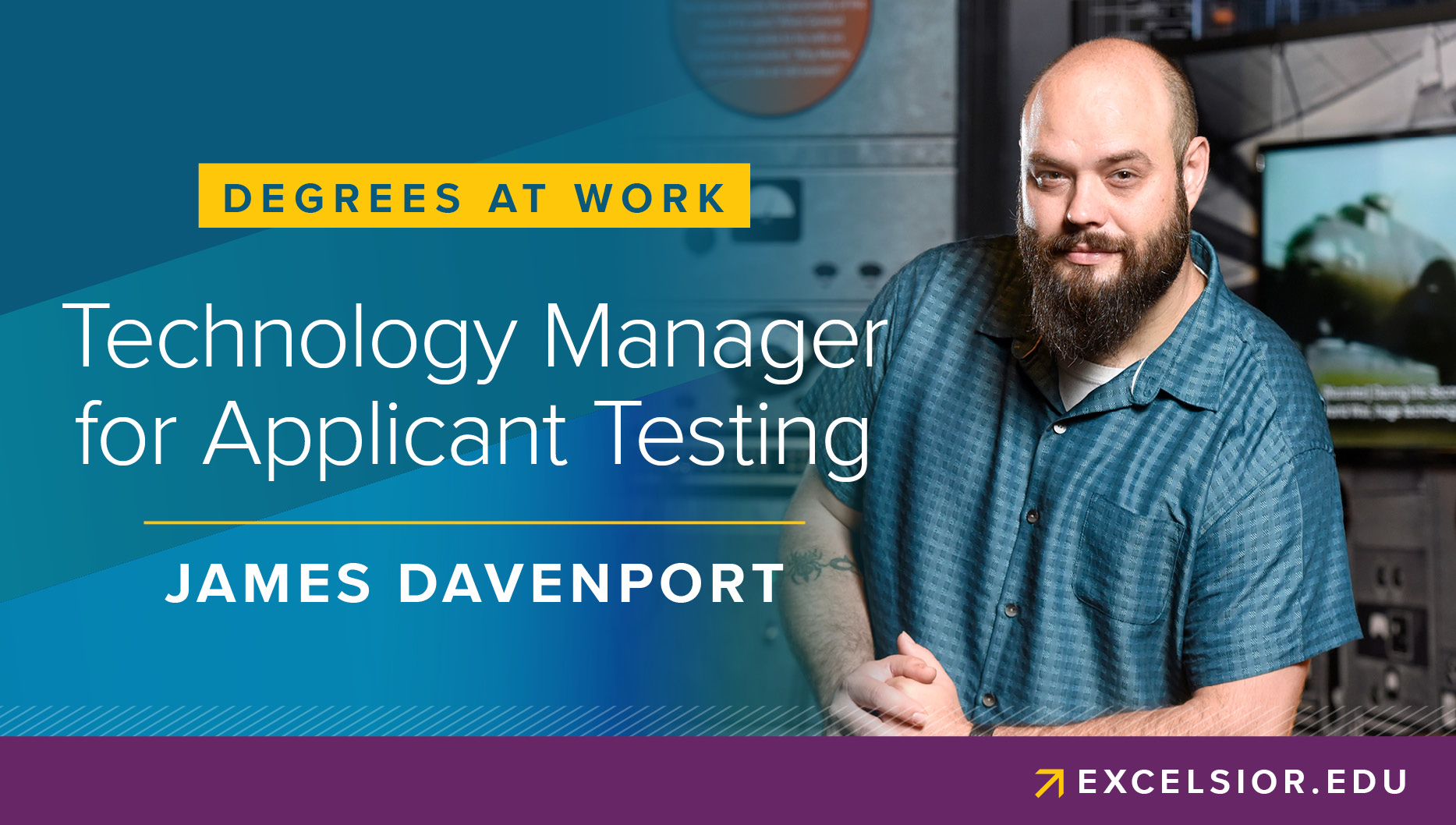 Eight-hour work days. Flexible scheduling. Daily meetings and, occasionally, working from multiple locations in a single day.
Ask Excelsior College graduate James Davenport about his career, and these conventional details are part of the description. But as technology manager for applicant testing in the Office of Marketing, Outreach, and Testing at the National Security Agency (NSA), these particulars are where the typical aspects of Davenport's existence end—and the daily challenge of being a vital cog in the U.S. government begins.
"Every day is a challenge," says Davenport, who earned his Bachelor of Science in History (with an area of study in computer information science) from Excelsior College in November 2008. "I think the best part of my job is when I am able to implement a solution. Critical thinking and collaboration between the various levels of program management, network security, system and program developers, and system administrators play a part in the building and execution of those solutions."
During his five years as a civilian with the NSA, the U.S. Navy veteran has held multiple roles, including three positions—liaison officer, training manager, and mission assurance continuity specialist—within one of the agency's cyber organizations. Today, his information technology-focused position helps manage the cyber needs of a small organization of recruiters, system administrators, and developers concerned with applicant testing for eventual NSA careers and security clearances.
It's a lot of responsibility, requiring a significant amount of time management and self-discipline. Thankfully, Davenport has been able to implement these traits in part because of his Excelsior education.
"At any time, I can have 10 or more competing projects, and setting time aside for each of them can be difficult," he says. "I work better with deadlines, so I tend to set my own. This is something influenced by [my experience at] Excelsior."
After initially enrolling at the College in July 2007 for the remaining credits toward an Associate in Applied Science in Technical Studies and earning that degree late that same year, he immediately re-enrolled to earn his bachelor's. His bachelor's degree put him on the path toward a commission in the Navy, and later to the position with the NSA. "I did a lot of long days, nights, and weekends working on my courses, but eventually I was able to apply to Officer Candidate School in November 2008 and attain my commission in the Navy in August of 2009," says Davenport.
Davenport had enlisted in the Navy as a cryptologic technician (communications) following graduation from high school and had taken some courses while deployed before finding Excelsior College. The online experience at Excelsior was conducive to his Navy life. "I felt that I didn't have time to attend [a physical location], and as a working professional, I still don't think I have time for that."
Today, his education has served him well, and it's prepared him to take on—and conquer—the professional challenges that have come his way.
More from James Davenport:
Networking tips
Keep a robust network in not just your field but in all disciplines. You never know where a connection will come from. "Many times, someone outside of my profession has helped me," says Davenport. "Write down who you have met and what they do, and keep in contact with them. Keep business cards and scan them to a file on your computer."
Time management
Set time and space aside to manage your coursework. Davenport juggled shift work and family life with his education, but he was able to do it by dedicating periods solely to his Excelsior requirements. "I learned early on that you need a place to study away from distractions," he says. "For me, this meant to use an actual desktop and not a laptop. It kept me tethered and away from [interruptions]."
Picking an area of study
Davenport earned a degree in history at Excelsior, which has certainly informed his professional perspective. But for students coming up, he sees need in a burgeoning sector. "Science, technology, engineering, and math (STEM)-related careers are in demand and will continue to be for the foreseeable future," he says. "When I talk to anyone who is considering a major, I highly suggest a STEM discipline."
The best advice he's received on the job—so far
Shifts—whether with school, work, or family—are an inevitability. Davenport knows this, but he's thrived with advice to understand that adjustment to these shifts doesn't happen overnight. "Change takes time, and change is always a challenge," he says. "I'm always dealing with change one way or another, and I've yet to see a task that was easy."