The Write Stuff
Paul Kingsbury uses what he learned at Excelsior to make a career in communication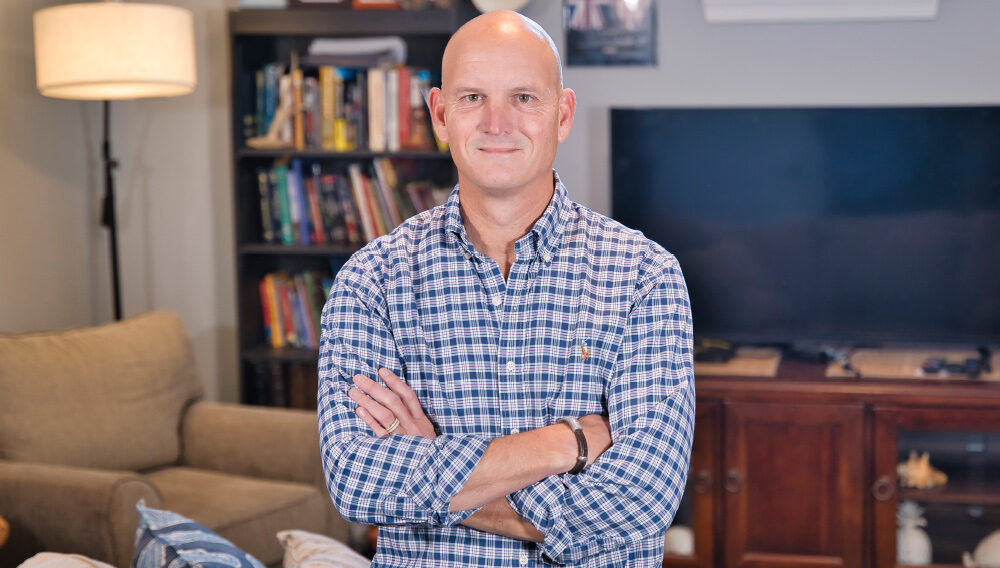 Paul Kingsbury of Carrollton, Virginia, is an organizational leadership and management consultant, author, and president of the Non-Commissioned Officers Association (NCOA). While in the Navy, Kingsbury attended Excelsior College to prepare for his future career. It was at Excelsior that Kingsbury developed a love of writing, and he has made the art form part of a communications career.
Kingsbury joined the Navy at 17 years old and after many years in service, decided he wanted to pursue a college education to prepare for a civilian career after his retirement. In the 1980s, he completed Naval Nuclear Power Program training, and then in the 1990s, he attended classes at Adirondack Community College. He continued to chip away at a degree until he earned an associate degree from Tidewater Community College in the early 2000s. At this point, Kingsbury was a chief petty officer and wanted an advanced degree. He stumbled upon Excelsior College and was impressed by how many credits he could earn with DANTES and CLEP exams, as well as by transferring in credits from his previous attendance at community colleges and receiving credit for nuclear power school.
While on his second tour as command master chief for an aviation squadron based out of Oceana, Virginia, between 2005 and 2008, Kingsbury worked on his Excelsior studies. "I was doing courses on American Civil War and African American history. I remember everything being heavily writing-intensive. There was a lot of writing, but at the same time, because I was at sea, I had all this time to focus on it," he recalls. Kingsbury grew to enjoy writing due to the coursework, and he earned a Bachelor of Science in Liberal Arts in April 2008.
After 31 years with the Navy, Kingsbury retired from service, but his relationship with naval service was not over. Kingsbury had developed such good writing skills while taking his Excelsior courses that he found an outlet through the U.S. Naval Institute's Proceedings magazine. "I got into writing articles for Proceedings magazine and I won prizes in their general and enlisted essay contests. After having several articles published, and given my insight as a Fleet Master Chief, the U.S. Naval Institute asked me to join their editorial board, so I did that."
The Naval Institute Press then reached out to Kingsbury to rewrite the second edition of the Chief Petty Officer's Guide, a basic leadership and management guide for chief petty officers and those who aspire to be one. Toward the end of his Navy career, Kingsbury was offered a position at the Naval Institute, which he couldn't resist. "I landed in this great place where I can write about making the Navy or Marine Corps and the Coast Guard better. So, I got brought on to reach out and engage in enlisted audiences, to introduce them to Naval Institute, and encourage them to join as members and to write," says Kingsbury. He is currently working on the first edition of the Petty Officer's Guide and the next edition of the Bluejacket's Manual, which is the guide that each recruit receives upon entering the Navy.
Kingsbury's good communication skills also landed him in a volunteer position as president of the NCOA. In 2019, the former NCOA president approached Kingsbury with the offer to take over when he would be leaving in 2020. Initially, Kingsbury wasn't sure he would live up to the position, but after reflecting on it, he felt he could help grow the NCOA. As president, Kingsbury works to help the organization stay organized and keeps internal communication working smoothly. "It became less about being the face man and more about, 'okay, let's get internally organized, let's get refocused.' Building relationships and maintaining them with senior service enlisted is important. Our work with our partner organizations like Excelsior College is equally as important, and the next thing I'll help them work on is writing and implementing our strategic communication plan," he says.
Kingsbury believes in the NCOA working closely with its partner organizations. For example, he is a proponent of keeping the NCOA's ties with Excelsior strong and growing, so that members can take advantage of discounted tuition. He comments, "I think that our servicemembers and family members can take advantage of the benefits and resources available to them. And educational benefits and resources is one of them."
Kingsbury writes for a living, and he also writes in his personal time. He tells people it's a form of artistic expression that he finds to be a creative process. He even has a podcast called the Cutlass Podcast through which he and his guests offer insights and advice on how listeners can use social science and the experience of others to improve their leadership, communication, and management skills to achieve their goals and bring out the best in their people. He says, "if you're going to go after something, go after something that's going to support your career."