State Authorization Reciprocity Agreement (SARA) Disclosures
State Authorization Reciprocity Agreement (SARA) Disclosures by State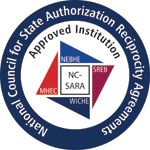 Excelsior College has been approved by the New York State Education Department to participate in the State Authorization Reciprocity Agreement (SARA). The National Council for State Authorization Reciprocity Agreements (NC-SARA) welcomed Excelsior College to officially join the initiative effective January 5, 2017.

SARA is a voluntary agreement among member states, districts and territories that establishes national standards for interstate offering of distance education courses and programs. This Agreement is intended to make it easier for students to take online courses offered by postsecondary institutions based in another state. For additional information regarding SARA, please visit NC-SARA.
SARA Student Complaint Process
Students, or prospective students, must first attempt to resolve a complaint within the College by following the process detailed on the Student Complaint policy page. Pursuant to the State Authorization Reciprocity Agreements Policy and Operations Manual Section 4.5(c), "If a person bringing a Complaint is not satisfied with the outcome of the institutional process for handling Complaints, the Complaint (except for Complaints about grades or student conduct violations) may be appealed, within two years of the incident about which the Complaint is made, to the SARA portal entity in the home state of the institution against which the Complaint has been lodged. That Portal Entity shall notify the SARA Portal Entity for the State in which the student is located of receipt of that appealed Complaint." Typically, the state portal entity is that state's education department or agency. Visit the SARA Student Complaints Process page.
In the unlikely event that students believe their complaint is not resolved by the methods outlined in the College's publications, they may appeal to the following SARA/Non-SARA portal agencies:
Disclosures by State
Information regarding state-specific disclosures and select academic programs leading to professional licensure are listed below:
Please note, every attempt is made to ensure the above information is accurate and up to date; however, some information is subject to change.
If you have any questions or encounter problems contacting the appropriate licensing board, please contact your program advisor or the College's paralegal at 518-608-8162 for assistance.
Fee Refunds
Due to Federal Regulations, students residing in California, Maryland, New Mexico and Oregon will be refunded following their State refund guidelines.  Please contact the Student Accounting Office for more information at 888-647-2388, or receipt@excelsior.edu.