Dean, School of Undergraduate Studies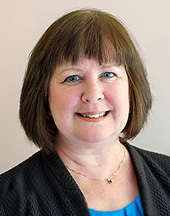 Catherine Seaver, PhD
Meet the Dean of the School of Undergraduate Studies at Excelsior University.
Education
PhD, Leadership with specialization in education, University of the Cumberlands
MS, Educational Technology, Eastern Connecticut State University
MS, Computer and Information Systems, General, University of Phoenix
BS, Applied Science, Manufacturing Engineering, Miami University
About Catherine Seaver
Catherine Seaver is dean of the School of Undergraduate Studies at Excelsior University. She began her career with Excelsior in July 2019 as associate dean of business, science, and technology.
Seaver has extensive experience in higher education. Prior to Excelsior University, she was vice president of academic and student affairs at Greenfield Community College in Massachusetts. For 14 years, Seaver worked at Manchester Community College as director of the business, engineering, and technology division; interim associate dean of student affairs; and department chair of engineering and technology.
Seaver began teaching online as an engineering faculty member in 2002 and while in administrative roles, she taught as an adjunct professor. Prior to moving to higher education, she worked as an engineering and project manager in several industries for more than 20 years.
Academic policy, workforce development, and teaching with technology are among her many areas of interest.