Trustee Emerita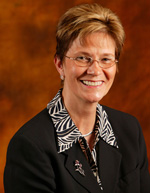 Pamela J. Tate
Title
Past President & CEO, The Council for Adult and Experiential Learning (CAEL)
Education
MS in English, University of Illinois
MS in Journalism, University of Illinois
About Pamela Tate
Tate served for 28 years as president and CEO of the Council for Adult and Experiential Learning (CAEL). Prior to joining CAEL, Tate served as lead consultant to the UAW-Ford National Development and Training Center in the design and implementation of the College and University Options Program (CUOP) for Ford's unionized workforce.
Tate is known for helping colleges and universities develop Prior Learning Assessment programs and improve the quality of their services for working learners. Tate has worked with hundreds of employers on tuition assistance policy, implementation of career and educational advising for employees, and exemplary practices in employee learning and development.
Tate received a Doctor of Humane Letters honoris causa, conferred by SUNY Empire State College in Saratoga Springs, New York (1996), honorary doctorate degrees in humane letters from DePaul University's School for New Learning (2005) and from Thomas Edison State College (2007), and a degree of Doctor of Public Service honoris causa from St. Leo University (2011). Tate was awarded the President's Medal from Excelsior College in 2013. In 2018, she was inducted into the International Adult and Continuing Association's Hall of Fame. She is an Adult Learning Fellow in Residence at DePaul University's School for New Learning.
In addition to earning two master's degrees, Tate has completed her doctoral coursework at the Annenberg School of Communications, University of Pennsylvania.